Decarbonization —

the way to

sustainable energy
Providing energy access while reducing emissions
Major nations around the world have committed to decarbonization as a way of combating climate change effectively. To achieve this, future power markets will need to focus on implementing sustainable, low-carbon energy solutions and technologies.
Generating carbon-neutral power for the future
As part of the Paris Agreement, leaders in established and emerging industrialized countries agreed to keep the increase in global average temperature below 2° C and help develop a less carbon-intensive economy. To achieve this goal, the Paris climate contract states that the world needs to be carbon-neutral by the year 2050. This policy framework provides a roadmap for economic growth, business opportunities and global living fueled by low-carbon energy – which will eventually be replaced by carbon-neutral and carbon-free energy.
To implement low-carbon energy systems on this scale, it is necessary to accelerate the development of renewable energies such as wind and solar. This means creating viable and cost-effective energy storage solutions to store excess power in times of oversupply, and installing backup plants in the event of supply shortages. At the same time, natural gas will become even more important as a transition technology. This can even be substituted with synthetic gas for a truly carbon-neutral, sustainable solution for generating energy.
renewable power generation capacity added in 2017, marking its largest annual increase
reduction in emissions required in industrialized countries by 2050 as compared with 1990 levels
MAN solutions for decarbonization
MAN Energy Solutions provides optimized local energy generation solutions and storage technologies. These help utilities, urban energy providers, industrial customers and independent power producers (IPP) reduce their energy costs and carbon emissions stemming from their power systems.
MAN offers its customers sustainable power solutions from a single source – combining thermal power plants (engine-, gas- or steam turbine-based), renewables (solar, wind, hydro, biomass, etc.) and energy storage solutions (battery, power-to-gas, electrothermal, liquid air). Smart energy management systems use the energy sources that are most environmentally friendly and also most economical. MAN has extensive experience in working with conventional power plants, and the expertise to integrate various technologies to provide the most efficient energy solutions in an EPC scheme.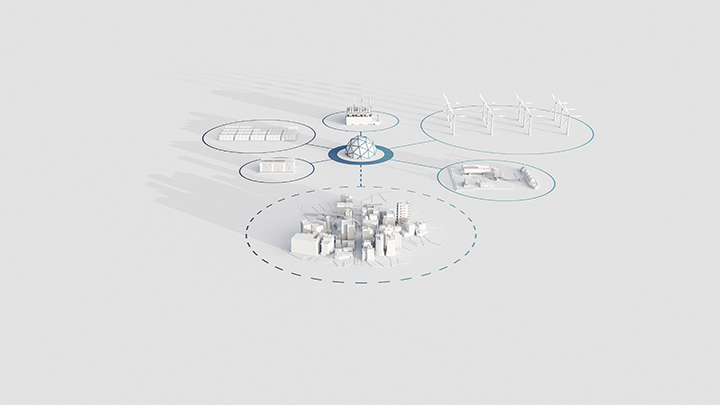 Using renewable energies for sustainable power generation is the ultimate goal – but they all rely on one factor to perform: the weather. The unpredictable, ever-changing nature of the weather makes it difficult to ensure consistent energy production and availability.
Our hybrid power solutions combine renewable energy sources, thermal power generation and energy storage systems in a microgrid. Storing surplus power and using instant power top-ups from engine and turbine GenSets fueled with gas, biofuels or even synthetic fuels can make wind and solar power systems more reliable. Power plants can also incorporate renewable energy systems to serve as fuel savers and hybrid island power systems.
How you benefit:
Increased reliability
Increased fuel efficiency
Fewer emissions
Hybrid solutions ensure flexibility and fuel independence
Reduced CO2 emissions
Increasing the use of renewable energy sources does a great deal to improve the world's carbon footprint. At the same time, power plants sometimes produce surplus energy which cannot be consumed immediately. Storing surplus power improves both the overall efficiency and stability of these systems.
MAN offers a variety of technologies to meet these requirements, including Battery Energy Storage Systems (BESS) and Electrothermal Energy Storage (ETES). We can also provide key equipment for a variety of other storage technologies like Liquid Air Energy Storage (LAES) or Compressed Air Energy Storage (CAES).
How you benefit:
Increased efficiency
No wasted energy
Improved carbon footprint
Variety of solutions for all types of energy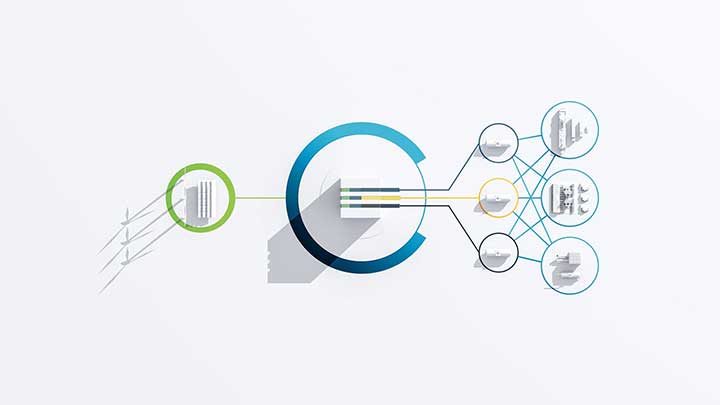 Managing renewable energy oversupplies is an important challenge that the world faces on its journey towards a carbon-neutral future. It is essential to find solutions that preserve this sustainable energy once it has been produced – without waste, and as efficiently as possible.
One way of storage large amounts of energy over long periods of time is to convert surplus energy from renewables into gas or liquid e-fuels. The innovative MAN P2X solution converts electricity from renewables into synthetic fuels. It has a wide range of applications in the mobility, heat and electricity sectors. By coupling the major energy sectors, P2X will play a major role in creating a truly carbon-neutral energy system and reaching the world's ambitious climate protection goals.
How you benefit:
No wasted energy
Single source solution
Improved carbon footprint
Wide range of applications
Service solutions for sustainable energy generation
MAN PrimeServ provides customized aftersales packages for its entire range of energy generation and storage solutions. The service brand of MAN Energy Solutions offers advanced retrofit solutions to optimize the reliability, availability, economic efficiency and environmental sustainability of existing plants and equipment.
decrease in CO2 emissions thanks to hybrid engine power plants
decrease in cost of energy achieved by combining GenSet-based power plants with BESS and PV
Power-to "e-gas"
Since the summer of 2013, the automaker Audi has been using climate-neutral "e-gas"
from a DWE® methanation reactor – the product of an innovative prototype plant that converts renewable electricity into this fuel on an industrial scale for the first time.

| | |
| --- | --- |
| Customer: | Audi AG |
| Customer typ: | Industry |
| Application: | Power-2-X Plant |
| Location of installation: | Werlte, Germany |
| Engine type: | DWE® methanation reactor |
| Commercial Operation: | 2013 |
Our products for MAN hybrid power plant solutions
Sustainable energy generation solutions to help the world achieve carbon neutrality
Fewer emissions for a low carbon footprint
Eco-friendly, reliable and efficient energy generation and storage systems
Increased fuel efficiency and fuel-saving schemes
Contact us