Cost optimization

for a brighter

energy future
Changing energy industry sees rising costs
Energy markets around the world are changing rapidly. The share of renewable energy sources around the world is growing, and grid infrastructures are becoming more localized. Fuel costs continue to rise, and massive investments are needed to make existing power plants compliant with ever stricter regulations. In these challenging times, it is necessary to design cost-effective energy generation systems. Effectively controlling costs is a decisive competitive edge for all players in the energy sector, giving them the economic flexibility they need for action.
Cost-effective operation as the key to future viability
Companies in the power sector are facing their greatest challenges today, with constant cost increases, pressure on earnings and stronger competition from new providers. At the same time, environmental and efficiency-related regulations make it necessary for them to constantly innovate. Achieving cost-effective energy generation means choosing the right solutions, technologies and business models for each of our customers. Embracing innovative technologies and combining various energy sources can help lower expenditures on the OPEX side by ensuring the most intelligent energy mix. This gives companies more latitude for further strategic developments or to optimize existing operations.
lower LCOE achieved by combining GenSet-based power plants with BESS and PV
decrease in CO2 emissions thanks to hybrid engine power plants
MAN solutions for energy cost optimization
MAN Energy Solutions helps customers overcome the challenges to their business in an increasingly complex economic environment. With best-in-class, highly efficient products and solutions, we put companies in a position to generate the most cost-effective energy possible.
We provide our customers with a 360-degree perspective on power plant engineering – from the ideal technological solution and compliance with energy policy standards to ensuring cost-effective operations. Our versatile, highly efficient power plant solutions are designed to meet all customer requirements, specifically in terms of optimized capital and operation expenditures, and sustainable reliability.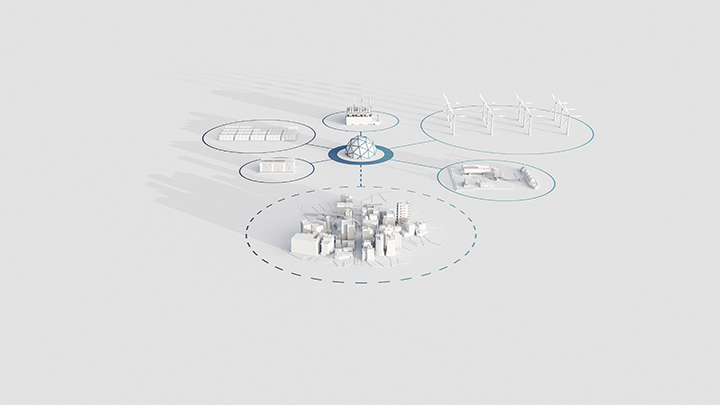 Using renewable energies for sustainable power generation is the ultimate goal – but they all rely on one factor to perform: the weather. The unpredictable, ever-changing nature of the weather makes it difficult to ensure consistent energy production and availability.
Our hybrid power plants ensure grid stability, reducing LCOE (levelized cost of electricity) while maximizing the use of renewable energy sources. We use highly efficient, quick-response GenSets to integrate renewable energies in an energy management system. Here, renewables always provide the most CO2-neutral power possible while the GenSet and battery storage keep power fluctuations at a minimum. We have the expertise to combine a variety of environmentally compatible systems to create highly efficient, cost-effective power plants.
How you benefit:
More cost-effective, efficient systems
Increased reliability
Maximizing renewable energy use means fewer CO2 emissions
Hybrid solutions ensure flexibility and fuel independence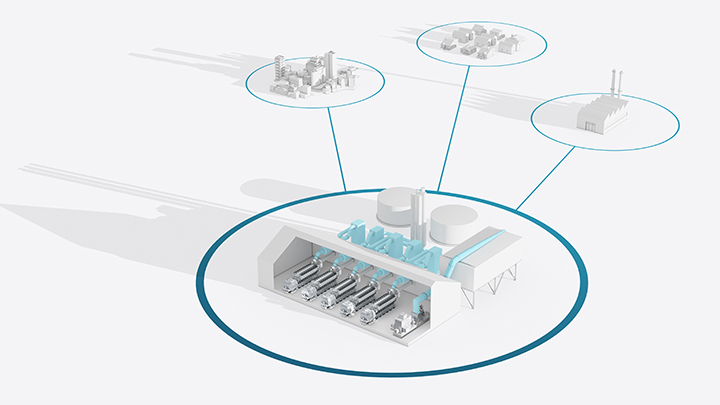 In stationary power plants, engines produce flue gas that contains a great deal of energy – but normally goes to waste. Harnessing the heat of this exhaust gas makes it possible to generate additional energy while minimizing losses.
MAN designs Engine Combined Cycle Power Plants (ECCPP) that use the waste heat from the engine GenSet to produce steam. This steam is then expanded in a steam turbine to produce electrical energy. This combination of engine GenSet and steam turbine enhances the efficiency of a simple solution. We are the only company in the market who builds and provides all of the key components needed – from engines to steam turbines.
How you benefit:
More cost-effective, efficient systems
Improved fuel efficiency
More energy produced, less wasted
Single source for all equipment and services
An important way of making power plants more cost-effective is to minimize energy losses and waste. International Energy Agency figures show that about two-thirds of the energy converted to produce electricity in traditional fossil-fueled power plants is lost as so-called "waste". Once it arrives at the end consumer, about 65% of total energy input is lost in energy each year before it reaches consumers.
Combined heat & power (CHP), or cogeneration/trigeneration, is the most efficient process for generating power and process heat and/or cold from a single fuel source. MAN designs CHP systems to meet the specific thermal and electrical load requirements of each facility, greatly enhancing its operational efficiency – with total plant efficiency levels even topping 90%.
How you benefit:
More cost-effective, efficient systems
Less energy wasted
Fewer CO2 emissions
Customized solutions to meet specific facility needs
Service solutions for energy cost optimization
MAN PrimeServ offers advanced modernization solutions to increase the reliability, availability and economic efficiency of existing facilities and equipment. We also customize modernization and retrofit solutions for specific customer applications and machinery.
total fuel efficiencies for Combined Heat & Power applications
fuel efficiency in an engine combined cycle scheme.
MAN energy cost optimization solutions at work for our customers
Our energy cost optimization solutions are designed to meet a wide range of customer requirements and applications – helping them stay competitive while improving their overall environmental impact.
MAN builds innovative CHP plant for EnBW
| | |
| --- | --- |
| Customer: | EnBW Energie Baden-Württemberg AG |
| Customer typ: | Utility |
| Application: | Combined heat & power |
| Location of installation: | Stuttgart-Gaisburg, Germany |
| Engine type: | 3 x 20V35/44G |
| Fuel: | Natural gas |
| Output: | 31 MWel + 30 MWth |
| Commercial Operation: | COD planned for 12/2018 |
| MAN's Work Scope: | Extended equipment supply |
Our products for power generation
Innovative solutions and technologies to optimize the cost of power generation
Cost-effective operation keeps companies competitive
Environmentally sound solutions towards a carbon-neutral future
Less energy waste, greater energy production
Compliance with all regulations
Contact us
Molten salt energy storage (MOSAS)

Liquid air energy storage (LAES)

Compressed air energy storage (CAES)

Battery energy storage system (BESS)

Electro-thermal energy storage (ETES)