Ensuring reliable energy supply wherever needed
The main focus of the energy industry is to provide a reliable, secure energy supply to people everywhere in the world today. This is essential to fulfill basic demands, ensure secure, stable systems, and promote positive economic development.
Electricity – an essential need
Everyone needs access to reliable energy – countries and individuals, industries and businesses, in various contexts, and for different purposes. A secure energy supply is essential to help emerging and developing countries, regions with deficient infrastructures, or remote areas to achieve their economic potential. Reliable energy is the key to ensuring stability and security in case of emergencies, blackouts or any other interruptions. Finally, fluctuating renewable energy sources require backup or supplemental solutions to keep electricity available at all times
global increase in energy demand by 2040
quadrillion Btu (British thermal units) will be the worlds' energy consumption in 2040
of new energy capacity in the EU made up by renewables. Wind power will become the leading source of electricity after 2030
MAN solutions for securing energy supplies around the world
In today's changing energy landscape, providers absolutely need to ensure a reliable power supply that offers operational flexibility. Our power plant solutions deliver high efficiency, flexibility, safety and reliability, and are designed to master the challenges of providing a secure energy supply around the world.
When it comes to ensuring top reliability and securing the energy supply, MAN offers its customers unique expertise and the right products and solutions. Our portfolio ranges from stationary engines and turbines for the most rugged environments to emergency diesel generators for nuclear power plants. We also offer versatile energy solutions to fill in when the weather keeps solar and wind power supplies low.
Service solutions for secure energy supply
MAN PrimeServ provides exclusive aftersales support for MAN's entire product portfolio. The service brand of MAN Energy Solutions maintains the efficiency and availability of customer plants and equipment, helping to optimize operation.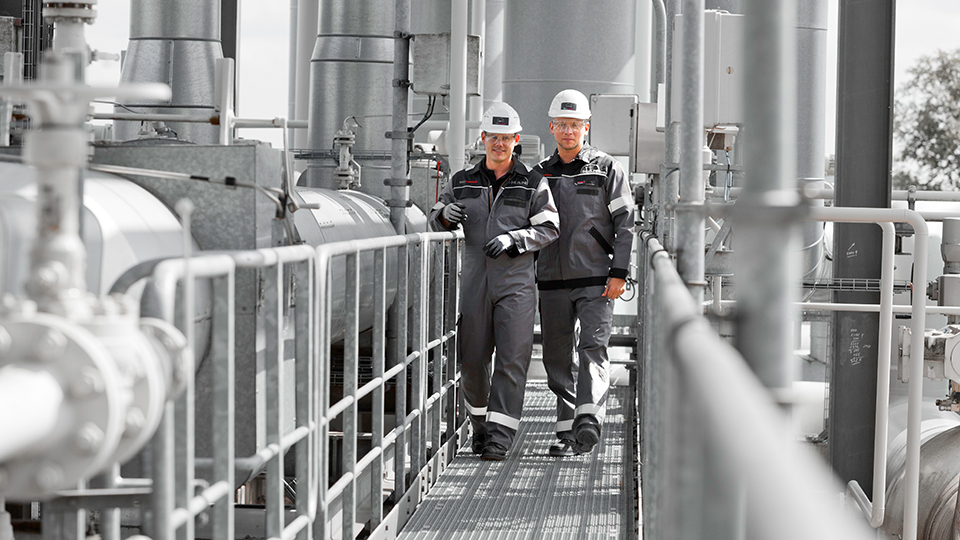 hours availability per year made possible by reliable, durable and easy-to-operate MAN engines and turbines
expert support around the world provided by MAN PrimeServ, available through a global network of service facilities
MAN supplies engines for Powerships
MAN and Karadeniz Powership Company Ltd. worked together on a fleet of powerships to be deployed throughout the world, helping to temporarily cover local power demands as needed.
| | |
| --- | --- |
| Customer: | Karadeniz Powership Company Ltd |
| Customer typ: | IPP |
| Application: | Power Ships & Barges, base load power for grid |
| Location of installation: | Middle East, Africa and Indonesia |
| Engine type: | 81 x MAN 4X (48/60 and 51/60) engines in liquid, gas or dual-fuel version |
| Fuel: | Liquid (MDO & HFO), Gas (natural gas), Dual-fuel (natural gas / MDO & HFO) |
| After all Output: | 1500 MW |
Our products for reliable power generation
MAN offers expert solutions to ensure a secure energy supply
Secure supply of energy for increased reliability
Increased fuel efficiency and flexibility
High availability
Safe facilities, easy to operate and maintain
Contact us
The future is clear ME-GI DF

MAN small-bore dual fuel engine

Wendelstein 7-X and fusion

Power with LPG - Fuel flexible solution

Small-Bore B&W Fact Sheet