Power Gen Europe (Former Electrify Europe)

Welcome to POWERGEN Europe 2019!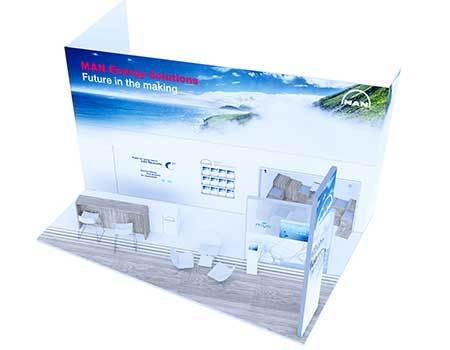 POWERGEN Europe is renowned as the annual meeting place for the power generation community. Across its leading conference & exhibition, POWERGEN Europe continues to recognize the vital role flexible generation is playing in the energy transition and the trends towards distributed generation, making it the hub for knowledge, technology and business opportunities.
You are kindly invited to visit us at POWERGEN Europe to experience "Future in the making". Learn more about our new plans for innovative technologies and our outstanding services to meet your business needs.
PowerGen Europe 2019, hall 1, stand no. C37
November 12-14, Paris, France
Floorplan
Energy storage and future-proof power generation solutions are becoming increasingly important for modern energy systems. Our unique portfolio of energy & storage solutions – from cutting-edge energy storage systems, thermal power plants to cost-effective combined heat and power solutions and more – actively makes energy transition a reality in utility, urban and industrial applications. As renewable sources make up an increasing proportion of the energy we use, our smart storage solutions enable such energy sources to be used to their full extent. At the same time, they open up new business opportunities.
Schedule a one-to-one meeting with our PowerGen experts, and we can talk with you in person, addressing your pain points and targets – from lowering emissions and optimizing costs to securing energy supplies. All this is future in the making.
Schedule a meeting
Conference programme
The heart of European Utility Week and POWERGEN Europe is the extensive conference program consisting of the summit and hub sessions. Themes and topics has been specially chosen to ensure industry practitioners are equipped to adapt to the fast-changing facets of the transitioning energy sector. Listen to Tilman Tütken, Vice President and Head of Region Europe Power Plants at MAN Energy Solutions, explain the versatility of gas engine systems in a changing energy future or Tolga Akertek, Plant Manager, Audi e-gas plant, present the success story of MAN Power-to-X solutions in action as part of the Hub Sessions programme.
Tilman Tütken
Vice President & Head of Region Europe Power Plants at MAN Energy Solutions SE
Theater 9, 13th of November 2019, 12:45-13:00 o'clock
Session Distributed Generation: Gas engine systems versatility in a changing energy future
Ramp-up curves as low as of 2 min from standstill to maximum load, continous low load operation down to 15% of the rated output, electrical efficiencies exceeding 50%, overall plant efficiencies reaching 95%, CO2 reduction of up to 68% compared to coalfired power plants.These feature make the gas engine a perfect primemover for the tasks of today especially in peak power plants and Hybrid power plants.
Link: https://www.european-utility-week.com/hub-sessions-programme/to-be-announced-276#/
Tolga Akertek
Plant Manager, Audi e-gas plant at Audi e-gas-Betreibergesellschaft mbH
Theater 10, 13th of November 2019, 12:10 – 12:30 o'clock
Session Distributed Generation: Case Study: Audi e-gas Plant
Energy is a valuable commodity. Effectively managing renewable energy resources is economically beneficial and contributes to the goals of decarbonization which also affects the transport sector. Audi is a pioneer with its e-gas plants and describe its experience with the innovative Audi e-gas plant in Werlte with MAN Power-t-X solutions.
Link: https://www.european-utility-week.com/hub-sessions-programme/case-study-audi-e-gas-plant#/
Claim your free ticket and join us
We look forward to welcoming you at our booth.
Paris
France
PARIS EXPO PORTE DE VERSAILLES, 1 Place de la Porte de Versailles