Secure energy

supply around

the world
Power industry prepares for a world beyond CO2
As we move towards a carbon-neutral future, the power generation industry faces a number of major challenges. Constantly rising costs, tougher competition and earnings pressure are just a few of the issues dominating the sector today – effectively shaping the energy world of tomorrow.
Developing new business models and energy sources
The entire power industry needs new business models to effectively handle the high penetration levels of non-dispatchable renewables in modern power grids, and the strong demand for flexible, highly efficient and clean dispatchable power solutions. These also require a strong focus on CO2 reduction and optimizing electricity costs.
Exploring a variety of innovative technologies and combining different sources of energy can help lower expenditures by ensuring the smartest energy mix. A key element in our efforts to achieve a carbon-neutral future is liquefied natural gas (LNG), which generates considerably less carbon dioxide, sulfur dioxide, nitrogen oxide and particle emissions than any other fossil fuel. Gas to power has become a rapidly growing global trend, with LNG available for power generation practically anywhere with access to the sea or a receiving LNG terminal. Independence from existing gas infrastructure and pipelines combined with cost-effective operations are essential to the future viability of this technology.
growth in gas-powered power generation anticipated by 2030
lower CO2 emissions with LNG as compared to liquid fuel
reduction in SOx emissions with LNG as compared to liquid fuel
MAN LNG to power solutions
MAN is a one-stop partner for LNG to power solutions. We have the necessary competence for EPC projects and the experts in-house for cryogenic solutions in consulting, engineering, production and installation. We can optimize the entire LNG value chain in line with specific customer needs.
We supply highly efficient gas-, dual fuel engines and gas turbines to our industry partners in power generation, and help energy-intensive industries switch from a coal and oil-based fuel supply to clean-burning natural gas. Our consulting and business development team assists customers around the world with comprehensive feasibility studies and lifecycle cost analyses – the essential first step in an in-depth business model analysis. Once you start operations, you can count on our global Primeserv aftersales network for reliable support and help with updates and extensions.
Many years of experience with LNG
After our 2016 acquisition of Cryo AB, a cryogenic solution provider and manufacturer of cryogenic equipment with over 50 years' experience in cleaner burning LNG, MAN Energy Solutions created the MAN Cryo product brand – the perfect complement to our stationary and marine gas-linked portfolio. We are two pioneers joining forces, creating fully integrated solutions to benefit our customers. We offer holistic solutions for comprehensive engine and environmentally friendly fuel gas supply systems (FGSS), offshore and onshore bunkering systems, and stationary distribution systems for regasification or fuel filling – all from one source.
In our efforts to secure a reliable energy supply, it is important to maximize the amount of energy we can get from every drop of fuel. Efficient, local thermal power plants convert heat energy into electric energy with little waste.
MAN thermal power plants offer a great deal of operational flexibility. Quick response times and the ability to use various fuels ensure reliable, safe engine and turbine operations. Our durable, easy-to-operate and low-maintenance plants have very little downtime, with availability at over 8,000 hours per year.
How you benefit:
Secure supply of energy for increased reliability
Increased fuel efficiency and flexibility
High availability
Safe facilities, easy to operate and maintain
Clean-burning natural gas is a key component in our transition to a carbon-neutral future. To ensure that this valuable resource is available to countries around the world, it is necessary to ensure its safe and efficient supply.
MAN offers a variety of LNG infrastructure solutions along the LNG value chain – from upstream over midstream to downstream – ranging from discharge, storage and regasification to the electrification of gas in customer power plants. One cornerstone of our expertise in this field is MAN Cryo in Gothenburg, Sweden, a specialist for cryogenic applications offering vacuum-insulated tanks, coil-wound vaporizers and piping systems, as well as comprehensive engineering services.
How you benefit:
Secure supply of energy for increased reliability
Clean-burning natural gas for a reduced carbon footprint
High availability
Safe facilities, easy to operate and maintain
Using renewable energies for sustainable power generation is the ultimate goal – but they all rely on one factor to perform: the weather. The unpredictable nature of the weather makes it difficult to ensure a consistent energy supply with renewables alone.
Our hybrid power plants combine renewable energy sources, thermal power generation and energy storage systems in a microgrid. We can dispatch dynamic capacity solutions with fast-start-stop and load ramp capabilities, including highly efficient multifuel generators for reliable, flexible and efficient power generation. They can also be incorporated into various systems to ensure grid stability and efficiency.
How you benefit:
Secure supply of energy for increased reliability
Increased fuel efficiency
Fewer emissions
Hybrid solutions ensure flexibility and fuel independence
Service solutions for the oil & gas market
MAN PrimeServ is the service brand for all MAN Energy Solutions products and applications. We offer worldwide, round-the-clock service 365 days a year. Our global MAN PrimeServ network provides comprehensive, ongoing support on all continents.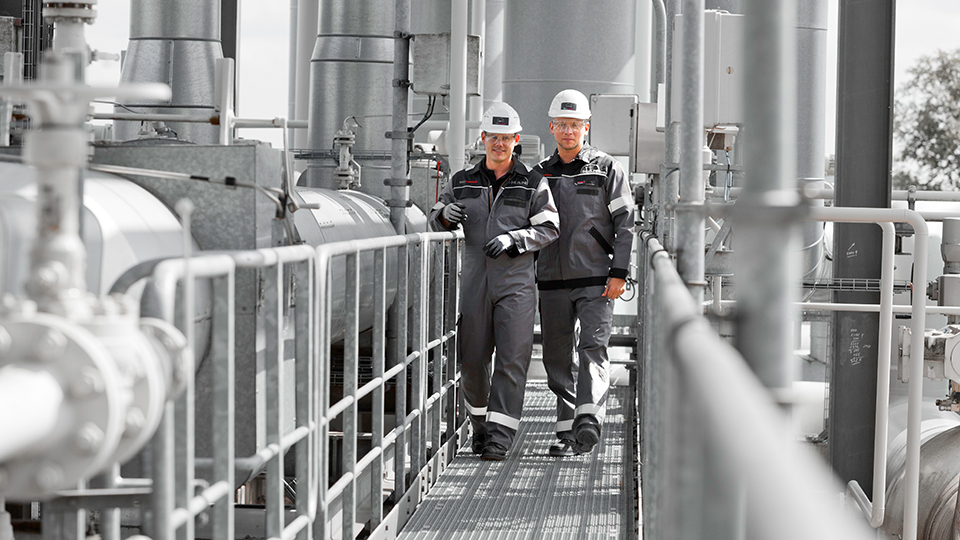 hours availability per year made possible by reliable, durable and easy-to-operate MAN engines and turbines
expert support around the world provided by MAN PrimeServ, available through a global network of service facilities
MAN supplies power station with gas and dual fuel engines
Energy demands on Gibraltar are expected to increase dramatically in the next decade, requiring new, more efficient power generation solutions. MAN provided the high-efficiency engines for Gibraltar's first independent, dual fuel and fully digitized power station. This state-of-the-art facility ensures the island's efficient switch from marine diesel to cleaner LNG power.
| | |
| --- | --- |
| Customer: | Bouygues Energies & Services S.A.S. |
| Application: | Power station |
| Location of installation: | Gibraltar |
| Engine type: | Six 14V51/60 gas and dual fuel engines |
| Fuel: | Gas and dual fuel |
| Completion: | 2018 |
MAN offers expert solutions to ensure a secure energy supply
Secure supply of energy for increased reliability
Increased fuel efficiency and flexibility
High availability
Safe facilities, easy to operate and maintain
Contact us