A cleaner future with gas engines
Versatile, cost-effective and low-emission: These are just a few of the reasons why gas is such a popular choice for power generation. MAN Energy Solutions offers one of the most extensive ranges of gas engines available on the market today.
MAN Energy Solutions has the ideal high-performance, high-efficiency gas engine for your power generation needs.
Clean, high-efficiency gas engines to power the world
Our state-of-the-art gas engines deliver performance you can count on with minimal impact on the environment.
MAN Energy Solutions offers a wide range of powerful gas engines to meet your specific requirements. Our gas engines are known for their reliability, efficiency and performance. They also have extremely low exhaust emissions and fuel consumption rates – making them an environmentally friendly choice for power generation. Talk to our experts – together, you can design the perfect engine configuration to meet your needs.
Outstanding efficiency
our 51/60G engine with two-stage turbocharging is very efficient – making it ideal for use in power plants
Fast start-up
The dynamic and powerful MAN 35/44G can go from start-up to full load in less than two minutes
The future of hydrogen with MAN gas engines

Hydrogen is increasingly important for decarbonization. But it will be several years before it is available in sufficient quantities, can be transported cost-effectively, and can be used across the board in industry, transport, and power generation.
We regard SNG as a transition fuel, since it is easy to adapt existing equipment to use synthetic gas. MAN gas engines are already using power-to-X fuels such as SNG to operate totally climate-neutrally. Our gas engines are commonly used in power stations and are already 'H2-ready'.
MAN PrimeServ protects your energy assets from day one
Whether you feed energy into the grid or satisfy a localized demand, on land or at sea, our technicians provide what you need – where and when you need it, ensuring the availability, flexibility, and profitability of your plant.
How you benefit:
Fast, reliable and expert customer support
Prompt delivery of OEM spare parts
Bespoke O&M contracts
Global service – 24 hours a day, 365 days a year
Go to MAN PrimeServ
MAN Energy Solutions delivers power generating equipment for new Gibraltar power plant
The power plant on the North Mole in Gibraltar Harbor will provide the basis for the territory's future power supply – with an output far exceeding Gibraltar's current peak demand. MAN Energy Solutions delivered three gas and three dual fuel engines for the plant, which uses combined heat and power for increased efficiency.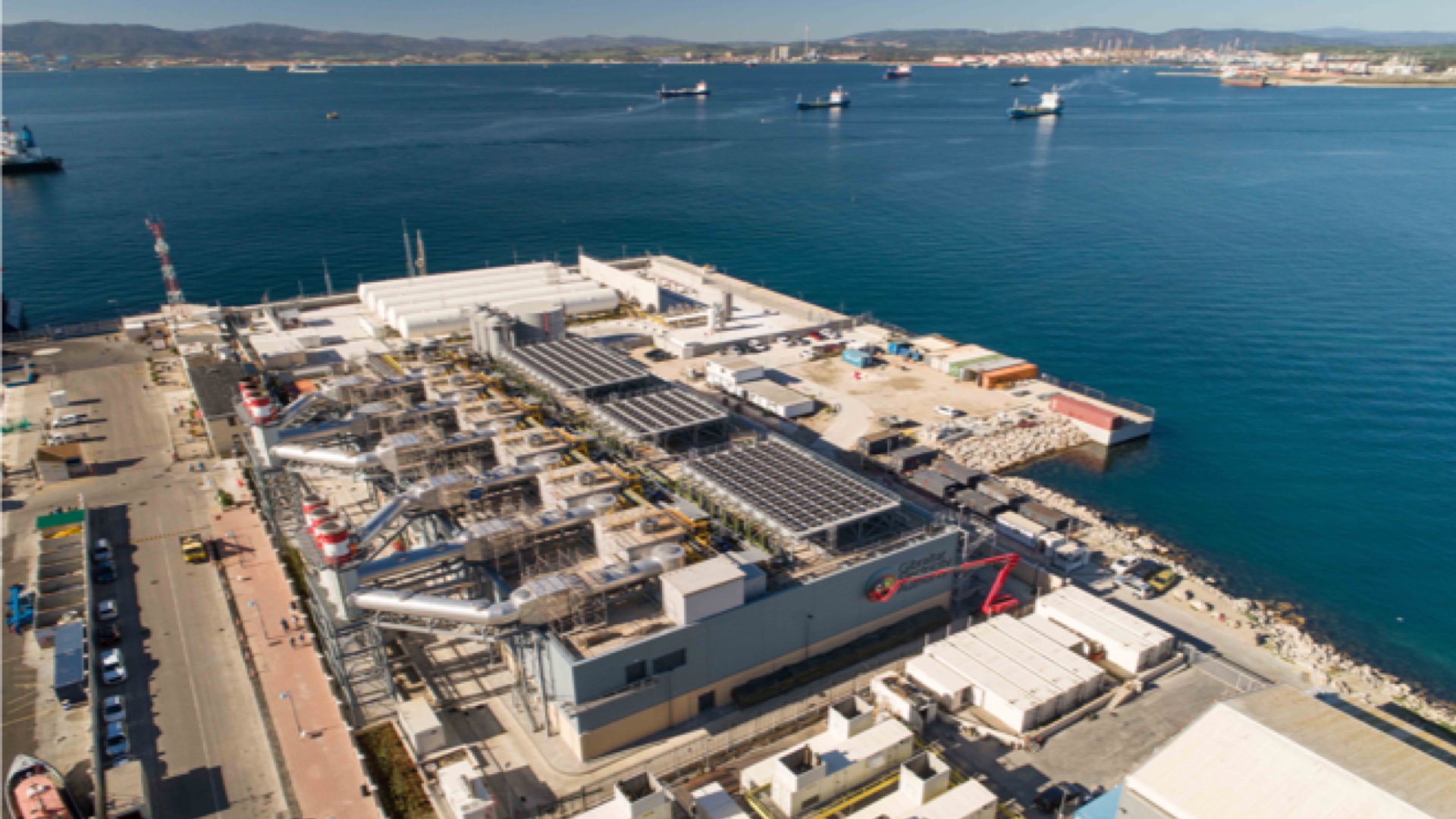 | | |
| --- | --- |
| Customer | Gibelec |
| Customer type | Power provider |
| Application | Base-load power plant & LNG terminal |
| Location of installation | Gibraltar |
| Commercial operation | 2019 |
| MAN's scope of work | Gensets and mechanical auxiliaries: 3 x MAN 14V51/60G + 3 x MAN 14V51/60DF |
Contact our MAN Energy & Storage support team
Put our gas engines to work for you
MAN Energy Solutions builds some of the most powerful and efficient engines available today. Find out how our workhorses can boost your output and profits.
Talk to our experts
Thursday, March 17, 2022
New German CHP Plant to Save 50,000 Metric Tons of CO2 Annually
MAN Energy Solutions commissions 51 MW gas-fired, combined-heat-and-power plant in Frankfurt (Oder); new facility replaces older, lignite-burning plant for excusive natural-gas operation
MAN Energy Solutions has commissioned the new, municipal (Stadtwerke) CHP (Combined Heat and Power) gas power-plant in Frankfurt (Oder). At a recent ceremony, Dr Uwe Lauber, CEO of MAN Energy Solutions, symbolically handed the plant over to Torsten Röglin, Managing Director of Stadtwerke Frankfurt (Oder), and René Wilke, the city's Lord Mayor.
The CHP plant is powered by 5 × MAN 20V35/44G gas engines, which provide 51 MW of electrical energy as well as 50 MW of district heating. In addition, MAN has installed a hot-water boiler with a capacity of 20 MW, increasing the total thermal capacity of the plant to 70MW. Despite constant challenges due to the Covid-19 pandemic over the past two years, MAN and Stadtwerke Frankfurt (Oder) were able to complete the commissioning within the estimated schedule. The five engines have been test-run since mid-February of this year.
The new, gas-engine power plant replaces an older, soon-to-be-retired CHP plant, which has supplied electricity to around 33,000 households and commercial customers – as well as district heating to around 19,000 households and companies – locally since 1997. Previously, this plant was operated with both lignite and natural gas, while the new facility will supply the same distribution network with heat and electricity generated exclusively from the more climate-friendly natural gas.
Efficiency over 90%
"Through introducing this new plant, we will save up to 50,000 metric tons of CO2 annually in the future, thus ensuring the environmentally-friendly supply of heat and electricity to the Frankfurt (Oder) region," said Torsten Röglin. "In the old power plant, around 60,000 tons of brown coal dust were burned annually. In contrast, the new plant not only exclusively uses natural gas, which is more climate-friendly, but is also particularly fuel-efficient with an overall efficiency of more than 90%."
Stadtwerke Frankfurt (Oder) has invested a total of almost 60 million euros in the power plant, representing the company's largest investment project in the last 20 years.
"The military attack on Ukraine by the Russian government, which is contrary to international law, is currently causing many people to view natural gas sceptically as an energy source," said Dr Lauber. "However, we have to separate the question of the origin of the raw material from that of the technology. Flexible, gas-fired power plants like the new combined-heat-and-power plant in Frankfurt are an indispensable technology on the way to the energy and heat transition. We need such facilities to reduce greenhouse gas emissions, phase out coal, and partner renewable energies."
Lauber continued: "With this new, combined-heat-and-power plant, Stadtwerke Frankfurt (Oder) is proving that cogeneration with district heating is a viable, long-term, economic concept for the immediate reduction of CO2 emissions that simultaneously ensures reliable electricity and heat supply to the local population."
MAN Energy Solutions states that plant emissions can be reduced even further by operating the engines with a mixture of green hydrogen and natural gas, while completely climate-neutral operation is possible when operating with hydrogen-based, synthetic natural gas (SNG).
Gas engines ideal for district heating
The MAN 20V35/44G gas engines optimise the flexibility of the entire CHP plant. In combination with a 10,000 cubic-meter heat-storage facility, also newly built, waste heat from the engines can be stored when heat demand is low while continuing to generate electricity. This enables Stadtwerke Frankfurt (Oder) to react quickly and flexibly to price fluctuations in the electricity market. This is also supported by the high reaction speed of the MAN engines, which can reach full output in less than five minutes and easily cope with rapid load changes.
Post-commissioning, MAN Energy Solutions' global after-sales brand – MAN PrimeServ – will continue as project partner and share maintenance duties with plant staff.
Documents
MAN_ES_PR_Frankfurt-Oder_ENG
Get notified about press releases