Future-proof

your

investments
Introducing the new MAN B& W ME-LGIP: the world's first dual-fuel LPG marine engine
In face of new regulations and fluctuating fuel prices, the innovative new MAN B&W ME-LGIP de-risks your investment and lets you take back control.
Ideal for new ship orders or as retrofit solution on any vessel type, the MAN B&W ME-LGIP builds on MAN's leadership in two-stroke, dual-fuel technology to set new standards for fuel-efficiency. flexibiliy and operational simplicity.
With LGP, you stay compliant with upcoming emission regulations.
Maximize fuel efficiency by switching between HFO, MGO or LPG with no performance loss.
Dual-fuel means operational security
MAN's dual-fuel engine technology gives you unprecedented financial and operational security.
By switching to LPG, you achieve full compliance with all upcoming SOx regulations and get a competitive edge of 13% less CO2 emissions, with no loss of performance or efficiency. You also retain the flexibility to use conventional fuels to take advantage of optimal market prices.
LPG is a zero-sulphur fuel with relative lower carbon content, which helps you achieve full compliance with upcoming IMO 2020 SOx regulations as well as the 2050 IMO GHG targets.

LPG also gives credit towards your IMO EEDI compliance requirements.
LPG gives you greater financial security; it is traditionally a cheaper fuel than MGO yet delivers the same performance and efficiency.

Using our dual-fuel engine technology, you can also take advantage of fluctuating fuel prices in the future. Importantly, the ability to use LPG cargo as a supplement fuel source provides significant cost savings for LPGC owners or charterers, including reduced time and fees for fuel bunkering.
Switching to LPG helps to support operational continuity. As a widespread energy source, availability is high and LPG is easier to store and handle, compared with cryogenic gaseous fuels.

Lastly, by ensuring your fleet is compliant in all international waters, you eliminate any risk of disruptions (and potential port fines) to your global shipping schedule.
Service solutions for optimum cost-efficiency
MAN PrimeServ offers advanced modernization solutions to optimize the reliability, availability, and economic efficiency of existing equipment. Furthermore, MAN's modernization and
retrofit solutions are tailor-made to customers' specific applications and machinery.
Go to MAN PrimeServ
Specifications
The new MAN B&W ME-LGIP engine
The MAN B&W ME-LGIP is the only liquid gas injection dual-fuel engine on the market that allows you to switch between conventional HFO, MGO and LPG fuels with no loss in performance and efficiency.
Engineered to MAN's uncompromising quality standards, the MAN B&W ME-LGIP delivers the long-term reliability you need, with simple installation and minimal maintenance requirements.
Key facts
Low speed, two-stroke engine reliability
Efficient, clean and flexible
Compliance with IMO Tier II & III
Lower total cost of operation
Simple retrofit solution
MAN gas safety and control system
Proven fuel for a proven platform
Reliability confirmed by service experience from 5500 ME-type engines
Specified maximum continuous power range from 5,350 kW to 82,440 kW
Gaseous fuel injections technology and engine performance verified on 78 GI and LGI engines in service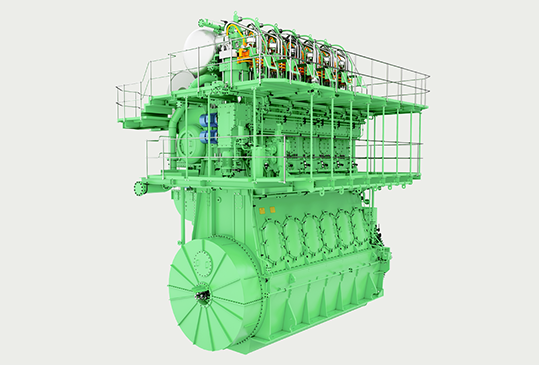 Reduce CO2 emissions by 13% with LPG compared to MDO.
LGP boosts operational continuity as it is widespread and easy to handle.
Power into the future with confidence
There are many ways in which the new MAN B&W ME-LGIP dual-fuel LPG engine can help drive long-term profitability and security for you fleet and business. Contact us today to start exploring your options.
Contact us