Introducing the MAN B&W ME-LGIP: the world's first dual-fuel LPG marine engine
In face of new regulations and fluctuating fuel prices, the innovative new MAN B&W ME-LGIP de-risks your investment and lets you take back control.
Ideal for new ship orders or as retrofit solution, the MAN B&W ME-LGIP builds on MAN's leadership in two-stroke, dual-fuel technology to set new standards for fuel-efficiency, flexibility and operational simplicity.
more than 76 ME-LGIP engines sold since 2018
up to 18% CO2 reduction when using LPG instead of fuel oil
Dual-fuel means operational security
MAN B&W dual-fuel engine technologies gives you unprecedented financial and operational security.
By switching to LPG, you achieve full compliance with all SOx regulations and get a competitive edge of up to 18% less CO2 emissions, with no loss of performance or efficiency. You also retain the flexibility to use conventional fuels that will allow you to position your asset competitively regardless of market conditions.
LPG is compliant with sulphur-emission control areas (SECA) regulations and emits lower CO2-emissions which also gives credit towards your IMO EEDI compliance requirements.
LPG gives you greater financial security; it is traditionally a cheaper fuel than HFO yet delivers the same performance and efficiency.
Using our dual-fuel engine technology, you can also take advantage of fluctuating fuel prices in the future. Importantly, the ability to use LPG cargo as a fuel source provides significant cost savings for LPG Carrier owners or charterers, including reduced time and fees for fuel bunkering.
Switching to LPG helps to support operational continuity. As a widespread energy source, availability is high and LPG is easier to store and handle, compared with cryogenic gaseous fuels.
Service solutions for optimum cost-efficiency
MAN PrimeServ offers advanced modernization solutions to optimize the reliability, availability, and economic efficiency of existing equipment. Furthermore, MAN's modernization and
retrofit solutions are tailor-made to customers' specific applications and machinery.
Go to MAN PrimeServ
Specifications
The MAN B&W ME-LGIP engine
The ME-LGIP is the only liquid gas injection dual-fuel engine on the market that allows you to switch between conventional VLSFO, MGO and LPG fuels with no loss in performance and efficiency. Based on the market leading ME-C engine with uncompromising quality standards, the MAN B&W ME-LGIP delivers the long-term reliability you need, with simple installation and minimal maintenance requirements.
Key facts
Low-speed, two-stroke engine reliability and efficiency
The new standard for LPG Carrier propulsion
Storage and management of LPG is relatively easy
Lower total cost of operation
Simple retrofit solution
Based on well-proven MAN B&W dual-fuel platform
Proven fuel for a proven platform
Specified maximum continuous power range from 4,350 kW to 29,120 kW measured at L1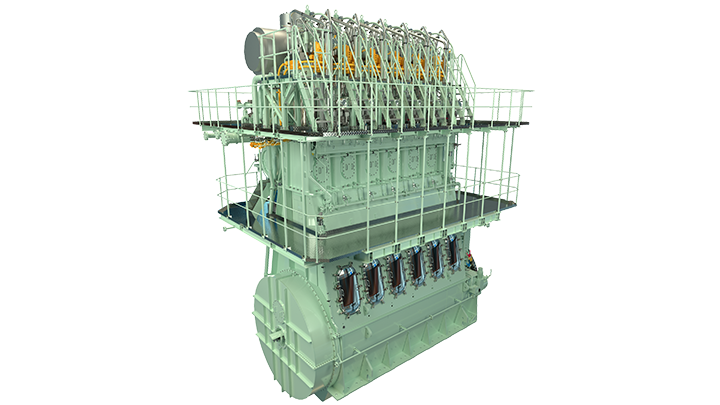 LGP boosts operational continuity as it is widespread and easy to handle.
LPG as a bunker fuel
Our proven MAN B&W ME-LGIP engine uses dual-fuel engine technology that lets you take advantage of fluctuating fuel prices. By using LPG cargo as a fuel source allows for significant cost savings for the owners or charterers which also includes reduced time and fees for the bunkering. As additional benefit, LPG is easy to store and handle compared to cryogenic gasses.
Listen to our customer BW LPG's statement regarding LPG as a bunker fuel.
Use of LPG for other ship types than LPG carriers
There are many good reasons to use LPG as a marine fuel for other ship types than LPG carriers.
LPG is a sulphur-free fuel type which makes compliance to emissions regulations easy by nature. It is widely available and also offers benefits with regards to lower fuel prices and reduced CO2 emissions.
Watch our customer BW LPG to find out more about this.
LPG as marine fuel and MAN as primemover for LPG two-stroke engines
The use of LPG are a marine fuel offers many advantages. The MAN B&W ME-LGIP engines allows operational security and flexibility to switch between conventional fuels and LPG according to your needs and current market conditions.
Tune in and watch our customer BW LPG share their experience with MAN as primemovers for LPG two-stroke engines and also highlight the benefits of this fuel type.
| | |
| --- | --- |
| Customer: | BW LPG |
| Application: | Very Large Gas Carrier |
| Shipyard country: | Retrofitted to ME-LGIP in China |
| Completion: | 2020 - 2022 |
| Fuel: | LPG/MGO/VLSFO |
| MAN's work scope: | 15x MAN B&W 6G60ME-C9.5-LGIP |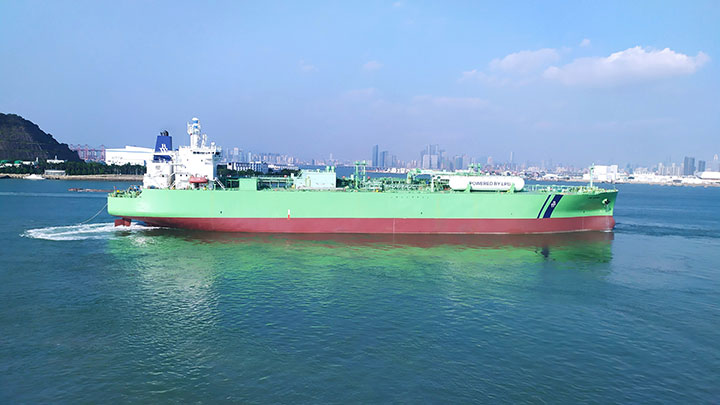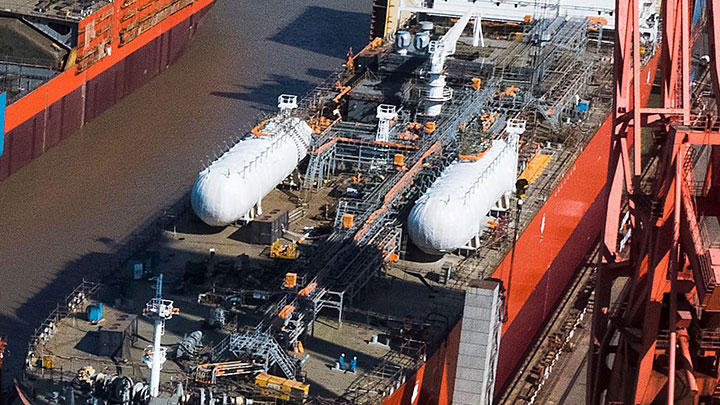 | | |
| --- | --- |
| Customer: | EXMAR |
| Application: | 88,000 m³ Very Large Gas Carrier |
| Shipyard country: | China |
| Completion: | Q2 2021 |
| Fuel: | LPG/MGO/VLSFO |
| MAN's work scope: | 1x MAN B&W 6G60ME-C9.5-LGIP |
Power into the future with confidence
There are many ways in which the new MAN B&W ME-LGIP dual-fuel LPG engine can help drive long-term profitability and security for you fleet and business. Contact us today to start exploring your options.
Contact us
Thursday, November 19, 2020
ME-LGIP Engine Lands Further Orders
Petredec signs contract for three LPG-powered engines for newbuild VLGCs; option for three more
Petredec Holdings (Eastern) PTE Ltd has announced the signing of a contract for the construction of 3+3 × 93,000 cbm LPG carriers at Jiangnan Shipyard in China. Each vessel will be powered by individual MAN B&W 6G60ME-LGIP dual-fuel engines, capable of running on LPG.
Philip Harwood, Petredec Fleet Director, added: "Petredec has always been at the forefront of new technology and this order continues our tradition of investing in the most efficient and environmentally friendly solution. We are convinced that using LPG as bunker fuel in the MAN Energy Solutions ME-LGIP engine is the best contributor to achieving the targeted 40% reduction in CO2 emissions by 2030".
Giles Fearn, Petredec Group CEO commented "We are proud to have ordered the next generation of VLGCs, which marks an important step for both us and the industry towards decarbonisation by emitting 30% less CO2 than the previous generation 84,000 cbm ships burning LSFO. It clearly positions Petredec as the pre-eminent owner of VLGC's with dual-fuel LPG and we are excited for what this next chapter in the company's evolution will bring".
Bjarne Foldager, Senior Vice President and Head of Two-Stroke Business at MAN Energy Solutions, said: "We are moving towards a zero-carbon future and there is a strong global push towards sustainability. As we pass the 2020 sulphur cap and approach the IMO's 2030 and 2050 targets, companies committed to sustainability are becoming increasingly attractive. This project displays Petredec's committment to decarbonisation and showcases MAN Energy Solutions' dual-fuel engine portfolio that is future-proofed to handle whatever alternative fuels come to prominence in the decades ahead."
The initial, firm three vessels are scheduled for delivery in January, March, and May 2023, and the optional vessels within Q2 and Q3 2023.
With an existing fleet of 21 VLGC's, Petredec is already the second-largest owner of VLGCs in the world and with an average age of 3.5 years, the lowest in its market segment.
Background
The new order follows on the heels of the announcement in October 2020 by MAN PrimeServ, MAN Energy Solutions' after-sales division, that it had successfully converted the main engine aboard the LPG carrier, 'BW Gemini', from an MAN B&W 6G60ME-C9.2 type to an MAN B&W 6G60ME- LGIP unit. The BW Gemini is part of the fleet of Oslo-listed, BW LPG.
In general, harnessing LPG propulsion translates into cleaner, more efficient engines that are cheaper to maintain. In addition, the fuel flexibility of dual-fuel engines ensures full redundancy for uninterrupted operations.
Compared to 2020-compliant fuels, using LPG as a fuel reduces SOx by 99%, CO2 by 15%, NOx by 10%, and particulate matter by 90%.
Documents
20201119_MAN_ES_PR Petredec LPG_EN

20201119_MAN_ES_PR Petredec LPG_DE