The world is changing. And so are we.
These are challenging times to navigate. Increasingly individualized demands call for flexible solutions. Future-proofing becomes a growing everyday task. And this while a globalized environment changes faster every day. But we love the challenge. And together with our customers we strive for new shores in a digital age. We believe that our technology will help our customers to stay competitive, fast and safe while reaching their destinations and meeting additional challenges related to cost pressure, increased competition and also tightening regulations.
We believe in the potential of Digital in maritime shipping and are happy to be innovators and reliable enablers of digitalization
Sea ahead. Join our digital journey
new devices connect to the Internet every second around the globe, according to McKinsey estimates.
connected devices will be in use by 2025.
Our digital solutions – present and future – are modular and can be customized to every specific need. From enhancing cybersecurity to optimizing operation, from significantly reducing fuel consumption to ensuring regulatory compliance.

Our yearlong industry experience combined with the latest digital technology makes us the perfect partner for our clients' transformation.
The industry is digitalizing. Don't miss the boat. We help you to see ahead and stay ahead of the game and leverage the potential of
Digital
for your business. For more predictability and peace of mind.To the questions raised by a globalized world, MAN Energy Solutions already has various digital answers in place, while others are still in the works. All with the goal to raise efficiency, availability, security, safety and also have a positive impact on the environment.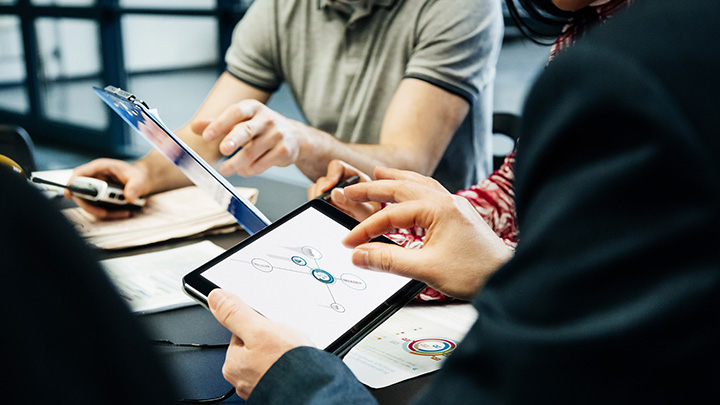 Clean
We believe in the power of clean. Our solutions help to give your equipment a cleaner and more sustainable profile. We achieve this through savings on fuel oil consumption or reducing the methane slip for example.

In this way we help you meet all current and future regulations while reducing their overall environmental impact. Constantly working towards a towards a carbon-free future.
Learn more
Available
Asset availability and its predictability are key to a successful business. Thanks to operational intelligence you can maximize the uptime of your asset and always have a good overview of all relevant data monitoring the systems.

In addition, our solutions help you avoid making your equipment obsolete over time offering the possibility to constantly renew them.
Learn more
Efficient
Higher fuel costs and increased exhaust emissions regulations are major challenges of today's industries. Our portfolio offers a range of technologies and solutions that will help optimize asset performance in terms of emissions, economy and operation.

We help you meet your efficiency targets by optimizing OPEX and fuel consumption. For new assets as well as for existing equipment via our retrofit solutions.
Learn more
Safe
Reliably minimizing risks and guaranteeing safety in an increasingly complex industry is challenging. Thanks to sophisticated monitoring of asset data, we help you avoid unplanned downtime and maximize both reliability and predictability of your equipment.

Our data-driven insights maximize safety while providing smart processes, smooth operation and predictive maintenance services.
Learn more
Secure
Cybersecurity is our highest priority. Our digital eco-system is designed to protect your company's sensitive information as well as all asset related data. We help you shield your network against cyberattacks to keep your staff and equipment safe while also lowering the risk of service disruptions. All thanks to our state-of-the-art software and hardware.
Learn more
Explore your digital options
MAN Energy Solutions' digital portfolio supports you to see ahead and stay ahead of the game. Reach out to our experts and leverage the potential of Digital for your business.

Contact our digitalization experts
Wednesday, April 13, 2022
MAN Energy Solutions and Amazon Web Services collaborate to drive digital transformation in the marine Industry
Companies set to improve operational efficiency for marine, power and industrial applications with real-time monitoring and predictive maintenance platform
MAN Energy Solutions, a leading solutions provider for the maritime, power, and industrial sector, has selected Amazon Web Services (AWS) as its preferred cloud provider to provide advanced analytics, machine learning, and Internet of Things (IoT) capabilities for MAN's CEON platform. The MAN CEON digital platform connects MAN equipment across different industries and geographies to offer customers advice, condition-based maintenance, and repair guidance for marine and power engines, turbochargers, turbines, compressors, and other connected equipment. By selecting AWS, MAN Energy Solutions is executing on its strategy to help its customers within the marine, energy, and industrial sectors to master challenges resulting from the need to decarbonize by improving efficiency and performance of their assets at a systemic level.
The MAN CEON platform combines MAN Energy Solutions' experience in the marine, energy, and industrial sectors with AWS's portfolio of cloud technologies and software expertise. Using machine learning algorithms, MAN CEON collects and evaluates operating data, and enables real-time monitoring of marine or power plant engines, turbines, and compressors, all of which are equipped with hundreds of sensors that constantly transmit data. This enables MAN experts to detect malfunctions and problems at an early stage, and to assist customers all over the world with operating and maintaining their systems.
"MAN CEON is the backbone of our developing digital-service business. By building the MAN CEON Platform on AWS, we are able to leverage the latest machine learning and IoT managed services to improve our algorithms and scale our platform to customers globally," said Uwe Lauber, CEO, MAN Energy Solutions. "With MAN CEON, we offer our customers real-time insights and help them run their system more efficiently."
MAN Energy Solutions leverages AWS IoT Greengrass and AWS IoT Core to run analytics and machine learning on the edge, meaning on the machine itself, to securely ingest data into the cloud. The algorithms for MAN CEON's predictive maintenance are developed and constantly improved using Amazon SageMaker, a fully managed service that helps developers and data scientists build, train, and deploy machine learning models quickly. MAN CEON customers also benefit from AWS secure infrastructure, with encryption from the machine to the cloud and at all layers of the technology stack.
"As industries look to improve their operations and become more efficient, they need reliable insights to avoid system failures," said Kathrin Renz, VP Business Development and Industries, AWS. "By combining MAN Energy Solutions' deep expertise in marine, energy, and industrial solutions with AWS's leadership in analytics, machine learning, and IoT, customers will be able to reach new levels of operational efficiency.
"Working with AWS reinforces our digital vision of offering advanced and secure digital solutions to transform our business, and to optimize our customers' business decisions," said Gregory Puckett, Head of Group Digital, MAN Energy Solutions.
To continue the development of the MAN CEON platform, MAN Energy Solutions will utilize an enablement strategy that includes hands-on and experiential upskilling programs for its developers, data scientists, and product engineers via AWS Data Lab, AWS GameDay, and AWS classroom trainings from AWS Training and Certification, with a focus on IoT, security, and machine learning technologies.
Documents
MAN_ES_AWS_partnership_ENG
Get notified about press releases
MAN Energy Solutions takes a security-first approach to their products, employing ethical hackers like Felix and Nico Lindner at Recurity Labs to uncover vulnerabilities throughout the development and operation of their products.

The autonomous operation of turbomachinery, assisted by machine learning and remote diagnostics, will boost efficiency and help decarbonization.

As power systems become more complex, here's how industries can manage future energy needs.