Emissions Control

for the

maritime industry
Greenhouse exhaust emissions a main concern for ships
As ships carry passengers and cargo throughout the world, they produce exhaust emissions that have a damaging impact on fragile ecosystems. Finding ways to reduce emissions and make ships greener is an important factor for the future of the marine sector.
Emission regulations becoming even tougher
The shipping industry is responsible for transporting over 95% of all goods traded around the world today. Many ships, like cruise liners and tugs, travel in environmentally sensitive areas. To do so, their engines need to meet very strict emission regulations. IMO Tier III, Emission Control Area (ECA) and Energy Efficiency Design Index (EEDI) regulations define the limits for all vessels sailing in international waters. The global response to the devastating effects of pollution and global warming on marine ecosystems is to adopt even tougher rules for emissions, as seen at the 2015 Paris Climate Conference (COP21).
Keeping hazardous greenhouse emissions to a minimum is a top priority. At the same time, it is also important to not sacrifice ship engine performance and propulsion efficiency. To ensure the future viability of their fleets, ship owners and operators need to do everything they can to minimize the carbon footprint of their vessels. They need to constantly reduce NOx and SOx emissions to stay ahead of ever stricter legislation as it emerges. This means finding and using alternative fuels while utilizing available technologies to operate the cleanest ships possible.
target global temperature limit increase set in Global Shipping's Action Plan
in emission reductions possible through energy efficiency, according to the Int. Energy Agency (IEA)
reduction in NOx emissions possible with MAN SCR (Selective Catalytic Reduction)
MAN solutions to reduce emissions at sea
MAN Emission Control technologies reduce a ship's emissions through technologies to improve efficiency and utilize cleaner fuels. In this way, we help ships meet all current and future regulations while ensuring a lower impact on the environment.
We offer our Emission Control technologies as part of MAN ECO CONTROL, a portfolio of technologies that will help optimize ship performance in terms of emissions, economy and operation. Ship operators benefit from smart processes, efficient operation and predictive maintenance services.
MAN Energy Solutions offers marine battery-hybrid systems, which combine combustion engines with additional batteries to capture and store electric power, optimizing engine operation while reducing emissions. We acquired a 40 percent stake in Aspin Kemp & Associates (AKA), a specialist in the integration of electric propulsion and energy storage systems to enhance our expertise and range of products in this field.
We also offer fully customized hybrid propulsion systems in which mechanical and electric engines work together. These are ideal for vessels with flexible operation profiles and running hours with varying power demands. Our versatile MAN HyProp ECO package combines a CP propeller, diesel engine and electric shaft machine to ensure the highest efficiency and lowest emissions in all operating modes – optimized to meet your vessel's specific needs.
How you benefit:
Fewer NOx, SOx and CO2 emissions
Zero emissions when just batteries are used (especially at slow speeds)
Increased fuel efficiency
Quieter operation
Batteries reduce transient loads, preventing black smoke during maneuvering
Wide range of operation modes
Improved performance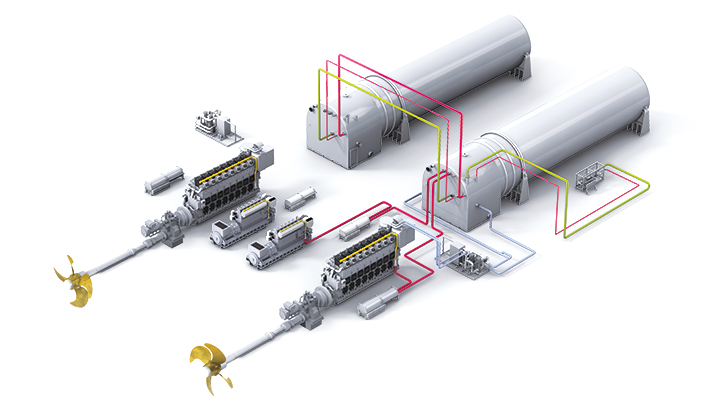 After our 2016 acquisition of Cryo AB, a manufacturer of cryogenic equipment with over 50 years' experience in cleaner burning Liquefied Natural Gases (LNG), MAN Energy Solutions created the MAN Cryo product brand – the perfect complement to our dual fuel engines. We offer solutions for comprehensive engine and environmentally friendly fuel gas supply systems (FGSS), offshore and onshore bunkering systems, and stationary distribution systems for regasification or fuel filling – all from a single source.
We can tailor our dual fuel propulsion systems to meet every requirement: from LNG technology for dual fuel propulsion to complete LNG handling systems (including carriers, floating storage and regasification units, feeder and bunker vessels).
How you benefit:
Clean burning gas, fewer NOx emissions
Increased fuel efficiency
Lower operating costs
Dual fuel system means flexibility and fuel independence
One point of contact for all components, training and support
We offer proven exhaust gas after treatment systems that meet the International Maritime Organization's strict regulations for NOx emissions and fuel sulfur content, even in Emission Control Areas (ECA). Selective catalytic reduction (SCR) and exhaust gas recirculation (EGR) are highly effective technologies to minimize harmful NOx emissions.
Our MAN SCR system is an integrated solution available in 14 different sizes for our entire range of four-stroke medium speed engines. It induces chemical reactions in engine exhaust gases to convert harmful substances into environmentally safe ones. We can also customize MAN SCR systems for new buildings and retrofits upon request.
How you benefit:
Reduce NOx emissions up to 90%
IMO Tier III compliance in ECA
Increased fuel efficiency
Increased power density
One source, one point of contact
Minimum costs, maximum flexibility
Service solutions for optimum cost-efficiency
MAN PrimeServ offers advanced modernization solutions to optimize the reliability, availability, and economic efficiency of existing equipment. Furthermore, MAN's modernization and retrofit solutions are tailor-made to customers' specific applications and machinery.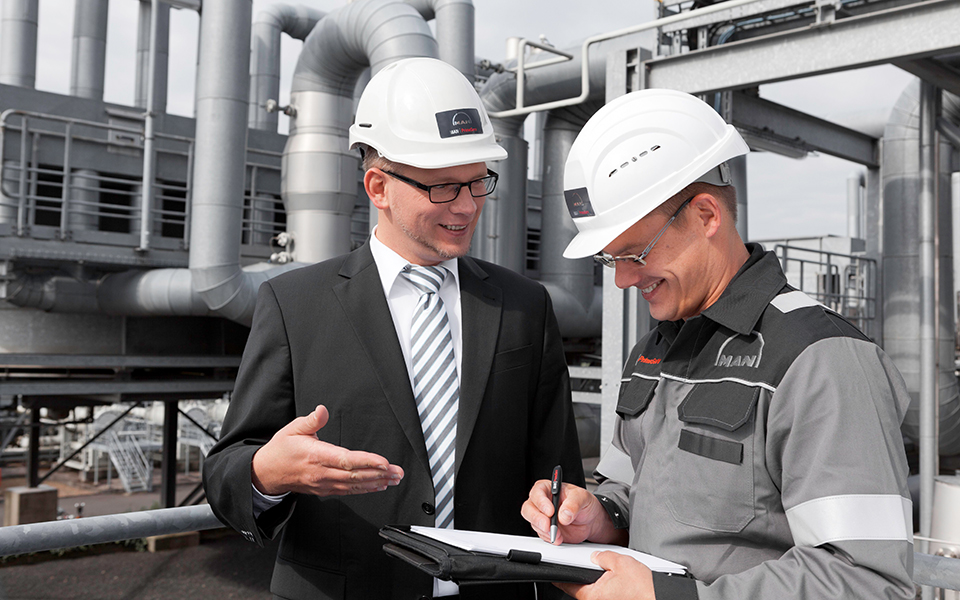 total plant efficiencies for Combined Heat & Power applications
installed capacity since 1985
World's first container ship converted to dual fuel
Our Emission Control solutions are designed to meet a wide range of customer requirements and applications while improving their overall environmental impact.
| | |
| --- | --- |
| Customer: | Wessels Reederei GmbH & Co. KG |
| Application: | Retrofit container ship to dual fuel (LNG) |
| Location: | Germany |
| Completion: | August 2017 |
| Fuel: | LNG |
| Commercial Operation: | 07 / 2015 |
| MAN's Work Scope: | MAN multi-fuel, four-stroke MAN 51/60DF engine, supplied all conversion components |
| Watch video on YouTube | |
Forward-looking Emission Control solutions ensure the viability and profitability of the marine industry
Reduced emissions for an improved greenhouse footprint, meeting all regulations
Technologies to use alternative and cleaner burning fuels (LNG)
Increase fuel efficiency for reduced costs
Improved engine performance and flexibility
Contact us
Thursday, December 3, 2020
Fuel from Waste: Volkswagen Powers Car Freighters with Used Oil from Restaurants
First ship with MAN engine already running on climate-friendly fuel; Approach reduces CO2 emissions of car freighters by more than 85%; Part of package of measures for sustainable logistics within Volkswagen Group
The Volkswagen Group continues to force the pace of climate protection: in future, Volkswagen Group Logistics will be using certified fuel from vegetable residues for certain new car shipments via marine routes. The fuel is produced from materials such as used oil from restaurants and the food industry. The first car freighter was re-fuelled for the first time with this oil in mid-November 2020 and a second ship is due to follow at the beginning of 2021.
"We are the first automaker to make widespread use of this fuel. This way, we reuse waste oil in an environmentally compatible way. With 85% lower CO2 emissions than with conventional fossil fuels, the contribution to climate protection is enormous," says Thomas Zernechel, Head of Volkswagen Group Logistics.
For European shipments, Volkswagen Group Logistics continuously charters two vessels which carry up to 3,500 vehicles on a route from Emden via Dublin (Ireland), Santander (Spain) and Setubal (Portugal) back to Emden about 50 times per year. In the course of their journeys, they carry about 250,000 new vehicles of the AUDI, SEAT, ŠKODA, Volkswagen Passenger Cars and Volkswagen Commercial Vehicles brands every year.
The two ships, which are both 180 metres long, are each powered by an MAN marine diesel engine with more than 19,000 PS (14,220 kW). In future, the two ships are to be refueled at sea off the coast of Vlissingen (Netherlands) with alternative fuel supplied by the Dutch company GoodFuels. This way, the CO2 emissions of the two conventional vessels along their route will be reduced by more than 85% – from over 60,000 to about 9,000 tonnes per year. In addition, sulphur oxide emissions will be almost completely avoided.
This change is part of a strategy to make Group Logistics even greener: another element is the use of liquefied natural gas (LNG) to power car freighters. These vessels travel between Europe, North America and Latin America. Furthermore, all rail shipments in Germany with DB Cargo are being changed over to eco-power. "This way, Volkswagen Group Logistics is helping the Group achieve net carbon neutrality by 2050," says Zernechel.
Documents
20201203 MAN_ES_PR VW Fuel from waste