TURBAIR® improves

resource efficiency

for long-term viability
A morphing paper industry faces the added challenge of rising energy prices
The digital age appears to herald the end of the paper and forest-products industry. However, appearances are deceptive. In fact, the industry is growing rapidly. It is shifting focus from its shrinking graphic-paper segment to new growth opportunities.
Tapping into new sources of value creation in a shifting market landscape
This new growth in the forest-fiber and paper industry is fueled by an increasing global demand for board for packaging and tissue papers for hygiene products. Although still a niche market, pulp for textile purposes, too, is gaining traction. But its transformation is not the only challenge the industry faces. To drive value-creating growth, it has to re-define its roles in the market and diversify its portfolios. With the bio-economy creating new business opportunities, pulp and paper manufacturers all around the world are searching for novel wood-fiber materials and applications, as well as new uses for wood and its components.
To navigate this changing business landscape, companies also need to answer questions over how they will improve technologies, further reduce their environmental footprint, and increase resource efficiency. The energy-intensive forest-fiber and paper sector is highly sensitive to rising energy and water prices. As a result, innovative technologies that cut energy and water consumption in paper production lines are key to reaching the next level of cost optimization
World production of paper and board is expected to reach 490 million tons by 2020, up from 409 million tons in 2016.
In 2017, Asia accounted for 45percent of total paper and board demand.
In its April 2018 report, the World Bank forecast a jump in prices for energy commodities - such as oil, natural gas, and coal - by 20 percent.
Energy-efficient vacuum technology by MAN for perfect paper
Vacuum systems play a key role in the paper manufacturing process. With TURBAIR®, MAN offers vacuum systems developed specifically for paper sheet dewatering and felt conditioning on paper, board, tissue, and pulp machines.
Vacuum systems handle a wide range of tasks: They dewater the paper sheet, as well as dewater and clean the press felts, which remove moisture from the paper sheet. Vacuum blowers also move paper between sections of the paper machine. In addition, they help recover water for reuse in the production process. Our TURBAIR® vacuum technology is designed to complete these tasks in a sustainable, energy-efficient, and flexible manner.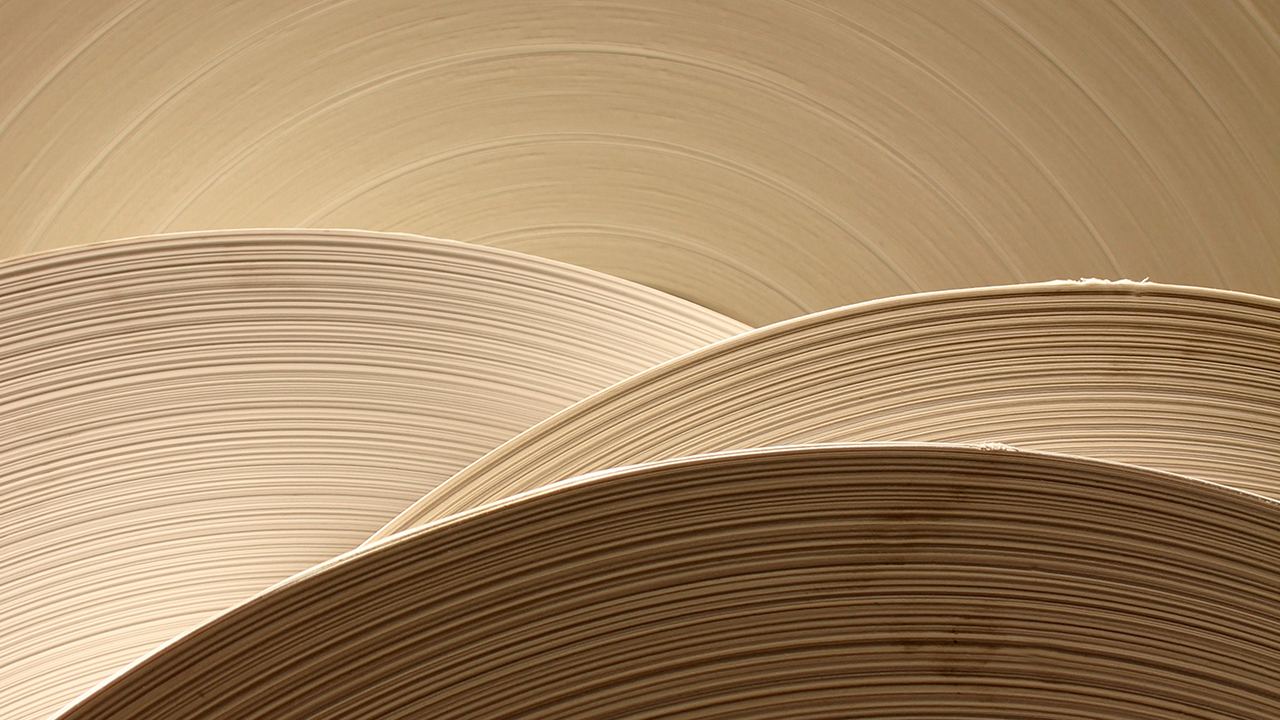 TURBAIR® Vacuum Blowers
TURBAIR® helps cut the consumption of energy and process water in the paper production flow. In doing so, it slashes related costs and reduces the environmental footprint. The environmental and economic advantages of MAN vacuum blowers keep customers in the wood-fiber and paper industry competitive.
The amount of vacuum and volume required during paper production varies depending on the type of paper manufactured. The TURBAIR® system adapts dynamically to changing conditions to provide the exact volume and vacuum needed for a perfect result.
MAN TURBAIR® vacuum systems are available in two versions: As a compact single-stage radial blower with a vacuum level of up to 65kPa, or as a multi-stage radial blower with up to four vacuum levels with a maximum of 78kPa, both type with fixed speed or variable speed available.
How you benefit:
Suction flow rates up to 200,000 m³/h
Increased thermodynamic efficiencies of up to 83%
Heat recuperation equivalent of up to 75% of absorbed blower power
Adjustable vacuum levels at varying flow rates
Low noise emission
No water consumption
Long service life
Service solutions for the paper and pulp industry
MAN PrimeServ provides dedicated after-sales services for all types of turbo machinery. Drawing on our experience as an OEM the service brand of MAN Energy Solutions enhances the reliability, availability, and economic efficiency of your products and facilities.
maximum reduction of production costs of paper dewatering achieved by TURBAIR® vacuum systems
more than 1,000 TURBAIR® vacuum systems are in service around the world.
Many TURBAIR® systems have been running for 60+ years due to the unique MAN design.
PM3 of UPM Nordland Papier dramatically cuts noise and consumption of energy and water
Our solutions for the forest-fiber and paper industry are designed to save water and energy and keep noise emissions low – helping our customers stay competitive while improving their overall environmental impact.
Customer:
UPM Nordland Papier, PM3
Customer typ:
Paper mill
Application:
Combined heat & power for own
consumption & grid
Location of installation:
Dörpen, Germany
Blower type:
One multistage blower type RC 80-4 and one singlestage blower type RT 56-1
Engergy and heat savings:
44% and 70%, respectively
Water savings:
10.4 MWe & 9.1 MWtherm
Commercial Operation:
10 m3/h
MAN's Work Scope:
Replacement of existing vacuum system
Our products for the Process Industry
Sustainable solutions to optimize cost and resource efficiency of paper and pulp production
Solutions for improved energy and cost efficiency keep customers competitive
Focus on adding value for customers
Comprehensive know-how in process technology, system engineering, quality management, and customer service
Contact us