Minimize downtime

with a 2020

Filter Solution upgrade
Low sulphur means high cat fines
For many years, cat fines in HFO have led to serious engine wear issues for ship owners and operators. For those planning to continue using HFO in some form to comply with Global Sulphur Cap 2020, it is now more important than ever to minimize the damage and downtime they cause.
Cat fines are small, hard particles in marine fuel that are an inevitable by-product of the refinery process and can seriously damage your engine over time.
From 2020 onwards, only 0.5% sulphur will be allowed in marine fuels, worldwide, except within existing ECAs (Emission Control Areas) where the 0.1% sulphur cap will remain in force. As the process to remove sulphur requires even higher levels of cat fines, new low sulphur fuels present an even greater risk for your engines, both in terms of wear and lube oil contamination.
MAN PrimeServ has the expertise and solutions ready to protect your engines – and your business – from damage and downtime caused by cat fines. Contact us today to find out how our 2020 Filter Solution upgrade can maximize your engines' operational lifetime.
Protect your engine with a 2020 Filter Solution upgrade

The cost of downtime to your shipping schedule, reputation and bottom line cannot be overstated. The MAN PrimeServ 2020 Filter Solution upgrade is therefore an essential retrofit solution to maximize uptime and profitability of your fleet.
We have the expertise to help you understand the risk and challenges that Global Sulphur Cap 2020 presents, and to make sure you make the right choices to secure your future.
Any grade of HFO will have cat fines. However, with the new low sulphur fuels in development for Sulphur Cap 2020, there will be an increase in the amount of cat fines in marine fuel as well as smaller particles which cannot be removed by existing onboard cleaning equipment.


2020 Filter Solution upgrade
The 2020 Filter Solution upgrade is designed for vessels with a two-stroke main engine and GenSets or four-stroke small-bore propulsion.

Simple to install and compatible with engines from any manufacturer, the 2020 Filter Solution upgrade is compliant with the MAN Energy Solution Project Guide for both fuel and lube oil treatment. It comprises three parts, which can either be used together, or as individual components, depending on your requirements.
Back flush filter:
removes cat fines. Available for main engines and auxiliary engines.
MAN By-pass depth filter:
lube oil cleaning/
removing contaminants. Available for GenSets and
four-stroke small-bore propulsion.
Fuel oil safety filter – duplex:
safety on engine,
last line of protection. Available for GenSets and
four-stroke small-bore propulsion.
Contact us to explore your options
Fill in the form below and we will contact you within 24 hours.
Download our product and service letters
MAN service letter SL2018-661/JNN new piston ring package

MAN service letter SL2017-640/LNW HFO cleaning and removal of abrasive particles

MAN service letter SL2017-638/DOJA cleaning of HFO and maximum 0.1% sulpur fuels

MAN service letter SL2013-577/KEL fuel safety filter for longer engine lifetime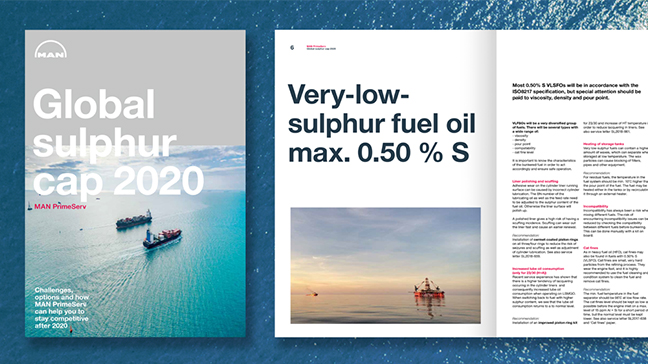 Download your 2020 brochure
To learn more about Global Sulphur Cap 2020 and how MAN PrimeServ can keep you compliant and competitive ahead of the deadline, read our brochure now.
MAN Prime Serv Global Sulphur Cap
Learn more about 2020 from our experts
How do cat fines affect your engine?
Dorthe Marie Sveistrup Jacobsen, Head of Emission Reduction Departement, Fuel & Lube at MAN PrimeServ.
How will low sulphur fuels effect major engine parts?
Jesper Mark Pedersen, Head of Cylinder Condition and Stationary Engines at MAN PrimeServ.