Operational intelligence

is everything
It's competitive out there. Your profitability and customer satisfaction are always on the line. To stay ahead of the game, you and your equipment need to execute flawlessly.
Using the latest digital technologies, we'll help you maximize your equipment availability, safety and performance.
Decision making made easy
The earlier you know about a potential problem, the earlier you can take steps to prevent it altogether. That's the heart of how PrimeServ Assist works: Continuous, comprehensive and near real-time machine monitoring and data analysis with instant notifications that allow you to take action.
Product experts who know what to do
Our Remote Operation Center is staffed with experts covering machinery operation and maintenance, data analysis and electronics to proactively support customers operating in all time zones. When they see something in your data that's not right, they'll notify your on-site and office staff with:
Ad-hoc notifications for maximum safety and availability
Pro-active maintenance advice
Pro-active performance advice
Your benefits: machinery availability, safety, and efficiency
Our platform for machine data visualization, analysis and communication between you and MAN - available on any device.
Machinery temperature is collected.
Abnormal temperature spikes are detected.
Experts in the PrimeServ Assist Remote Operation Center are alerted and evaluate the situation. They contact your ship through the MAN CEON platform.
Now a specific maintenance or adjustment job can be started.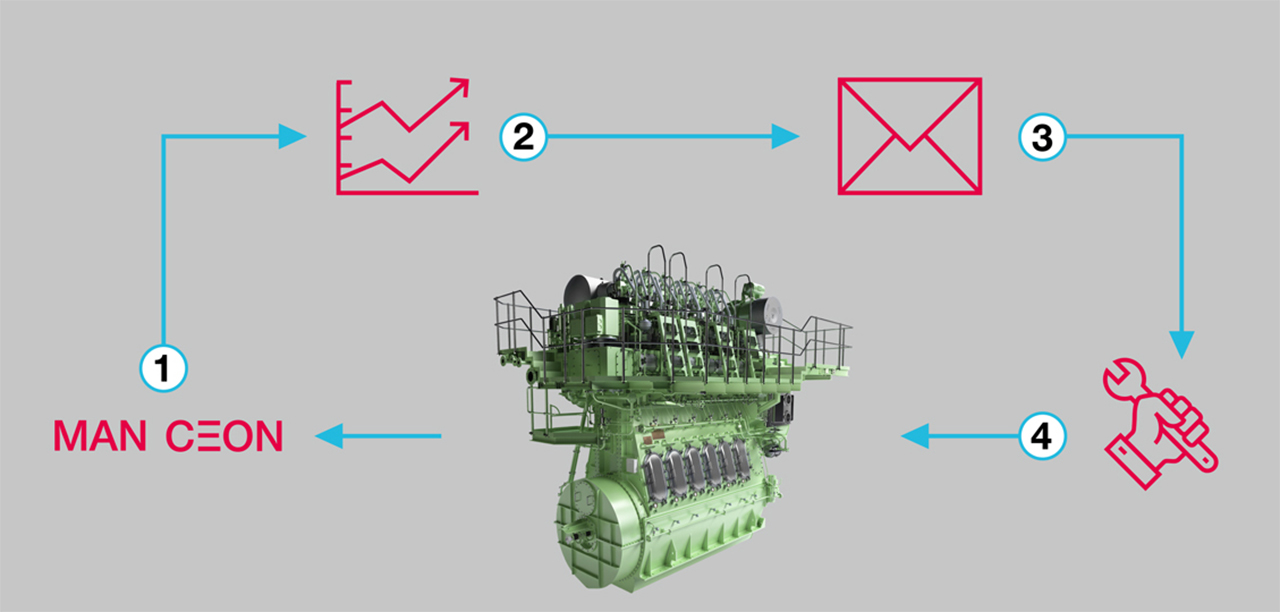 Uptime is better for business
Maximizing uptime is a priority for virtually every shipping business. For ship operators, it is crucial to have effective measures in place to predict and prevent issues before they happen.
Watch the video to learn how Ibaizabal Tankers enhance their vessels' availability, safety, and efficiency with PrimeServ Assist.
Always up, always on
MAN experts are connected by a global network to ensure round-the-clock proactive PrimeServ Assist services. If your organization is interested in MAN PrimeServ Assist contact us now.
Contact us
Learn about our MAN PrimeServ Assist service solutions for: