MAN Energy Solutions meets HRW – Project day in Oberhausen
Female students explore the site – both sides benefit from the visit
The Oberhausen site welcomed female students from the Ruhr West University of Applied Sciences in Mülheim an der Ruhr and Bottrop as part of an excursion. Among the 15 women invited were students of civil engineering, industrial engineering and mechanical engineering.
At the Ruhr West University of Applied Sciences, female students can study mechanical engineering in the form of a monoeducational course. In this unique offering, women remain among themselves for the first few semesters of study before taking courses together with all mechanical engineering students from the 5th semester onwards.
Accompanied by Marie Müntjes, the participants and program coordinator Anna Frewer were first welcomed to the media room by Oberhausen site manager Dr. Sven-Hendrik Wiers, who gave them a presentation on the company.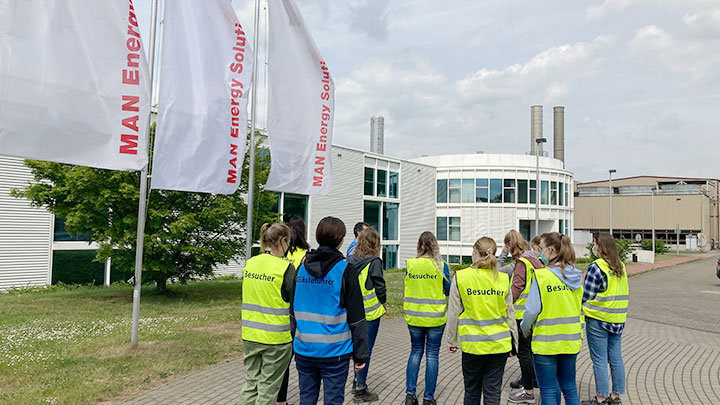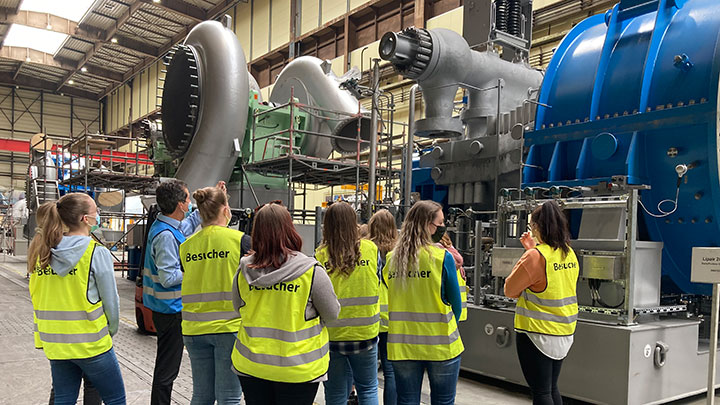 Judith Pähr then presented her work as a mechanical engineer, focusing in particular on the importance of climate-friendly energy sources such as green hydrogen. The female students were thus able to gain an insight into career prospects at MAN Energy Solutions and learn more about the products and solutions for a climate-neutral future.
Together with Angela Lohberg, she also presented MAN Energy Solutions' women's network, which was launched in Oberhausen in 2010 and has also been networking female colleagues from various organizational units online since 2020.
After an extensive tour of the plant by Klaus Hüning and a visit to the Additive Manufacturing Center at Anders Such, the three-hour event was rounded off in the media hall with an information session on career opportunities at MAN Energy Solutions.
"We are delighted to welcome students to our company again and to be able to present MAN Energy Solutions as an employer!" said Marie Müntjes from HR Development & Projects, who organized the event.
The day also met with positive reactions from the participants: "It was very interesting to gain such a comprehensive insight into a local company and to learn more about the everyday working life of a mechanical engineer. It showed us once again what exciting opportunities are available to us after graduation."
On behalf of HR Development & Projects, we would like to thank all participants for the successful day and look forward to further cooperation projects with HRW!