The message has

been heard

loud and clear
The Global Maritime Forum's Johannah Christensen talks future fuels and the effects of Covid-19 on the maritime energy transition
Rising pressure, a trillion-dollar investment and Covid-19: Johannah Christensen, Managing Director of the Global Maritime Forum (GMF) is convinced that the maritime energy transition will make real progress in the coming years despite the challenges. But it'll take a united effort, which is why she's bringing together stakeholders from the industry and beyond to find the best solutions for business and environment.
By Marc Engelhardt
Today, thanks to technology and growing public pressure, we're already seeing a number of industries take major steps in developing sustainable practices. How is the maritime industry reacting to increased attention on climate change?
Johannah Christensen: I think the message has been heard loud and clear. But the maritime industry is a supertanker that can't be turned around in a day. To decarbonize shipping, we're going to need a green shipping value chain that includes new green fuels, new bunkering infrastructure and new regulatory standards. Plus, we'll need engine fuel storage equipment providers and shipbuilders involved, and vessel operators and owners, cargo owners, and financial institutions moving in concert to make the transition. All this will take time. But there is a sense of urgency, and I wouldn't be surprised to see an exponential change towards zero-emission shipping once the first projects gain some ground.
Johannah Christensen, Managing Director at the Global Maritime Forum, says that decarbonizing maritime shipping would unlock a broader transition to clean energy in hard-to-electrify industrial sectors.
The estimate number of people who took part in the largest climate change protest on September 20, 2019.
The percentage of greenhouse gas emissions the shipping industry would like to cut by 2030.
The approximate number of container loads of cargo a single large containership could carry in a year.
Can the maritime industry actually balance environmental responsibility with profitability?

I think a lot of companies already understand that environmental responsibility is also good business, regardless of what kind of product or service they're offering. Part of that's driven by consumer behavior and part by the investors. Either way, sustainability has now become an integral part of most business strategies – and a core value for the shipping industry: no longer a nice to have, but an absolute must.

In an article (World Economic Forum: How decarbonizing shipping could unlock a global energy transition) you wrote for the World Economic Forum in January 2020, you argue that decarbonizing the shipping industry could be a catalyst for a much broader transition to clean energy as well. How so?

Well, the hydrogen-based solutions being discussed for shipping are the same as those for the big, hard-to-electrify industrial sectors. And the cost of future fuels is largely dependent on scale. Before the Covid-19 pandemic, the shipping industry consumed around 250 to 300 million tons of conventional fuels per year – more than enough to unlock the market for zero-emission fuels across a whole range of industries and revise the global map of energy stakeholders. Countries like Australia, Morocco or Chile might suddenly be potential providers of hydrogen-based fuels for shipping in the future.
Multiple approaches to decarbonization: The International Maritime Organization (IMO) has recognized a variety of strategies along with their reduction potential that are applicable to reducing greenhouse gases emissions on ships, including the use of synthetic fuels with a potential of 80 to 100 percent.
For shipping to unlock the market, they're going to have to have engines that can operate on a mix of carbon-neutral and carbon-free fuels. The "Getting to Zero Coalition", of which MAN Energy Solutions is a part, aims to have commercially viable zero-emissions vessels operating along deep sea routes by 2030. How close are we?

There's a real opportunity to achieve that goal, especially because there are so many stakeholders already making concerted efforts. But the biggest hurdle in the short term is to get a first wave of commercially viable demonstration projects or pilots off the ground so we can test new technologies, test business models and make sure they work at scale. This will build investor confidence and bring down costs.

Are there interim solutions? After all, merchant ships have a lifespan of more than 20 years.

You're right, we definitely need to make the existing fleet more efficient in the short run, which is why we're hosting a number of initiatives like the Poseidon Principles (a framework for matching ship finance portfolios with responsible environmental behavior) and the Sea Cargo Charter (which promotes energy efficiency technologies on board current ships). We're also seeing a lot of ship owners, often banks, asking for new low-carbon technology to be ready so they can make new builds a viable investment.

A lot of ship owners are asking for new low-carbon technology to be ready so they can make new builds a viable investment.
You estimate the cost to decarbonize the shipping industry to be more than one trillion US-Dollars. Where is this kind of money needed?

According to a study we launched earlier this year, only around 10 to 15 percent of the needed investments are related to the vessels (Globalmaritimeforum: The scale of investment needed to decarbonize shipping). The vast majority of investments are actually in the land-based infrastructure and production facilities for low-carbon fuels, including storage, bunkering and transport. It's worth noting, however, that a trillion US-Dollars is both a lot and not that much at the same time. Almost double the amount is invested each year in fossil fuel exploration. So it should be seen as an opportunity to invest in a market worth many trillions that's going to supply zero emission fuels to shipping and a whole range of other industrial sectors.
Still, who is going to cover the cost?

For a ship owner or operator, the cost is high and it's primarily an operational expenditure. But if you look at the other end of the value chain, at the consumer product, zero-emission transport is a tiny fraction of the overall cost of any product. The Norwegian shipping company Torvald Klaveness has done some research (Torvald Klaveness: We can make deep sea shipping zero emission - and it wouldn't even be that costly) and found out that the price of a car would rise only by around US$30, probably even less. So the question is mainly: How to pass the cost down the value chain so it can be easily absorbed?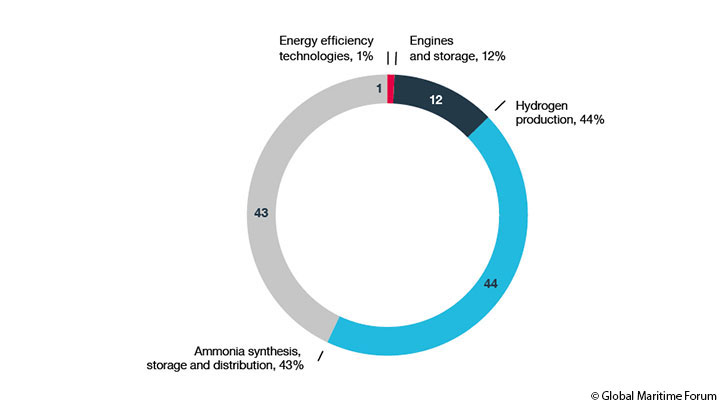 Investment breakdown across vessels and land-based infrastructure: a large percentage of investments in infrastructure to produce and store future fuels will be needed to secure the maritime energy transition.
What about a carbon levy for the sector?

There's pretty broad agreement in the industry that a carbon levy is necessary – and inevitable. The cost gap between conventional fuels in use today and new green fuels is still substantial. And the only way to close it is to have some kind of levy or tax in place, and an ambitious one if it's to have any real impact.

Trafigura recently published an analysis (Global Maritime Forum: Time for a carbon levy on shipping fuel) that we discussed at this year's GMF High Level Meeting. They write that a levy is mostly needed in the early stages before scale brings down the cost of future fuels. So they would start with a levy of US$250 to $300 per ton on the use of fuels with a benchmark level of carbon dioxide (CO2) equivalent intensity. This sum would actually bridge today's cost gap between conventional fuels and the zero-carbon fuels of the future, and those who would use the more expensive fuel would be partially compensated from that fund. Part of the levy could also be used to assist small island developing states and other developing countries to mitigate the impacts of climate change.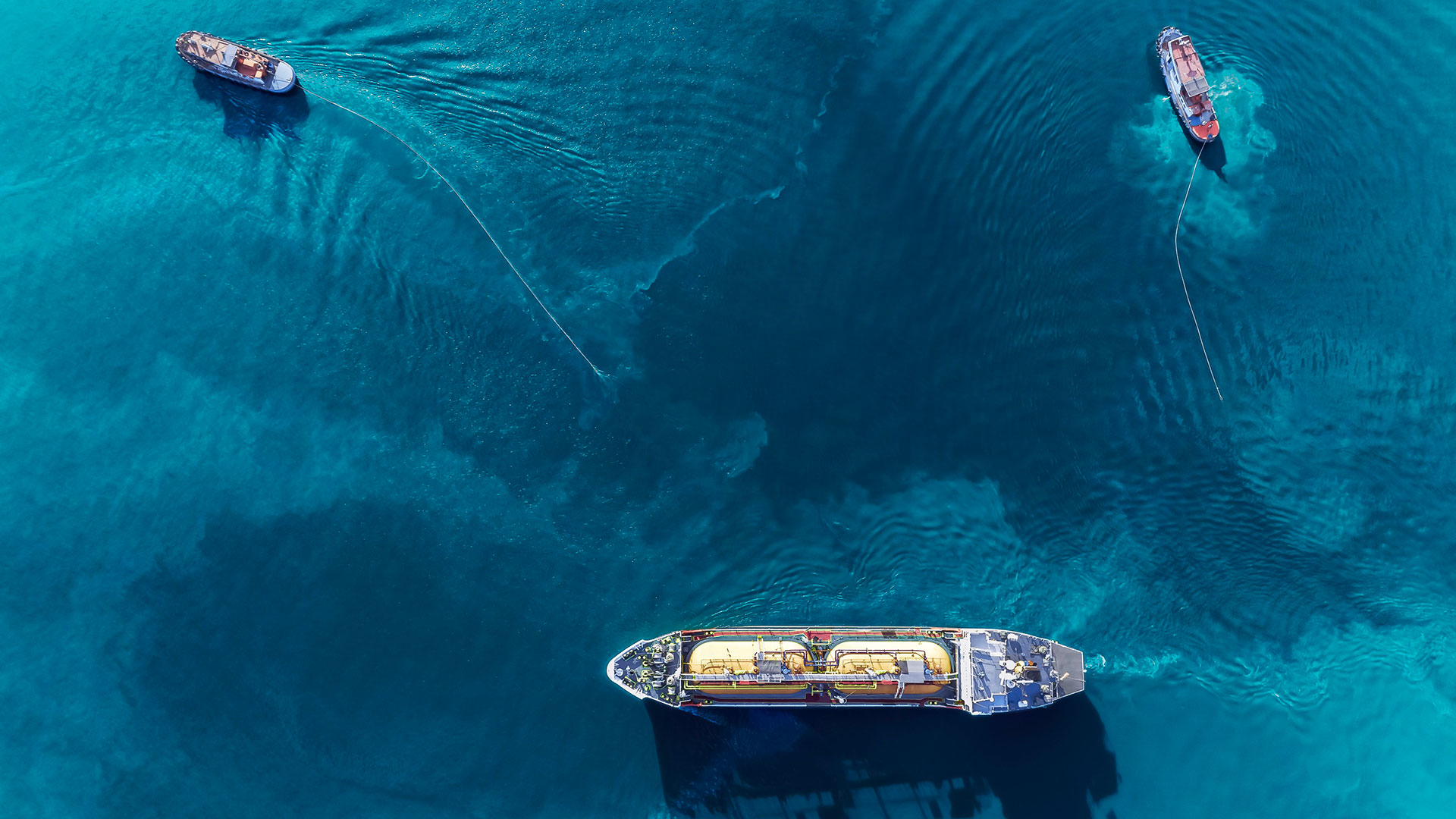 "I think the message has been heard loud and clear. But the maritime industry is a supertanker that can't be turned around in a day. To decarbonize, we're going to need a green shipping value chain", says Johannah Christensen about the progress of maritime energy transition.
For the second time this year we're seeing lockdown measures because of Covid-19. How has the pandemic affected the maritime industry and its decarbonization efforts?

We made a survey during the first lockdown, and in that, 60 percent of the respondents said Covid-19 will not affect the decarbonization of shipping. However, together with crew change, it's one of the two main issues that keeps the actors in the maritime industry awake at night. Obviously, there are discussions among policymakers about stimulus measures, and a lot of emphasis has been put around the idea of building back better. Governments can help accelerate shipping's transition and create a more resilient world economy that takes into account long-term impacts on our climate. It's an opportunity we shouldn't miss.
About the author
Based in Geneva, Marc Engelhardt reports on the United Nation, international organizations and global developments in economics, science, politics and energy. His work has appeared in a number of media outlets, including the Neue Zürcher Zeitung, ARD and Die Zeit.

About Johannah Christensen and the GMF
Johannah Christensen is the Managing Director and Head of Projects & Programs at the Global Maritime Forum. She carries an M.Sc. in economics and business administration from the Copenhagen Business School. She has previously worked as a program manager with the World Economic Forum in Geneva and as a project director with the Danish think tank Monday Morning. Before joining the GMF, she was Head of Development at the Danish Maritime Days, a major event for the global maritime industry.

The Global Maritime Forum is an international not-for-profit foundation committed to "shaping the future of global seaborne trade to increase sustainable long-tern economic development and human wellbeing". Based in Copenhagen, the forum convenes leaders from the maritime community with diverse stakeholders from all over the world. The GMF was established in 2017 and hosts the Getting to Zero Coalition, an industry-led network of more than 120 companies within the maritime, energy, infrastructure and finance sectors.