Learning from

machines, learning

from humans
Turbomachinery on the brink of autonomous operation
Fossil resources such as oil and gas are becoming scarcer and prices are skyrocketing. In addition, climate change is forcing a radical rethink in the industry. A more efficient operation of turbomachines is key to supporting the energy transition and ensuring sustainability in the long term: to benefit the environment, but also to improve cost-effectiveness for the operators of industrial plants and their customers. The autonomous operation of turbomachines has emerged as the solution for this challenge, turning MAN Energy Solutions into a digital pioneer in the turbomachinery industry.
By Ingo Petz
Jörg Massopust: In the machine diagnostics business for over 20 years. ©Ralph Richter
The future has picked up speed. Since 2017, a dedicated team at MAN Energy Solutions has been working on designing the fully automated operation of its own machines, used in the on-shore industry or in offshore applications, with the help of digital solutions and tools. Already since 2021, the company has been able to support its customers with near-autonomous operation in all market segments.
By 2028, however, the industrial group aims to achieve autonomous operation as the standard for its products. "We are already in a position to run the sophisticated plants unmanned," says Jörg Massopust, Head of Digital Sales & Alliances for MAN Energy Solutions, at their offices in Oberhausen. "For us, as for the entire industry, the important idea of energy efficiency really gained traction due to the new climate targets."
Digital solutions not only help to operate the increasingly complex plants more safely and reduce errors that might result in accidents. They also decrease the demands on highly skilled plant operators on site to ensure smooth and reliable 24/7 operation. However, due to the complexity of the new plants, qualifications can hardly keep up, says Massopust. "But digital tools such as our remote and diagnostic services are there to assist and, at the same time, ensure safety, optimization, and thus better competitiveness."
Digital solutions will be increasingly used to calculate optimization possibilities at countless adjusting screws during the operation of the plants, so that the machines can run at the optimal operating point. The final result is a more efficient operation overall. This not only helps to protect the environment, but also to save energy costs and to achieve a reduction in operation, maintenance and life-time costs. MAN Energy Solutions has calculated that an increase of just 1 percent in plant energy efficiency can result in savings of more than €2 million per year.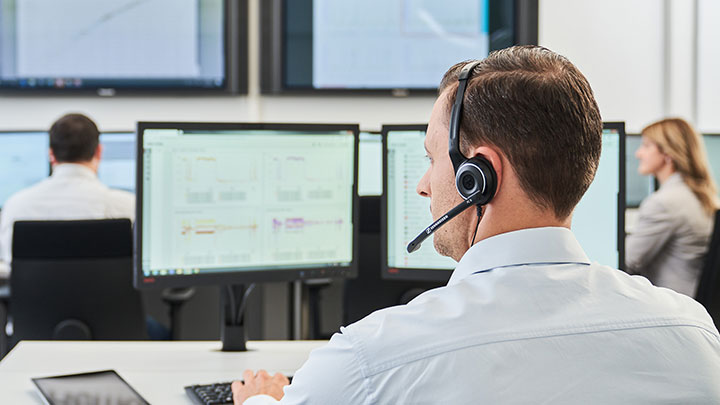 In its Remote Operation Centers MAN service engineers are using digital tools such as remote and diagnostic services to assist customers worldwide. ©MAN Energy Solutions
can be saved per year by improving plant efficiency by just 1%
MAN Energy Solutions has more than 20 years of experience in machine diagnostics
By 2028 MAN aims to offer autonomous operation as standard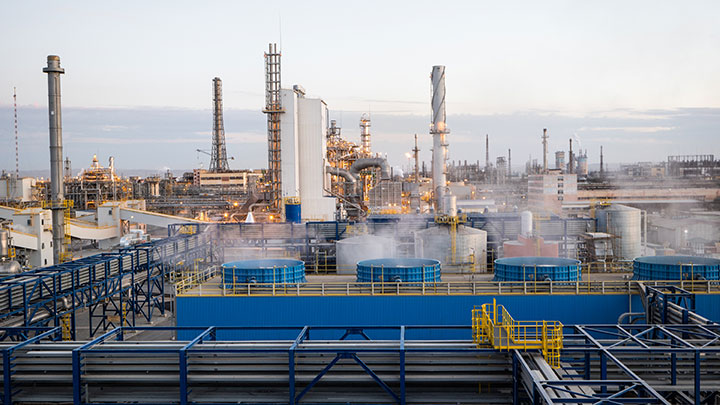 In 2020, MAN Energy Solutions completed the first, fully-remote, supervised commissioning of a compressor train for nitric-acid production at the Navoiyazot plant in Uzbekistan. ©Elyor Nematov
From remote control to autonomous operation
"The real trigger for the further development and faster implementation of our future vision clearly was the Covid pandemic," Massopust explains. At that time, he and his team were forced to rethink their practices – and at record speed. In Uzbekistan, they were on the verge of commissioning a compressor train. Because of the contact restrictions during the pandemic, MAN Energy Solutions were forced to withdraw their local staff. As a result, they had to plan the world's first remote commissioning, i.e., the commissioning of a compressor train via an internet connection. And they succeeded. "This success has led us to offer remote commissioning and remote services as a standard option since then," says Massopust. "It was extremely encouraging to us that not only we were on the right track, but that so much more seemed possible."
In the past, an expert from MAN Energy Solutions would have had to fly for example for 30 hours to be able to identify and solve a problem on a plant in Australia. "Today, in the best case, we might find the root cause and adjust the plant in just one hour using remote services, which is a massive cost advantage for the customer." The remote services are an extremely important step on the way to autonomous operation, because they demonstrate that it is possible to optimize control and operating processes digitally from a distance by sharing and processing real-time data. And this success creates trust among customers, which in turn is an essential driving force for the next leap in development.
It was extremely encouraging to us that not only we were on the right track, but that so much more seemed possible.
Algorithms that learn from their own mistakes
Since mid-2021, MAN Energy Solutions and thyssenkrupp UHDE have been working within the framework of a digitalization cooperation to develop and test the autonomous operation of compressor trains for nitric acid plants and other applications. For this purpose, the operation of such a complete plant has been divided into more than 40,000 dynamic model segments for which sensors provide data on a wide variety of parameters, such as temperatures, pressures, vibrations, flows and stresses. Currently, a high-performance computer is being fed with these data sets.
This AI-based model predictive controller (AI-MPC) of the next generation is the central building block to enable autonomous operation in the future. Taking real time into account, the AI-MPC will be able to match dynamic data on the operating process and predicted maintenance needs with such parameters as raw product feed costs, revenue, emissions or transport or energy costs. "It's a bit like the precise weather long-term forecast that I need to plan my holiday," Massopust explains. "With AI we will be able to forecast, depending on the operating data, the requirements of the market, the production costs and the transport costs: what cost/price optimum can I achieve with my products on the market? Where and when is the benefit greatest?"
The basic principle of the algorithms that do the computing work is reinforcement learning. Essentially this means that the MPC can learn from its own mistakes via artificial intelligence. In the future, all this diagnostic data as well as the learning and experience data will also help to better simulate plants and their desired operating processes already in the project development phase. "Many simulation criteria are already part of the tender when customers are about to engineer new plants. This is a trend that will only continue to grow," says Massopust.
MAN Energy Solution engineers worked with local specialists to commission the four-part compressor train at the Navoiyazot plant in Uzbekistan. ©Elyor Nematov
Digital solutions not only help to operate the increasingly complex plants more safely, they also decrease the demands on staff on site to ensure smooth and reliable 24/7 operation ©Elyor Nematov
Paradigm shifts in the making
Design for digital – this is how the paradigm shift can be described that will make the step to autonomous operation possible. The plants will be developed from the outset based on their projected operational challenges and production goals, in order to be able to operate the machines safely and energy-efficiently throughout their entire service life. "Our digital features help with this," says Massopust. "Customers thus learn to consider the entire palette of digital life cycle solutions in the early engineering phase for turbomachinery."
And this is where the next paradigm shift comes into play: If, for example, prescriptive maintenance activities can be calculated over a life cycle of around 60 years, plus operating, transport, maintenance and production costs, the level of investment for the development and construction of such a complex, digitally boosted plant also presents itself in a different light. "Capital expenditure (CAPEX) and operating expenditure (OPEX) must be considered holistically," emphasizes Massopust, who has been working in machine diagnostics for over 20 years. "One thing is clear: Higher investment costs can be recouped much better in the course of a constantly digitally optimized operating and production process."
But does this all mean that we will see fully unmanned plants in the future? "Autonomous operation of turbomachinery equipment will not replace human personnel and the expertise they offer," emphasizes Massopust. "Rather, it's the combination of human expertise and AI expertise that is the key to success."
Today, in the best case, we might find the cause and adjust the plant in just one hour using remote diagnostics, which is a massive cost advantage for the customer.
Based in Berlin, author and journalist Ingo Petz has worked for more than 20 years as a freelancer covering Eastern Europe for publications such as the Frankfurter Allgemeine Zeitung and Der Standard.
MAN Energy Solutions takes a security-first approach to their products, employing ethical hackers like Felix and Nico Lindner at Recurity Labs to uncover vulnerabilities throughout the development and operation of their products.

As power systems become more complex, here's how industries can manage future energy needs.

When the pandemic forced engineers off site, they launched a historic remote commissioning operation.