Every design has a social impact, but not all design is socially oriented. To create a more sustainable world, "social design" explores how we can make our planet more livable for all.
Daan Roosegaarde thinks we have a problem. "A lot of the issues mankind faces – climate change, air pollution – are connected to bad design. It's not nature. We as humans are responsible, so we have to design and engineer our way out of it." The key to solving this problem, believes the Dutch designer, is curiosity and imagination. "If we can't imagine how we want our future world to look, then we won't get there, regardless of money or technology."
To spark our imaginations, Roosegaarde and his studio team create extraordinary works that connect people and technology to improve life in urban environments. From giant kites to virtual floods or smog removers, Roosegaarde's creations address topics like sustainable energy, rising sea levels and even space pollution.
Take his "Glowing Lines" and "Van Gogh Path" projects: instead of illuminating roads and cycle paths with electricity-hungry streetlamps, Roosegaarde uses glowing paint and lighting to create a safe, beautiful and sustainable solution. Or his new Space Waste Lab, which aims to upcycle some of the many thousands of pieces of space junk floating above the Earth.
Roosegaarde may not care much for the label – "I try to explore, not define!" – but he is one of the world's leading practitioners of social design. Instead of merely creating, social design acknowledges that every design has an impact and that designers have a responsibility to make positive changes with their work.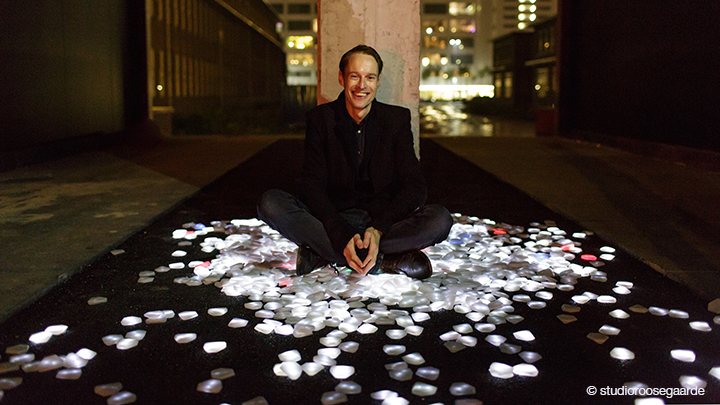 Social design advocate Daan Roosegaarde
Social design for a livable future
An early champion of this credo was Austrian Victor Papanek, who worked with the likes of the United Nations and the World Health Organization on products to benefit people and the environment. "Much recent design has satisfied only evanescent wants and desires," he wrote in his book, Design for the Real World, "while the genuine needs of man have often been neglected by the designer."
Roosegaarde agrees. "I don't want to create more chairs, lamps or tables. My projects are about envisaging a future in which we're trying to find a balance, find how technology can help us become more human."
One of Roosegaarde's most eye-catching and renowned creations is the Smog Free Tower, part of his larger "Smog Free Project" campaign. The seven-meter-tall aluminum tower sucks up smog and uses ionization technology to clean it, before releasing clean air into parks and playgrounds. The collected carbon is then used to create diamonds that are each set in a Smog Free Ring and sold to fund further development.
Studio Roosegaarde's Smog Free Tower creating clean air in Beijing
The World Economic Forum, for whom Roosegaarde is a Young Global Leader, has championed the Smog Free Project, and a video on the Tower was its most watched of 2016, clocking up more than 34 million views.
Indeed, Roosegaarde, who has been featured by the likes of Forbes, Wired and TED as a creative influencer, seems to have a knack for headline-grabbing projects. In 2018, his "Waterlicht" project made front pages around the world by "flooding" the UN Headquarters in New York to mark World Water Day. Using LEDs and lenses, the installation creates an immersive virtual flood to draw attention to rising sea levels. It is designed to instigate feelings of power and vulnerability, he says, forcing us to ask questions like, "can we build floating cities," or "how much power can we generate from the movement of water?"
Studio Roosegaarde's social design project Waterlicht created the illusion of a flooded New York
From social design to good science and engineering
While many of Roosegaarde's projects function as artworks to draw attention to the issues of sustainability, work like the Smog Free Tower or the Van Gogh Path represent an important first step towards implanting functional social designs on a larger scale.
He believes cooperation is vital and would like to see experts from different areas work together more. "The role of the designer is to provoke and activate; scientists excel at research; engineers are good at optimizing systems. They have to challenge each other," he says. "It's not about always being right, it's about shaping a dream for how you want the world to look, then infusing it with what you need to make it work."
per hour Is cleaned by the Smog Free Tower
up to 70% of particulate matter is removed from polluted air by the tower
of air are cleaned to harvest the carbon contained in one Smog Free Ring
My projects are about envisaging a future in which we're trying to find a balance, find how technology can help us become more human.
Daan Roosegaarde, designer
Social designers making an impact
Danish art group Superflex has gained international recognition for what they refer to as "Tools," large-scale projects that explore social and economic issues, and can be further used and modified by others. Projects: Past works have addressed alternative energy and commodity production, while Superflex's new "Deep Sea Minding" project combines artistic and scientific research to further our understanding of marine life.
Carlo Ratti transcends disciplines. Architect, engineer and director of the MIT Senseable City Lab, the Italian is an advocate of smart design to solve a variety of social issues. Projects: "Local Warming," originally conceived for the Venice Biennale, examines the issue of energy wasted on heating empty offices and homes. Infrared heating elements are guided by motion tracking to provide personalized "microclimates" for each user. With "Livingboard," Ratti is creating a portable housing system for poor rural areas that allows people to build and shape their own dwellings on top of a prefabricated core.