Local references by MAN Energy Solutions Mexico
Six centrifugal compressor trains for FPSO vessel
MAN Energy Solutions Mexico was commissioned by MODEC, a leading specialist in the offshore oil and gas industry, to supply a total of six compressor trains for a new FPSO (Floating Production Storage and Offloading) vessel that will be deployed in the offshore area one, approximately ten km (six mi) off the coast of Mexico at a water depth of 32 m (105 ft).
These centrifugal compressor trains are comprised of three medium/high-pressure (MP/HP), two low pressure (LP) and a fuel gas compressor train. The compressors are crucial to maintaining the pressure in the system, thus maximizing the quantity and efficiency of gas production.
The FPSO MIAMTE MV34 is MODEC's first strategic FPSO project for the oil & gas private sector in Mexico.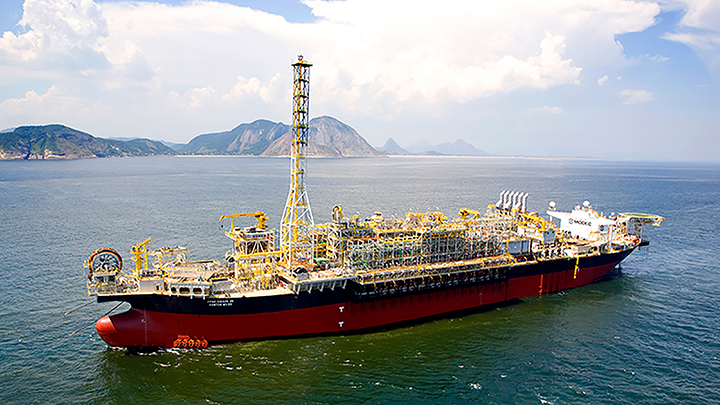 The compressors to maintain the pressure
MAN Energy Solutions will carry out the final onsite setup and commissioning of the vessel, which includes all tests, measurements and necessary adjustments required to ensure proper functioning of the compressors before the vessel is operational, scheduled for 2021. Once in operation, the compressors will help maintain the pressure in the system to maximize the quantity and efficiency of gas production, specifically, fuel gas for the gas turbine onboard, gas injection back to the well to maintain well pressure and gas export to onshore station.
Customer:




MODEC Offshore Production Systems Pte. Ltd.

Application:


Centrifugal compressors: 3x50%
MP/HP: RB 35-5+4 // 2x100%
LP: RB 35-6 // 1x100 FUEL GAS: RB 28-8


Location:


Miztón Field, Mexico

FPSO vessel is scheduled for first production
barrels processing capacity of crude oil on the FPSO vessel
cubic feet of gas and 120,000 barrels of water injection per day
Major fleet ready to sail
The major fleet of Petroleos Mexicanos (PEMEX) is formed by 16 oil tankers, through which, PEMEX distributes hydrocarbons (mainly gasolines and diesel) throughout the country for consumption of various industries. As a vital part of the supply chain, it is of the utmost importance that these vessels are always ready to sail, this means, having the engines in excellent conditions.
Since the arrival of these vessels in Mexico in 2013, MAN Energy Solutions Mexico has supported PEMEX with various services, like pre-docking inspections, planned and emergency technical assistance, supply of spare parts and overhauls, repairs, analysis and interpretation of fluids, among others. This level of support has allowed us to remain PEMEX's commercial partner for more than seven years throughout different service agreements.
Customer:




Petróleos Mexicanos

Application:


Two-stroke engines: 14x 6S50MC-C, 2x 6S46MC-C
Four-stroke engines: 9x6L23/30H
Turbochargers: 3xNR157R184, 6xNR20/R172

Location:


Oil Tankers: Bicentenario, Burgos, Calakmul, Centenario, Centla, Chicontepec, Ignacio Allende, J. Ma. Morelos II, Jaguaroundi, Kukulcan, Mariano Abasolo, Miguel Hidalgo II, Raramuri, Tampico, Texistepec, Vicente Guerrero II.

the ships of PEMEX fleet arrived in Mexico
two-stroke engines, nine four-stroke engines as well as nine turbochargers are built into the PEMEX fleet.
cylinders in total with an energy output of 156 MW.
Get in touch
For more information on
our product portfolio
our services
feel free to contact us anytime!
Local contacts