Off to new standards.
About the ground-breaking partnership between Royal Huisman and MAN Energy Solutions.
When innovative pioneers join forces, great new benchmarks can be achieved. Royal Huisman is a Dutch shipyard specialized in high performance sailing yachts, cruising yachts and luxury superyachts. With more than 135 years of experience, Royal Huisman unites cutting edge technology and innovation with traditional craftsmanship and timeless values. Their latest vision? Project 406. The world's largest true sportfish yacht. Individually designed and with 52 m of length the project will set new standards in luxury and sport fishing. A mission so ambitious and exceptional that it can only be realized with the right partners. And the most powerful high-speed engine on the market, the MAN 20V175D. Manufactured within sophisticated production processes and tested under the most intense parameters in so-called extreme conditions tests – the engines stand ready for their delivery and implementation in 2022. In line with Royal Huisman's approach of "bringing all relevant parties together", the team recently stopped by at the production site of MAN Energy Solutions in Fredrikshavn / Denmark to get an impression of the engine and the assembly workshop as well as its performance in the test bed. We talked to Royal Huisman CEO Jan Timmerman about the company and the joint project.
Mr. Timmerman, can you give us some background information on Royal Huisman and its heritage?
Royal Huisman was founded in 1884 and received the Dutch "Royal" Warrant nearly 40 years ago. We have successfully delivered hundreds of vessels including an impressive portfolio of thirty-plus superyachts. From classic to contemporary, from 30m to 90m+ / 100ft to 300ft+, every single one of these yachts is unique and tailor-made. Our legendary passion for perfection, expertise, quality, experience, flexibility, and the continuous innovation behind these projects, is not limited to our signature sailing yachts, however, as Royal Huisman is equally comfortable building exquisite motor yachts.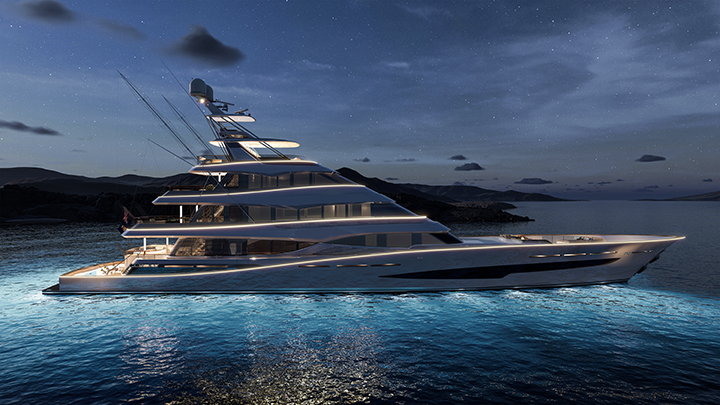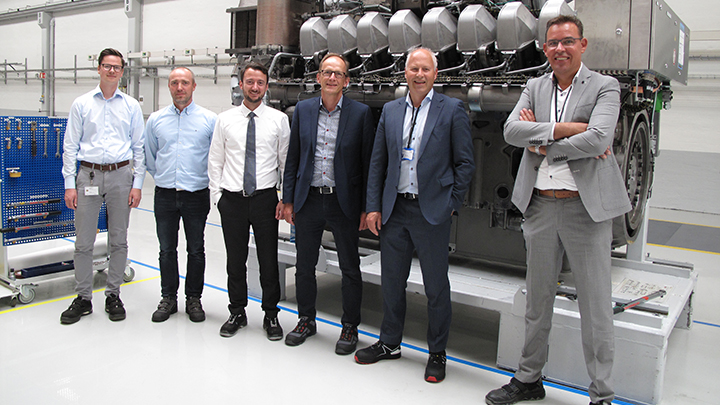 From left to right: Stig Eitel Seiferheld (Test bed engineer), Martin Kragelund Andersen (Test Bed Manager), Benjamin Andres (Head of Head of High Speed Marine Four-Stroke), Florian Keiler (High Speed Sales Yacht Application), Jan Timmerman (CEO RHS), Bert Doosje (Purchasing RHS)
Can you tell us a bit more about developing motor yachts and specifically Royal Huisman project 406? What is it all about?
Used as we are to working with sailing yacht beam proportions, we have a comfort zone that perfectly suited the aspirations for, and challenges of, this 52m motor yacht project 406 – to be the world's largest true sportfish yacht – and our recently launched 58.5m project PHI, which other yards may not be able to offer. Keen to benefit from our expert advice, each of these owners took their highly distinctive, individual projects to Royal Huisman where we enthusiastically welcome fresh opportunities for creative problem-solving and innovation. For project 406 we are delighted to work with the team of MAN Energy Solutions to be able to meet the owners' requirements for performance, efficiency, and speed. The combined team of owner representatives, naval architects and shipyard engineers are satisfied that MAN's innovative engines are the very best available on the market today for this application.
A can-do mentality, seeking to optimize and enhance the ideas of the owners, their architects and designers, rather than trying to persuade them to scale back their ambitions.

Why did the owner choose Royal Huisman to develop #406?
Two good examples of the 'edge' Royal Huisman has to offer, are, firstly, the expertise we have acquired from our unrivalled 55 years of experience with aluminium construction. This enables us to maximize performance and efficiency through compact, lightweight, and high strength engineering. Secondly, our ability to design and install complex operational systems and components from top quality brand manufacturers such as MAN Energy Solutions, in restricted volume hull areas. This provides the owner with more net space for amenities and further increases efficiency. Add to that a can-do mentality, seeking to optimize and enhance the ideas put forward by the owners, their architects and designers, rather than trying to persuade them to scale back their ambitions to what the shipyard is accustomed to delivering. We think that's a pretty good combination!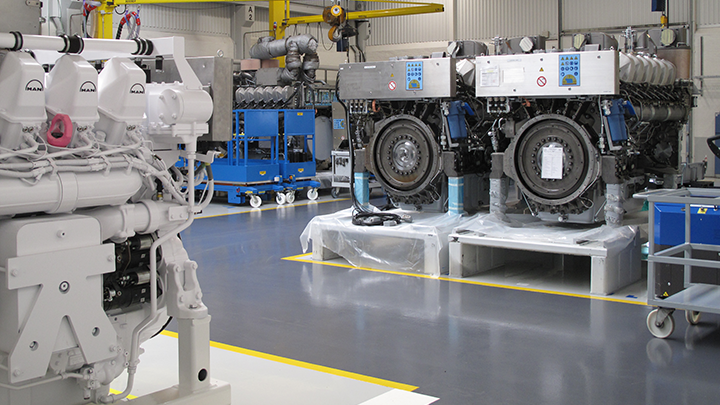 MAN 175D engines at the production facilities
What makes you proud?
The team of Royal Huisman is certainly proud of the recently celebrated milestone for project 406: the start of the aluminium cutting, following extensive engineering and preparations by the shipyard team in cooperation with the owner's team. Meanwhile we have started the construction and are very much looking forward to installing the MAN main engines onboard when the time comes. During their visit the Royal Huisman team was very impressed. They got very deep insights in the new MAN 20V175D and its outstanding power, and also the high quality assurance and sophisticated production process of the assembly line – and they can look forward to receiving their engines in beginning of 2022. Also here at MAN Energy Solutions we are very excited to see this project come to life.
We talked to Florian Keiler (High Speed Sales Yacht Application at MAN Energy Solutions) about why the MAN 175D is just the right engine for high-end yachts.
We are proud to have Royal Huisman as new customer with a notable name in the yacht market. And we are equally proud that our MAN 175D engines will propel the largest sport fisher yacht in the world.

Mr. Keiler, what makes the 175D engine such a perfect choice for the Yacht segment?
The answer to that is quite simple. It is the most powerful high-speed engine in the world right now. We've extended the output to 4400 kW. Due to its compactness it fits into the narrowest engine rooms. Environmental footprint AND operating costs are low due to high fuel efficiency and long endurance. And our yacht customers are well taken care of via our PrimeServ aftersales network – worldwide. So to sum it up it really offers the complete powerful high quality package for the yacht segment.
Let's go a bit more into detail here. What are the specific needs of yachts, and how does the 175D meet them?
Yacht operators require highest reliability and full support during maintenance. MAN 175D and its after sales support fulfill exactly this. Each yacht is an own masterpiece. That refers also to the propulsion system. MAN Energy Solutions is able to engineer customized propulsion systems incl. engine, gearbox, propeller as well as hybrid diesel-electric plants, to meet and optimize to the operating requirements of each yacht.
The visit to the production facility offered great proof-points for the high quality assurance and sophisticated production process. Featured on this picture: a MAN 16V175D engine.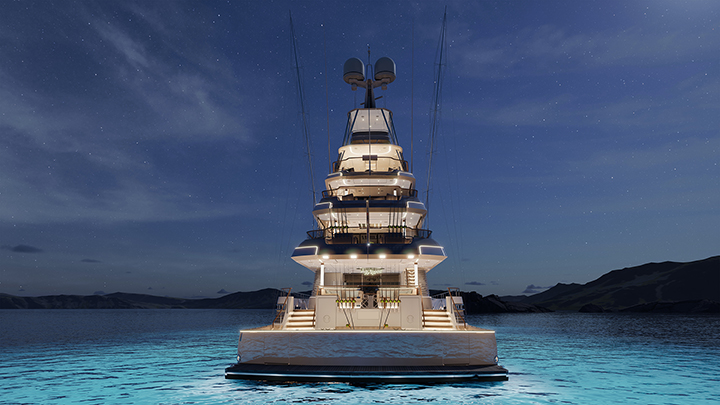 How exactly did the partnership and collaboration between Royal Huisman and MAN Energy Solutions come about?
Royal Huisman and MAN Energy Solutions had the first project together, which then even resulted to an order after half a year of planning time and figuring out the details. We could convince Royal Huisman via the benefits of the MAN 175D and the dedicated project and engineering support to find the optimal propulsion system. And of course the very high commitment of our team. All this happened via video conference during Covid pandemic. We are proud now to have RHS as new customer who has a very good name in the yacht market. And we are equally proud that our MAN 175D engines will propel the largest sport fisher yacht in the world.
Can you give an outlook into the future of the yacht segment and MAN Energy Solutions high-speed engines?
With the MAN 175D we offer a very attractive solution for yacht propulsion systems, featuring power, compactness, efficiency and reliability. We believe in exciting projects like this one and that the market will see more projects with MAN 175D in the future.