New heights

below

sea level
Expanding the boundaries of subsea operations
The world still relies on fossil fuels. To make energy recovery more efficient, subsea exploration will increasingly become the norm. To make it a viable option, MAN Energy Solutions has developed sealed compressors which can operate uninterrupted on the seabed for thousands of hours, maintaining well pressure and cutting CO2 emissions.
Smaller investments, bigger gains, less CO2: Subsea compression
A pioneer in integrated turbo compressor systems, MAN Energy Solutions has elevated the technology for harsh subsea conditions.
Pressure in gas fields decreases over time. Our remote-controlled subsea HOFIM® (High-Speed, Oil-Free Integrated Motor) compressor ensures the constant flow of gas for processing in subsea facilities. This greatly increases the total recovery of a gas field, allowing for maximum efficiency. Subsea operations also mean less CO2 is released into the atmosphere than with traditional platform exploration.
A world first, Norwegian company Equinor has installed a subsea exploration facility at 300m below sea level, featuring two HOFIM® compressors. MAN Energy Solutions partnered with Aker Solutions for this pioneering project. The compressors operate without the complex interaction of lubrication and dry gas seal systems, gearboxes, and couplings. This makes them less prone to breaking down. Encapsulation makes them leak-tight, and maintenance efforts are reduced to a minimum as the compressors run almost without any mechanical friction. Based on this success, we are developing further groundbreaking subsea technology together with Aker Solutions.
The HOFIM® compressor, also used in other applications like onshore gas storage, was specifically adapted for underwater use. To counteract the risk of corrosion inside the machine, all components are designed to be as robust as possible. At Equinor's Åsgard field, the compressors have shown their resilience: with 120.000 working hours without interruption (as at June 2023), the HOFIM® compressor has proved its worth.
hours of uninterrupted running time for our HOFIM® compressors in the Åsgard field (as at June 2023)
barrels equivalent added to the Åsgard field recovery
power of each HOFIM® compressor in the field
MAN Energy Solutions for subsea extraction
In 2015, MAN Energy Solutions delivered a HOFIM® subsea compressor to Equinor (formerly Statoil) of Norway. Featuring a compression power of 11.5 MW (15,000 HP), and design pressure of 220 bar (3190 psi), it is a powerful piece of extremely reliant machinery. Saving CO2 emissions and lending stability to the extraction process over the years, our sealed compressor has started a new chapter in offshore drilling.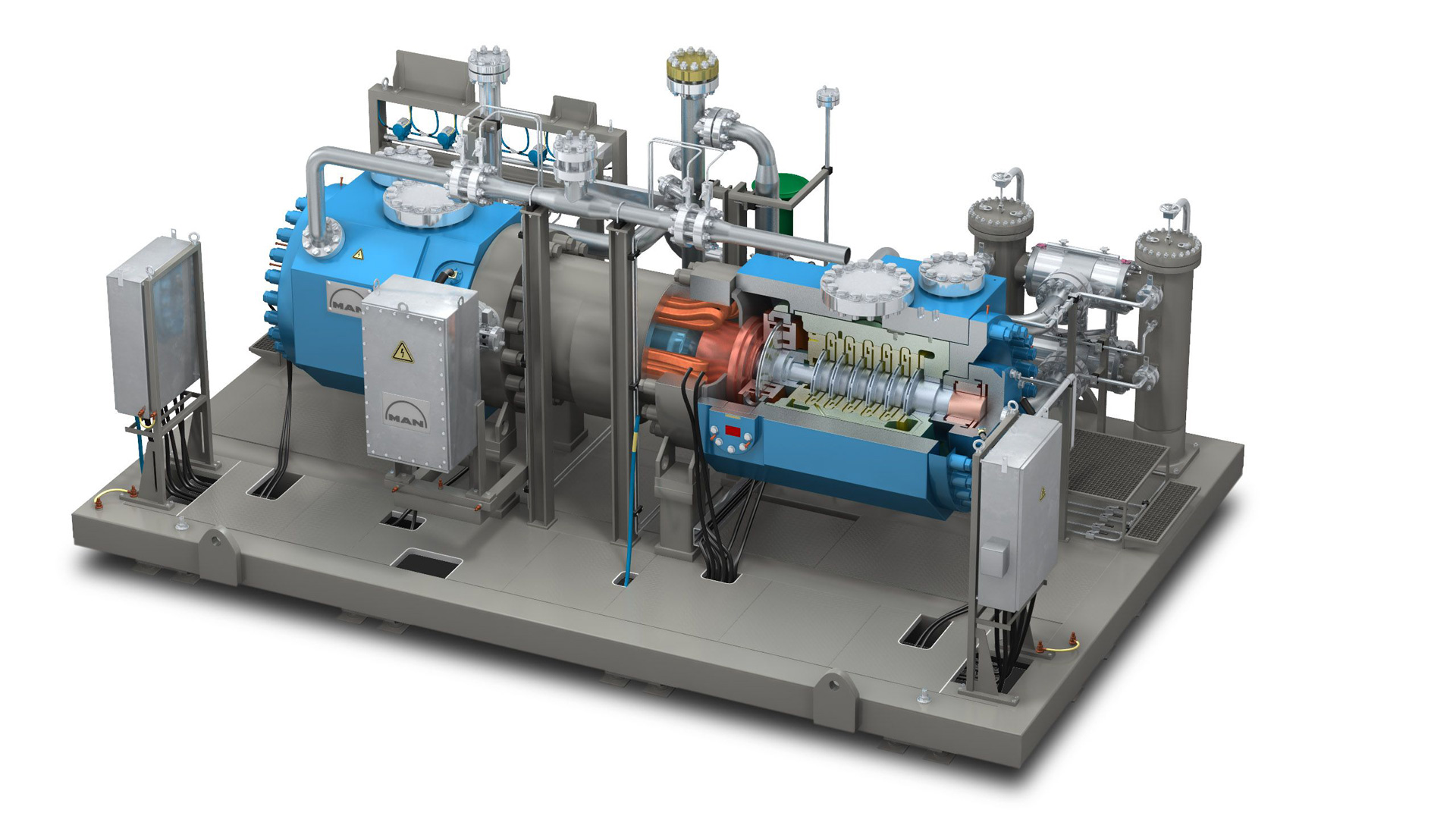 Running without lubricant, our HOFIM® line of compressors is used in the most extreme of environments and benefits from Active Magnetic Bearing (AMB) technology. They are ideally suited to gas storage and subsea extraction. They benefit from unlimited start/stop capacity and an excellent partial-load performance. What's more, your lubricant does not come into contact with your process gas. Extremely reliable, the HOFIM® compressor ensures your operations run with minimal downtime, saving you costs and increasing efficiency.
Drilling for oil or gas from remote offshore platforms is an expensive and extremely sensitive undertaking. Every hour of downtime is prohibitively expensive, as is each and every man-hour needed out there. Helicopter time, insurance, expertise – you name it. MAN Energy Solutions provides the compressors and digital solutions which allow for operations with a minimum of human intervention and downtime.
Go to remote offshore operations
MAN PrimeServ keeps your turbomachinery running
Our service engineers provide preventive maintenance, assist your troubleshooting, and get your facilities up and running in no time – wherever and whenever you need them.

How you benefit:
Fast, reliable and expert customer support
Bespoke service agreements

Global service – 24 hours a day, 365 days a year
Go to MAN PrimeServ
cubic feet/day daily gas extraction from the Åsgard field
Contact our MAN Oil & Gas support team
Go for subsea compression to expand the boundaries of your operations.
MAN Energy Solutions' pioneering technology takes you further. Our highly reliable sealed compressors are already operating on the seabed. See how we can support your business, too.
Talk to our experts