Essential equipment

for the

energy industry
Stable energy supply for the global economy
One of the world's primary industries, the oil and gas business is fundamental to our way of life. MAN Energy Solutions has been working with the industry for decades, supplying crucial equipment for the extraction, transport and storage of oil and gas.
MAN Energy Solutions for operational flexibility and reliable energy supplies
The oil and gas industry often operates in tough environments. It is under pressure to meet environmental obligations whilst demand for its products keeps on rising. We supply famously reliable machinery trains and components for onshore and offshore extraction, specializing in compressors not only for production but also for transport. Equally, MAN Energy Solutions has a long track record in facilitating energy storage. We manufacture components for liquefied natural gas (LNG) plants and specialize in power-to-X (PtX) technology.
Energy companies are increasingly investing in renewable sources, too. The carbon-neutral PtX process can transform renewable electricity into gas or liquid e-fuels, allowing it to be fed directly into gas pipelines or transported for use in the mobility sector. Our innovative, highly efficient concentrated solar power solutions also support the production of green energy. Other processes in this growing market are thermal energy storage techniques: Liquid air energy storage (LAES), electro-thermal energy storage (ETES) and molten salt energy storage (MOSAS). All of these are storage mechanisms used to stabilize the grid when natural supplies are subject to fluctuations. Ultra-reliable thermal power plants and liquid natural gas (LNG) solutions are other aspects of securing energy supplies where MAN Energy Solutions offers all the infrastructure and expertise you could possibly desire.
global increase in energy demand by 2040
will be the world's energy consumption in 2040
new renewable energy capacity additions in the EU
MAN Energy Solutions technologies secure a reliable energy supply at all times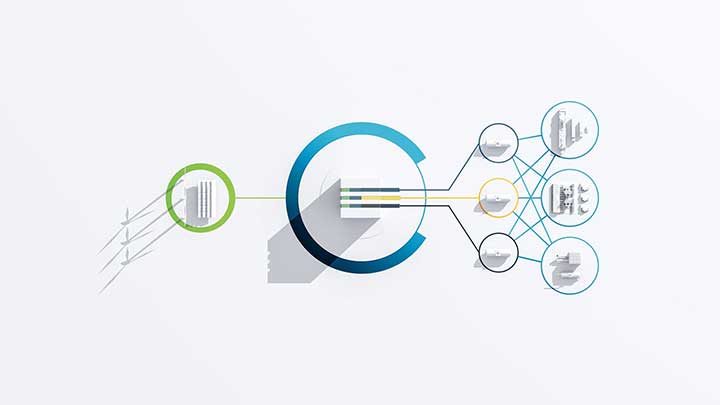 The rise of renewables is good for the planet. Converting renewable electricity into storable fuels spreads the benefit of carbon-neutral energy across sectors. The power-to-X process allows for just that. It is a transformation technology that converts electricity into carbon-neutral synthetic fuel which can then be used in other sectors or be stored until needed.
Go to power-to-X
Solar energy is plentiful and the technology well-advanced. It is even the cheapest form of renewable energy by Levelized Cost of Energy (LCOE). Whilst oil and gas continue to be extremely important sources of energy, the industry is increasingly looking to widen its operations to include renewables. Unlike conventional photovoltaic plants, CSP plants can incorporate thermal energy storage to generate electricity whenever it is needed. MAN is a leading supplier of the requisite technology.
As the energy sector moves to reduce its high CO2 emissions, it is increasing the installed capacities of renewable energies like wind and solar power. This inherently leads to fluctuations in supply. Efficient storage systems like MOSAS are essential to stabilize the grid, ensure base-load capacity and deliver reliable power in line with demand.
MAN PrimeServ keeps your turbomachinery running
Our service engineers provide preventive maintenance, assist your troubleshooting, and get your facilities up and running in no time – wherever and whenever you need them.
How you benefit:
Fast, reliable and expert customer support
Bespoke service agreements
Global service – 24 hours a day, 365 days a year

Go to MAN PrimeServ
availability per year made possible by our reliable, durable and easy-to-operate compressors and turbines
Contact our MAN Oil & Gas support team
Are you planning to make your operations more efficient and reliable, and possibly greener?
MAN Energy Solutions is working with energy producers worldwide to make sure they meet their obligations whilst securing a constant energy supply for their customers. Find out how we can help you improve your operations.
Talk to our experts