Compressor trains for industrial gases
The energy required for industrial gas processes is considerable. Highly efficient compressors from MAN Energy Solutions support you in cutting costs and greenhouse gas emissions. We supply compressors for air, dry air, nitrogen and oxygen for your air separation trains.
We have a long history of developing and supplying some of the most efficient and reliable compressors in the markets as well as steam turbine drives and electrical motors. With us, you can obtain your entire production train as well as the necessary maintenance from a single source. Check out our isothermal, axial or integrally geared compressor ranges for more information.
MAN CCUS

Capture your unavoidable emissions

Our modular approach reduces project complexity and lead times, mitigates risks, and keeps down CAPEX. MAN CCUS features modular compression solutions for all available capture technologies.

Go modular – towards net zero
number of AIRMAX M trains used in the world's largest CTL plant
maximum discharge pressure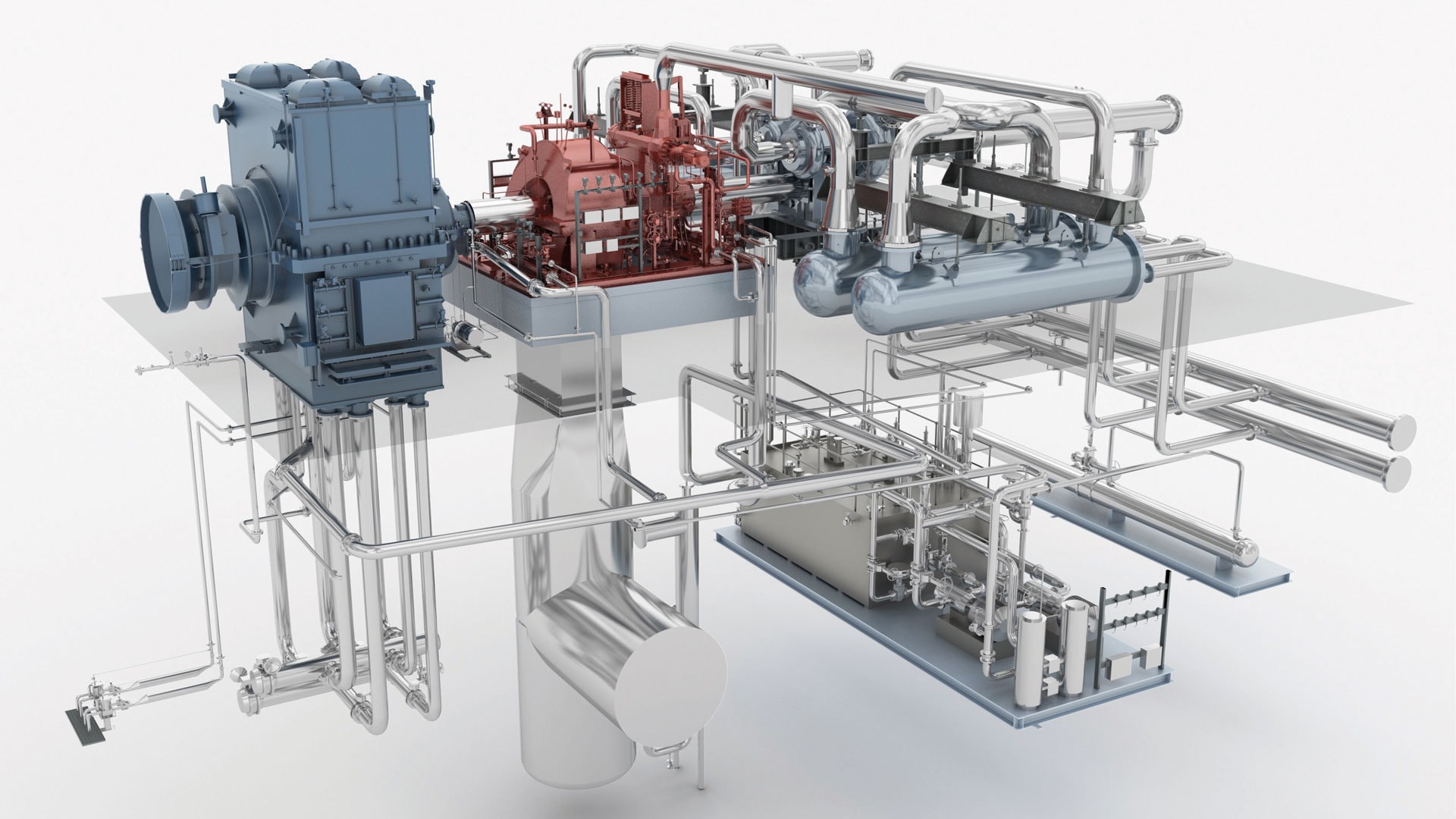 Used in industries ranging from iron and steel to food and medical gases, Air Separation Units (ASU) are employed for many purposes. We have supplied over 80 AIRTRAINs and hundreds of motor-driven compressors for air separation plants worldwide. MAN Energy Solutions delivers AIRTRAINs consisting of steam-turbine-driven main air compressor (MAC) and booster air compressor (BAC) or separate motor driven MACs and BACs. All these solutions meet the customer´s oxygen demand for units between 500 tpd and 4200 tpd. Our comprehensive product range can be tailored to your requirements if desired.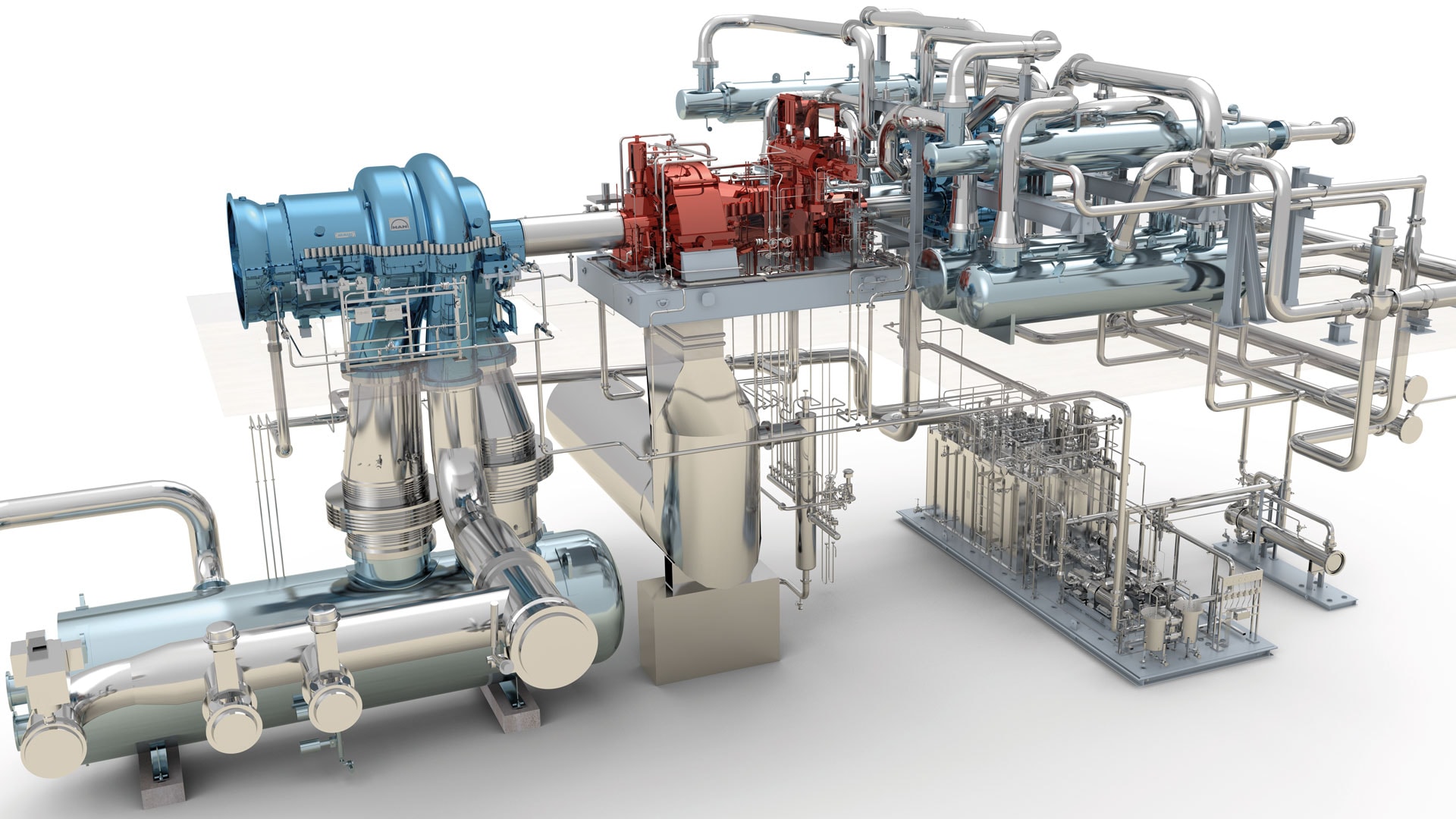 AR-MAX1 – our standardized axial/radial main air compressor can deliver volume flows up to 1.5 million cubic meters per hour, pressures up to 25 bar and exhibits optimum robustness: A piece of equipment you can rely on. When it comes to CAPEX and transportability, AIRMAX trains are very competitive due to the higher speed and power density of the main air compressor (MAC) and steam turbine.
We have half a century of experience in designing oxygen turbo compressors and have supplied several hundred casings to the market. We exclusively use single shaft compressors for this purpose, manufactured from non-sparking and ignition-resistant materials for impellers, diffusers and labyrinth strips. Putting safety first also means eliminating dead spaces where particles could accumulate, and an emergency thrust bearing in each casing.
AR-MAX1 capacity for oxygen
MAN PrimeServ keeps your turbomachinery running
Our service engineers provide preventive maintenance, assist your troubleshooting, and get your facilities up and running in no time – wherever and whenever you need them.
Fast, reliable and expert customer support

Bespoke service agreements

Global service – 24 hours a day, 365 days a year
Go to MAN PrimeServ
Our industrial gas solutions in action
Turning many small plants into a single large one, we supplied the entire train including the well-known, reliable AIRTRAIN solution from one hand. All rotating equipment and auxiliaries were provided by MAN Energy Solutions.
Country:
China
Application:
Fertilizer industry
Project status:
Completed in 2014
Customer benefits:

High energy efficiency, complete train
from a single source, AIRTRAIN solution known for its performance.

MAN's scope of work:
RIKT140 - MST80 – RG45
For the most modern ASU train in operation, we supplied 11 identical AIRMAX M trains, each consisting of an AR115-06M and a geared-type booster air compressor RG056.
Customer:
One of the world's largest coal companies
Region:
Ningxia, China
Application:
Large air separation unit (ASU) for a Coal-to-Liquid Plant
Project status:
Completed in 2015
Customer benefits:
Very economic in CAPEX and OPEX, superior surge
robustness, excellent transport features (smallest and
lightest concept in the market)
MAN's scope of work:

11 identical AIRMAX M trains, each consisting
of an AR115-06M and a geared-type booster air
compressor RG056, both driven by a steam turbine
MST080 positioned between MAC and BAC

Capacity per train:
Around 3600 metric tons of O2/day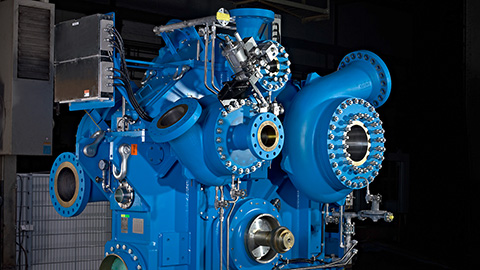 We implemented a single-lift concept and installed a RIKT train driven by an electrical motor. It also featured a RG-type centrifugal compressor. This solution allowed the customer to substantially cut down on on-site activities.
| | |
| --- | --- |
| Country: | Singapore |
| Application: | Petrochemical industry |
| Project status: | Ongoing |
| Customer benefits: | High energy efficiency, single-lift concept |
| MAN's scope of work: | RIKT100-3 and RG45-6 |
Contact our MAN Process Industry support team
Looking to optimise your operations?
Our compressors are sure to support the ecological and economic optimisation of your industrial gas processes. With the standardised AR-MAX1 compressor train, MAN Energy Solutions has set a new benchmark for large air separation units. We also provide tailor-made solutions for smaller ambitions. Talk to us to find out more.
Talk to our experts