New efficiency for your PTA production business
The basis of polyester fiber production for modern, functional clothing, PTA (purified terephthalic acid) is in constant demand. Our highly efficient compressor trains allow you to boost production without increasing your environmental footprint.
Multiple process streams in one compact unit
Defying conventional logic, our new PTA machinery trains have decreased in size whilst increasing production output.
In 1977, MAN Energy Solutions delivered its first PTA compressor train. Since then, we've become the leading supplier of compressor trains to an ever-growing industry. We've achieved this position for good reason and we're working hard to stay ahead of the competition.
Our customers can now enjoy the benefits of machinery trains which boast up to 20% higher output without any noticeable increase in compressor size. In fact, we have achieved a weight reduction of over 10%, saving you costs. Each MAN Energy Solutions PTA compressor train is made up of several components, from air compressors to expanders - and we've been working on all of them to increase efficiency.
We take special care to meet individual clients' requirements. Should you have a previously unseen PTA compressor train in mind, we will do our best to help you make your vision become reality.

PTA production capacity of trains delivered by MAN Energy Solutions over the past 15 years
of global PTA production originates from MAN Energy Solutions compressor trains
world-scale compressor trains delivered and installed by MAN Energy Solutions over the past 15 years
PTA turbomachinery train components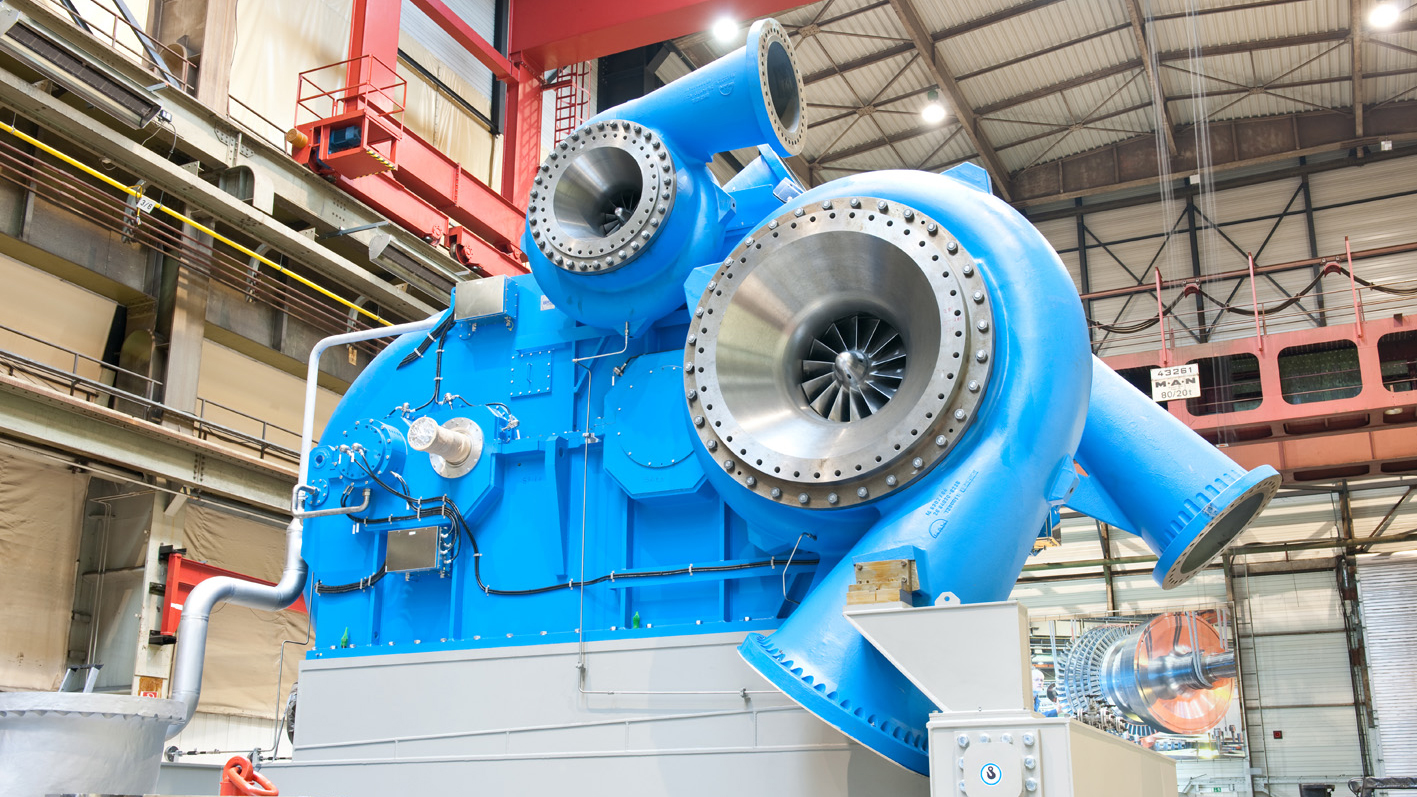 Each of our PTA machinery trains consists of several components. Our integrally geared radial air compressors are multi-shaft centrifugal compressors. They are used in several industries, with customers enjoying their durability and low operating costs among other benefits. They are at the heart of our trains which are now capable of producing up to 1.5m tons of PTA each year. In our latest PTA machinery trains, these compressors have hardly increased in size despite an increased overall production output of around 20%.
How you benefit:
Individually selectable impeller speed for optimum flow and costs
Modular component packages for short delivery periods
Modular sealing systems
Maximum driver flexibility
Intercooling opportunities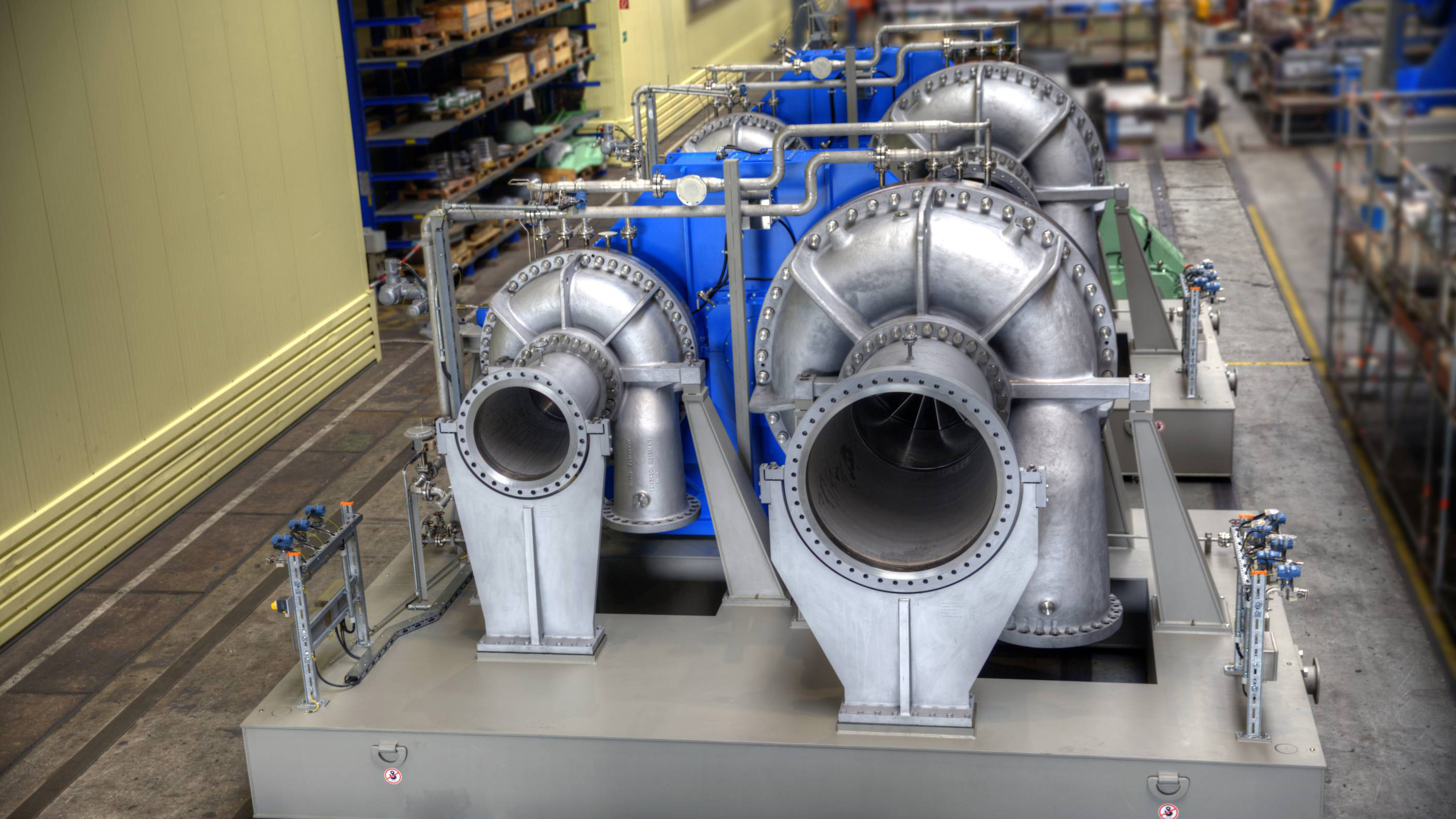 Our expanders come in a single- and multi-stage design, in axial or radial blade/impeller configurations. Each of our PTA machinery trains features an integrated expander tailor-made for the requirements of your individual machinery train. Recently, we have been able to achieve higher output with smaller machinery trains. Especially hardy and reliable, our expanders have long been a core component of our ever-improving trains. Typically, our expanders will allow for the following performance:
Power output of up to 30 MW
Inlet pressure for PTA expanders up to 20 bar
We offer a wide range of multi-stage steam turbines suitable for mechanical drive applications up to 180 MW. Featuring a variety of design characteristics which allow for optimized turbine configuration, this piece of equipment meets all sorts of challenging process conditions and/or your specific requirements. The modular design concept keeps delivery and costs at competitive levels.
In addition to PTA production, our steam turbine drives are in operation in a range of industries: Refining, chemicals, petrochemicals, fertilizer, air separation, iron and steel and mining.
How you benefit:
Highest efficiency based on optimized turbine design
Reduced CO2 emissions
Highest availability
Customized for your specific requirements
MAN PrimeServ keeps your turbomachinery running
MAN PrimeServ is the perfect complement to our excellent compressors and drives. Our service engineers are always available to answer questions, assist in troubleshooting and get your facilities up and running in no time – wherever and whenever you need them.
How you benefit:
Fast, reliable and expert customer support
Individual O&M contracts
Global service – 24 hours a day, 365 days a year
Go to MAN PrimeServ
output of world's largest PTA plant which is equipped with 10 MAN Energy Solutions compressor trains
Four PTA compressor trains for a petrochemical company
All train elements were coupled for optimized energy recovery. A compound gear design does away with the need for an additional gearbox. Thanks to excellent collaboration between MAN Energy Solutions and the client, this plant was constructed in record time.
Year completed:
2012
Country:
China
Scope:
4 x identical PTA compressor trains, including steam turbine, air compressor, motor/generator and process gas expander
Benefit:

Complete train with casings from a single source


No need for an additional gearbox

Optimized energy recovery
Contact our MAN Process Industry support team
Looking to make the most of your PTA production?
If your business could benefit from boosting output without increasing resource use and emissions, talk to us. Our lead in this industry is based on solid success and decades of experience. Find out what we can do for you.
Talk to our experts