It's time to decarbonize with heat pumps
The energy demand for heating and cooling has risen worldwide for years and now accounts for 50% of global energy consumption and 40% of CO2 emissions. This is not sustainable in terms of cost efficiency and climate protection. Heat pumps are one of the most practical ways of lowering heating costs and CO2 emissions for utilities and process industries. Powered by renewable electricity, a large-scale heat pump is an economical way to fully decarbonize your heating and cooling supply. Heat pumps also enable sector coupling and can help to balance renewable energy surpluses. The technology is well known, extremely reliable, robust, and efficient.
CO2 emissions from a heat pump running on renewable energy
Maximum steam temperature
How it works: amplifying and transferring thermal energy
A heat pump extracts heat from a low temperature source like water, air, or waste heat from machinery, amplifies it to a useful high temperature, and transfers it to where it is needed. The principle is based on a closed-loop refrigerant cycle with compression and expansion of the fluid and can be operated in both directions to deliver heating or cooling. Electricity is needed to power the compressor. Efficiency is measured as a ratio of the heat output to the power input. This is called the coefficient of performance (COP). Powered by renewable electricity the heat pump can supply carbon neutral heating or cooling.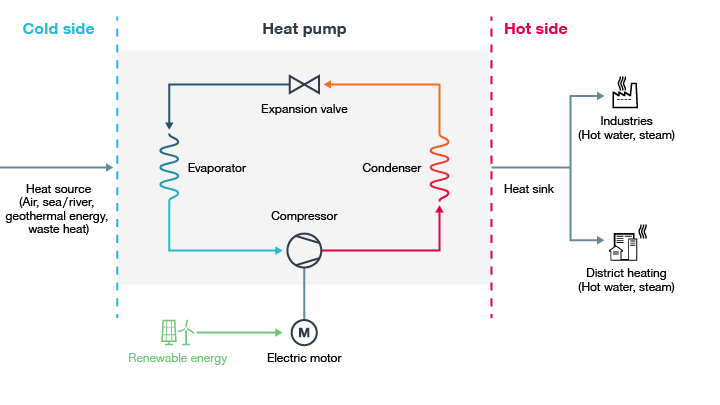 Compressor expertise

The heart of the heat pump is the compressor. We have decades of experience in developing compressors for the most demanding conditions. Our wide range of designs ensures we can tailor each pump to the customer's specific power, temperature and space requirements.
Our high-temperature heat pumps bring the economic and climate-friendly benefits of domestic heat pumps to large-scale industrial applications. To ensure a process steam supply, we can offer a combined heat pump / vapor compressor or a separate vapor compressor skid that provides the required process conditions.
MAN heat pumps: temperature and power output
We scale our heat pump solutions to the temperature and power needs of our customers. The temperature supply range of 60 - 280°C is suitable for heating water and liquids, process heating, or steam production. The power output ranges from 10 megawatts thermal (MWth) to above 90 MWth per heat pump unit. Higher outputs can be achieved with several heat pumps in parallel operation.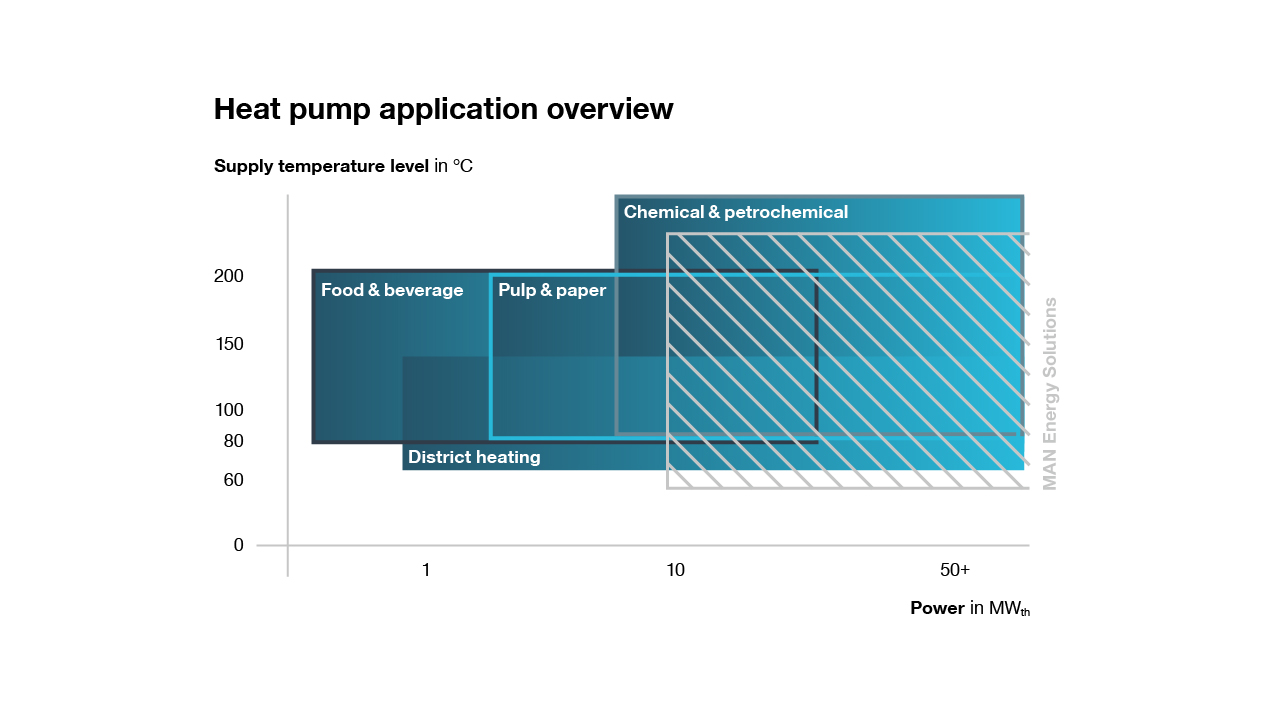 Customer survey: The results are in!

See our insights about the survey

We asked you about your heat pump plans and got lots of answers. Thank you! The survey results confirm the growing interest of companies in industrial heat pumps, regardless of the sector or the company size.

Get the report
The right heat pump for your business
Each MAN heat pump solution is individually designed to meet your specific needs. Here are some examples of the most common applications.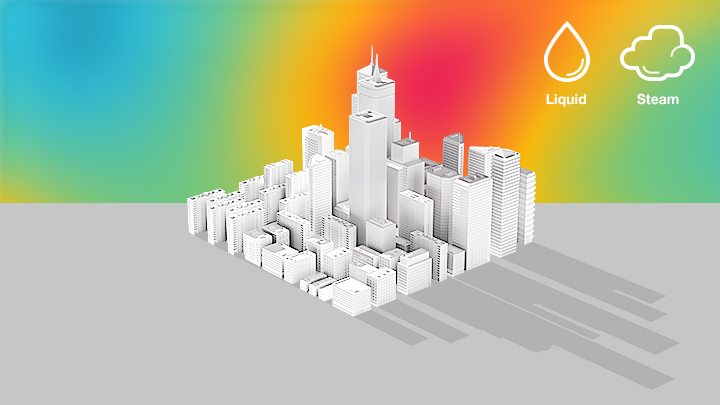 District heating
District heating already has environmental, economic, and social benefits over individual heating. Powering district heating with heat pumps brings additional advantages. A large-scale heat pump can upgrade heat from sources such as sewage treatment plants or river water to the level of district heating, thus replacing fossil fuels. In district heating, the heat pumps are generally operated with water. A special case here, however, are old US steam heating networks, which are operated with steam.

Reduce CO2 emissions
Enable electricity-based heat supply
Integrate renewables and balance electricity grid

Make energy systems more flexible and efficient
Process industry
The process industries not only produce but also consume enormous amounts of oil and gas. Heat pumps offer a practical way to electrify processes and reduce CO2 output. Heat pumps can convert low and high temperature waste heat to useful high-quality process heat or steam. In the process industries, heat pumps operate on steam.
Reduce CO2 emissions
Reduce plant energy costs
Improve energy efficienc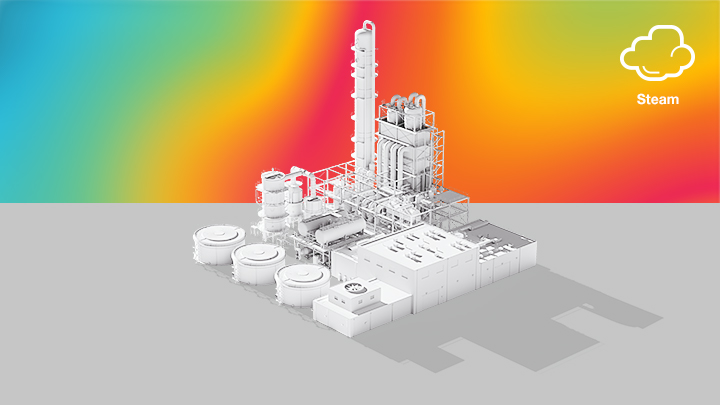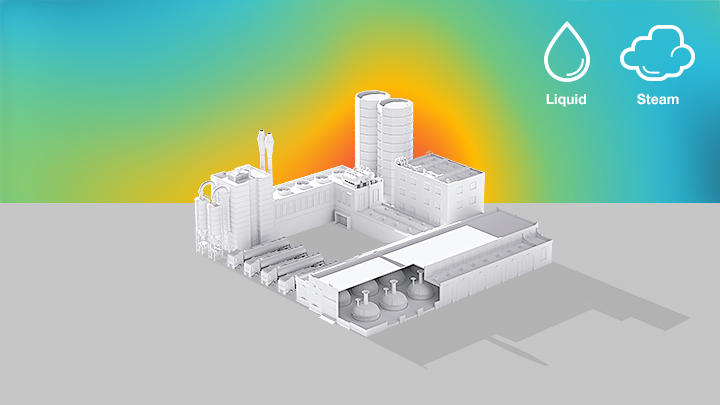 Food & beverage
Food and beverage manufacturing requires vast quantities of thermal energy, for both heating and cooling processes. MAN heat pumps contribute to making these processes more sustainable and economical and to reducing dependence on fossil fuels. Manufacturers can save on CO2 taxes as well as on fuel. Due to the possibility of using water or steam, heat pumps can be used in all food & beverage sectors.

Produce heat and cold simultaneously
Reduce CO2 emissions

Improve energy efficiency and reduce costs

Pulp & paper
Pulp and paper production is one of the most energy-intensive industrial processes. Drying pulp, paper or tissues accounts for some 70% of the energy used in this sector. Industrial heat pumps can produce the steam necessary for the drying processes by applying electricity from renewable sources to waste heat streams from the drying process. Heat pumps not only decarbonize the energy supply but reduce plant energy costs. The pulp & paper industries can benefit from the use of heat pumps wich are running on steam.

Reduce CO2 emissions

Reduce plant energy costs

Improve energy efficiency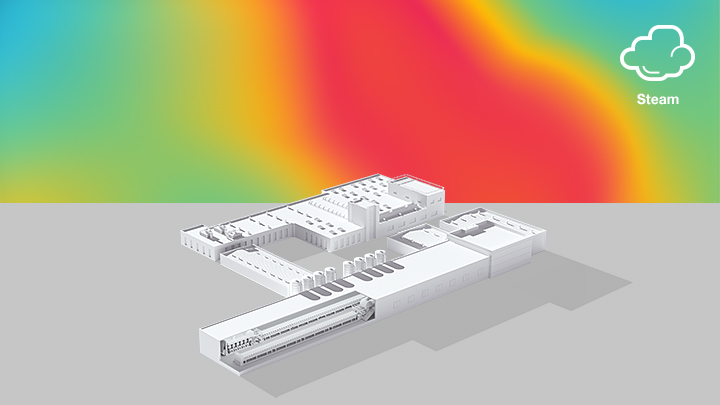 Decarbonize with heat pumps from MAN Energy Solutions
Using renewable electricity to run large-scale heat pumps is an economical way to lower emissions in the carbon-heavy global heat market. There are direct cost savings in terms of fuel costs and carbon taxes.
Our experts know a lot about heat pumps and will be happy to help you put together the perfect system solution for your requirements.

Contact us