A new milestone

towards

sustainable shipping
The ElbBLUE becomes the first container ship to run on climate-neutral SNG
A German container ship just became the world's first to be tanked with climate-neutral synthetic natural gas (SNG) generated from wind power as part of an effort to decarbonize one of the last industries still heavily reliant on fossil fuels: maritime shipping.
By Oliver Sachgau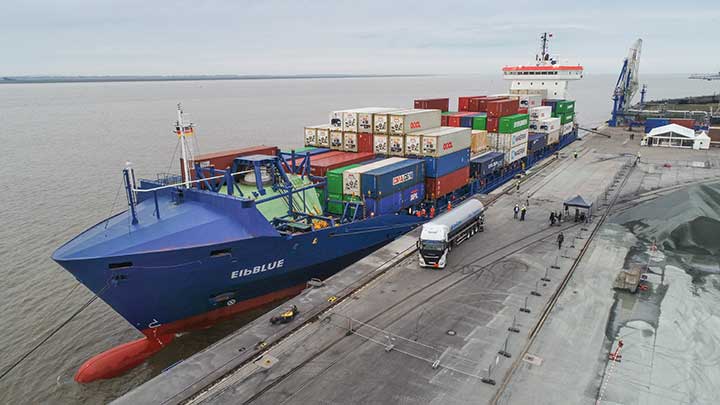 Berthed at the port in Brunsbüttel, Germany, the ElbBLUE is a dominating presence. ©Cassandra Media
Sitting at around 1,000 twenty-foot equivalents, the ElbBLUE is a dominating presence at the port in Brunsbüttel, Germany, where it berthed to receive about 20 tons of climate-neutral SNG on September 29.
The feeder ship, originally called the Wes Amelie, was retrofitted in 2017 with a four-stroke MAN 51/60DF engine, capable of running on both liquified natural gas (LNG) as well as diesel fuel. Because SNG and LNG are chemically identical, it's possible to run the engine on either. Now known as the ElbBLUE, the ship is owned by German shipowner Elbdeich Reederei and operated by charter Unifeeder.
Seeing the ElbBLUE achieve this milestone towards climate-neutrality in person was gratifying, Peter Frese, Managing Director of Elbdeich Reederei said, adding that he hoped it would inspire more support devoted to similar projects. "It's good to see that we have the technical capacity to achieve these kinds of things," he said. "The support we need from the sector is big. Right now what we can do is show the possibilities."
Converting ships from heavy fuels to renewable sources of energy is an urgent topic for the maritime shipping industry, which accounts for about 3% of global CO2 emissions. Shipowners and operators are grappling with tougher emissions regulations, as well as trying to cut down their own emissions to meet the International Maritime Organization's goal of cutting them in half by 2050.
That date might seem far in the future, but for ship owners, it represents only one or two lifecycles of a ship. That means the ships already in use today need to already be much cleaner.
Everything old is new again
The ElbBLUE represents a hope for the future of the industry. Current ships can be retrofitted with new engines, made to run cleaner fuels, and allow the industry to decarbonize without having to build completely new ships.
The project started as an idea in 2014, according to Marcel Lodder, Project Manager for Retrofits & Upgrade at MAN PrimeServ, Augsburg. The idea to retrofit a ship with an entirely new engine was ambitious and would require about 70% of the engine's components throughout the ship to be disassembled.
"The engine conversion can be seen as a total disassembly of the engine," Lodder said. "Nobody had done this on a container ship before." The engineers would also need to find space for an LNG tank somewhere on the ship, not an easy task for a vessel where every inch of space is used to store containers in order to ensure profitability.
Stefan Eefting (left) & Marcel Lodder (right) discuss engine specifics aboard the ElbBLUE. ©Sebastian Vollmert
expected CO2 savings on the ElbBLUE's trip from Brunsbüttel to Rotterdam
green production of SNG from wind energy
retrofits to LNG propulsion are realized by MAN per year
Maiden voyage
The SNG that was bunkered into the ship in Brunsbüttel was generated with 100% renewable energy by kiwi AG in Werlte, Germany. Generated with wind power using the Power-to-X process, the fuel is carbon-neutral, as it only emits the CO2 that was taken from a nearby biogas plant to make it. That fuel allowed the ElbBLUE to emit about 56 fewer tons of CO2 on its trip from Brunsbüttel to Rotterdam.
"This is a crucial step on the road to decarbonizing shipping," says Stefan Eefting, Head of MAN PrimeServ, Augsburg, "While a retrofit instantly reduces a ship's emission-levels, synthetic fuels like SNG can enable it to run 100% climate-neutrally. Today, we are demonstrating that any LNG-retrofitted ship can also run on fuels generated by power-to-X technology."
This is a crucial step on the road to decarbonizing shipping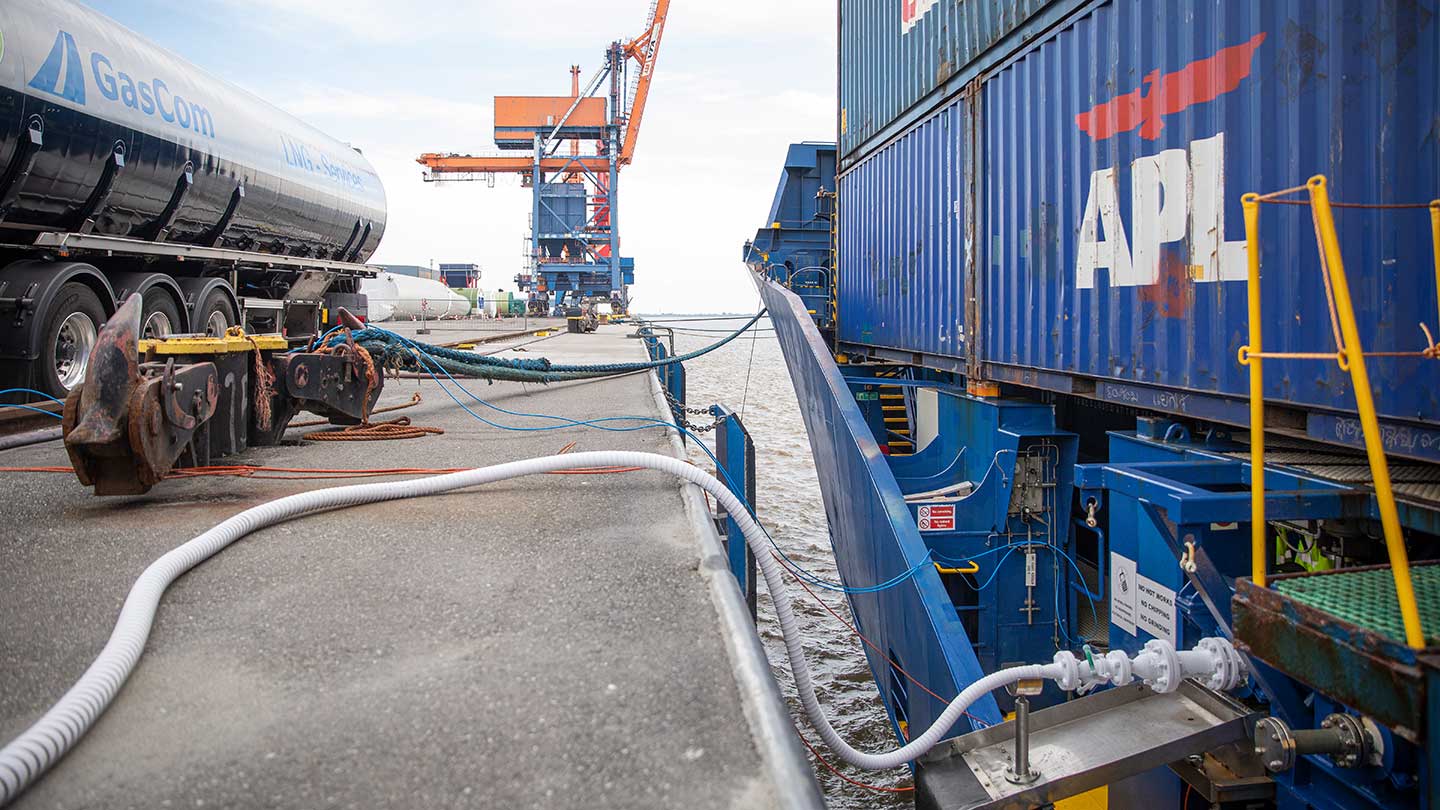 The SNG that was bunkered into the ship was generated with 100% renewable energy. ©Sebastian Vollmert
In Brunsbüttel, a truck at the ship's forward pumped the SNG into the ship. The fuel is cooled down to -163 degrees Celsius, enough for the water in the air around the hose to condensate and turn into vapor. The entire bunkering process took less than two hours.
The technology to create SNG is readily available – the process mainly uses electrolyzers as well as methanation reactors. The two main hurdles right now are producing the fuel at scale and getting the price of it down, so that it becomes competitive with existing fossil fuels.
The issue of pricing will be solved in time, as long as the political support is there, Hermann Pengg, CEO of kiwi AG said. "Electrolyzer prices are much lower than they were 10 years ago, and they're more efficient now. The learning curve will lead to further cost reductions," he said, adding that companies are now also more dedicated to climate neutrality.
The Power-to-Gas plant operated by kiwi AG in Werlte, Germany. ©Cassandra Media
We need the right political framework to make SNG a reality, but we're ready.
Ready for the energy transition
More ships are ready to be retrofitted. MAN currently retrofits about ten ships a year, but would like to see that number increase. The ElbBLUE retrofit was only made possible because of significant financial support from the German ​​Federal Ministry of Transport and Digital Infrastructure.
Whether this first step turns into a path forward for the maritime industry will depend on the political framework, according to Eefting. "Joint efforts across the industry are needed to make decarbonization happen," he said, "The respective governments need to establish a framework to make synthetic fuels readily available, while power-to-X needs to be developed on an industrial scale in order to bring down costs and make truly sustainable fuels a reality."
Frese concurred: "We need the right political framework to make SNG a reality, but we're ready," he said.
Oliver Sachgau is a Berlin-based financial journalist. Previously working as a reporter for Bloomberg News, his work has also appeared in the Washington Post, the Independent, the Toronto Star and the Globe and Mail.
MAN Energy Solutions experts on the climate impact and business case for converting ships to dual-fuel engine operation.

MAN Energy Solutions expert Matthias Auer on developing hydrogen-capable, gas-fired engines for power plants.

Shipping is annually making large withdrawals on the carbon budget – so large they probably cannot be caught up.