More energy, higher flexibility, lower emissions for new power plant Stuttgart-Gaisburg
It's cold in the south of Germany. Like every year in winter, this means it's time for the combined heat and power (CHP) plant in Gaisburg to deliver heat to homes and businesses in and around Stuttgart. Unlike every year for the past 60 years, that heat will no longer be generated from coal. After the old plant was switched off at the end of the past winter season, it is now being replaced by a new gas-powered thermal power station that will save up to 60,000 metric tons of CO2 per year.
The emissions aren't the only thing being reduced – the new chimneys are half the height of the old ones, and the whole plant is smaller. At the same time, the efficiency and output are increased. The overall project consists of gas-fired boilers that produce up to 175 MW of thermal energy, as well as a district heating storage. In addition, MAN ES delivered three 20V35/44G gas engines that supply 31.2 MW of electrical power for the local grid and up to 30 MW of district heating simultaneously.
The main advantage of the whole system is flexibility. While the gas boilers purely produce heat and are primarily designed to cover the peaks in demand over winter, the gas engines will run if the electricity price is sufficient to provide both electricity and heat. By combining the plant with a district heating accumulator, EnBW can fully utilize the flexibility offered by the engines and react to price signals. When demand for heat is low, the waste heat from the engines can be stored.
"This combined heat and power plant is a small, fast, efficient energy system that is perfectly tailored to local requirements. We can turn our engines off in less than three minutes, and ramp them back up to full load in three minutes. Other power plants of this size have much longer startup times," explains Martin Domagk, who is heading the project at MAN Energy Solutions. Thanks to an overall efficiency rate of up to 90%, the plant also offers a particularly good fuel conversion. MAN remains on the project even after the plant's successful commissioning in December 2018. The company's global after-sales brand MAN PrimeServ will handle the engine's service and maintenance for a further ten years.
Inside EnBW's combined heat and power plant Stuttgart-Gaisburg:
Energy transition in Germany and beyond
Replacing the existing coal plant with a modern, flexible and highly efficient gas-powered plant is part of a greater plan for a sustainable energy transition at EnBW (Energie Baden-Württemberg), who commissioned the new plant design. "In the context of the energy transition, we see facilities like this power station as a blueprint for further fuel-switch projects," says Jens Rathert, project manager at EnBW. The partly state-owned energy supplier's plans align perfectly with Germany's climate goals as a whole. According to a recent study, replacing coal with gas plants across Germany could save around 70 million metric tons of CO2 annually, amounting to 40% of the reduction target set by the country's long-term climate strategy.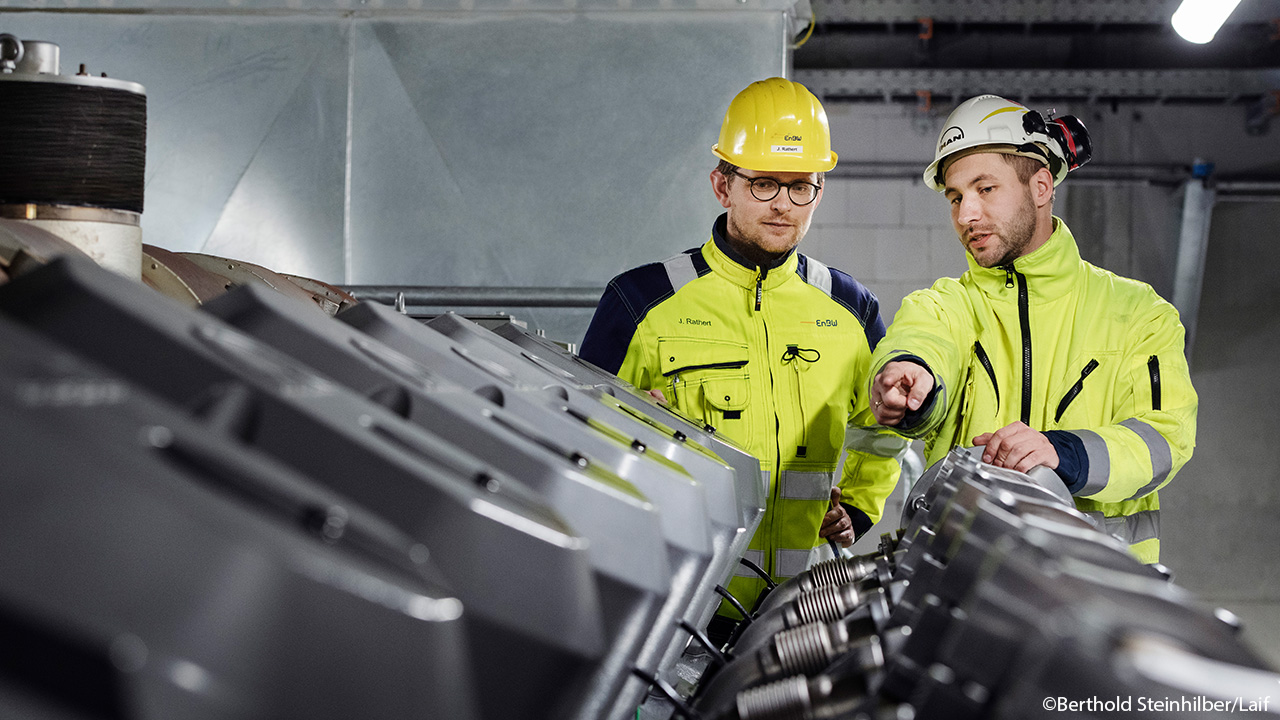 Martin Domagk and Jens Rathert commissioning the new gas engines in Stuttgart-Gaisburg
Project head Martin Domagk agrees: "Our technology is making a major contribution to the reduction of pollutant emissions and increasing the efficiency of heat generation, as well as enabling flexibility and ensuring high levels of supply security. Completing this project has a signal effect on the German and European markets for decentralized heat generation."
metric tons reduction of carbon emissions per year
electrical power for the local grid produced by MAN gas engine power plant
homes are supplied with heat from the Gaisburg plant
Long-term goal: zero emissions
In the long run, projects like the one in Gaisburg provide the foundations that an emission-free future can be built on, as Matthias Zelinger, energy policy expert at the German Mechanical Engineering Industry Association, explains: "We have a vision of how to make gas power plants completely emission-free. Twenty to twenty-five years from now we will certainly have the option to run them on a renewable gas, like hydrogen or synthetic methane produced from renewable electricity. Then gas-powered plants, which are still fossil-fueled today, will become completely powered by renewable energies. With this outlook, a conversion is not only an immediate investment in energy decarbonization, but also a first step towards future carbon-neutrality."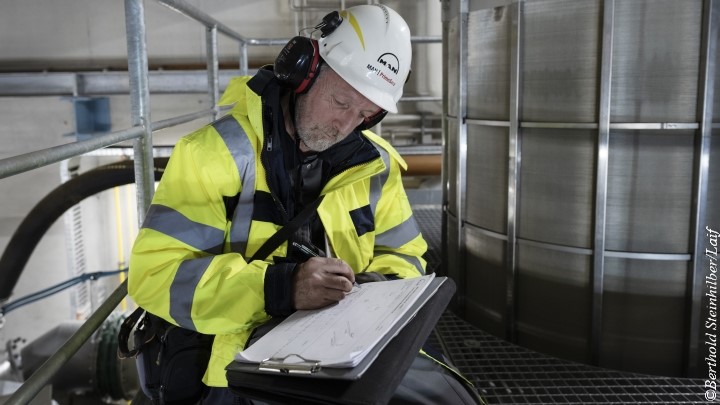 Inspecting the delivered machinery at the combined heat and power plant
This vision can only become a reality when climate-neutral fuels become readily available – a scenario that, in Zelinger's opinion, needs to be expedited. "Germany is a global leader in Power-to-X, a technology which can convert renewable energies into synthetic fuels. I believe that the technology is socially and politically necessary for future energy solutions. But at the moment, we are burdening such options and destroying the business case for an investment. Our energy system is diverse, so we need smart solutions and we need a political framework that encourages research and the implementation of the most promising results."
Zelinger considers German technology companies to be perfectly positioned to export climate-friendly energy solutions. "The energy transition is already happening here, so German suppliers have been forced to meet its challenges. I think we are currently ahead of the rest of the world, and now we have to hold that position by looking towards future fuels."
Due to the principle of combined heat and power, our system achieves a very high level of fuel efficiency – up to 90%.