Field service in conflict zones
MAN PrimeServ, the service and after sales organization of MAN Energy Solutions, provides field service all over the world: engineering, assembling and commissioning machines, often in challenging conditions, sometimes in areas classified as hostile environments. Here's how the department enables its engineers to work at the same high level they are accustomed to, even under extraordinary circumstances – and how the company ensures their personal safety on the job.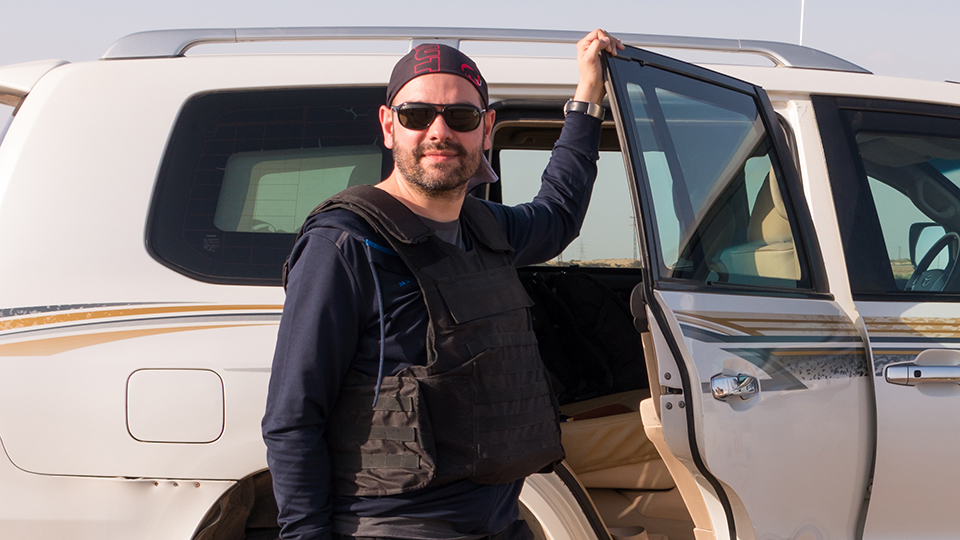 Timo Gleichner, Head of Field Service Zurich, MAN PrimeServ, inspecting the security measures in Iraq
In conversation with Timo Gleichner, the word "normal" comes up a lot. However, it's probably fair to say that his idea of what that word means is quite different from what most people consider normal. As MAN PrimeServ's Head of Field Service Zurich, Gleichner assigns engineers to assembly and commissioning projects around the world. A four-week stint on a gas rig in the Norwegian Sea? Normal. Trips to the Algerian desert, rural India or hot and arid Oman? Normal.
Travel to remote areas and work under challenging circumstances are part and parcel of the services that MAN PrimeServ provides. Gleichner's department works globally to get industrial compressors and turbines installed and to keep them running smoothly. And if the machine can't come to the engineer, the engineer must come to the machine. Sometimes that requires a trip to parts of the world classified as hostile environments. That's when things stop being "normal."
How to ensure safe field service in high risk environments?
Gleichner got his first taste of international field service well before any specific precautionary measures were in place. "I traveled around the world commissioning MAN machines for about five years," he remembers. "At that time the organization we have today did not exist yet, so going abroad was more of a bootstraps affair. The only preparation was whatever I did myself. In the meantime, the world has changed a lot and we certainly would not travel the way I used to back then."
When the corporate security department proposed a toolbox to ensure safe field service in high risk environments, the German engineer was happy to contribute, both in theoretical and practical terms. "I was involved from the beginning and was one of the first beneficiaries, because we were the first team to take on a job in Iraq. I ended up putting together everything we have today." The result of Gleichner's contribution is found in a set of guidelines, compiled in the "security on business trips" handbook. The practical preparation starts with a Hostile Environment Awareness Training (HEAT), which is now compulsory for any team member dispatched to a conflict zone. For Gleichner, the true test of faith came when he took his first trip to Iraq. "I traveled with a colleague from group security on a final inspection trip to see if everything we had spent more than a year planning would actually work. This was also a necessary requirement – if we are sending civilians to a conflict zone, the boss would be the first to go."
Safety first
If that sounds like the beginning of an exciting adventure, the reality was a lot less thrilling. "It's mainly about getting people to work and back safely. The daily commute is a bit different than in Europe, but once you get to the construction site, it's almost sobering how normal it is." There's that word again: normal.
Reto Burkhalter, a Senior Commissioning Engineer who has been to the site ten times in the past two years, also uses it to describe his work in Iraq. "Once we reach our workplace, everything is normal. The site is secured, but we can move freely within its walls and we have everything we need, just like any other job. At work, everything depends on technical knowledge and that is the same, whether I am working in Italy or in Iraq. This is not an office job. I go out into the world, wherever our machines are."
Reto Burkhalter, Senior Commissioning Engineer, MAN PrimeServ on site in Iraq
Awareness Training
However, no matter how normal things feel on site, Burkhalter concedes that the routine of his daily working life in Iraq is the result of much careful planning by MAN in general and the Field Service department in particular. "They take care of us, so if my boss says there's a job for me in a conflict zone, I am sure that they have analyzed the risks and prepared accordingly to make sure we can work there safely and efficiently. The Hostile Environment Awareness Training was actually quite helpful before my first visit – it makes you think about your conduct in certain situations and makes you feel more confident and prepared." Gleichner is equally satisfied. "Most participants, including myself, say it's the best training they have ever done. I felt much safer because I had practiced critical situations, acquired relevant skills and was less in awe of what might happen. Some of it is even applicable to everyday behavior. I'm much more attentive in public spaces now, since we learned that a lack of situational awareness makes you more likely to be chosen as a victim. There's no such thing as 100% personal security – nowhere in the world – but you can prepare yourself according to the local conditions."
With the organization of this project, the risk assessment and successful implementation of stringent safety guidelines in Iraq, as well as the positive feedback of all team members who have been deployed there, Gleichner feels well prepared to take on comparable jobs. "We initially had to build everything, from the first grain of sand so to speak, but now that we've gained experience, we can build on our knowledge." Field service in hostile environments will never be routine, but for this team, it has become the new normal.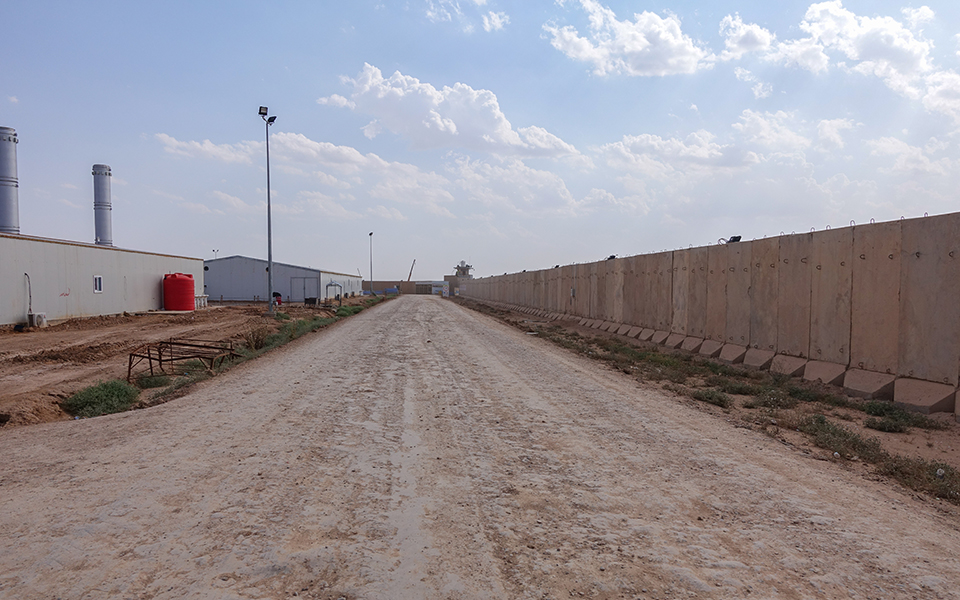 The surrounding wall securing the construction site in Iraq
working in Iraq (total since April 2016)
MAN PrimeServ team members have worked on site
distance from Baghdad to the work site in Badrah
There's no such thing as 100% personal security – nowhere in the world – but you can prepare yourself according to the local conditions.