The making

of a green

hydrogen economy
Electrolyzer pioneer H-TEC SYSTEMS is scaling up business to cut 1 percent of all greenhouse gas emissions
For a quarter of a century, H-TEC SYSTEMS has been driving the energy transition with innovative PEM electrolyzers and electrolysis stacks for green hydrogen production. Now, under new leadership, the company is scaling up production to singlehandedly cut 1 percent of all greenhouse gas emissions worldwide.
Just a stone's throw away from the MAN Museum in Augsburg, Germany, where the city's historic importance for the development of advanced engineering is on full display with the first test Diesel engine developed by Rudolf Diesel himself, another energy revolution is underway.
In the production halls of H-TEC SYSTEMS, which recently became part of MAN Energy Solutions, state-of-the-art electrolyzers are being assembled that will form the backbone of the world's green hydrogen (H
2
) economy. "Proton Exchange Membrane or PEM electrolysis is a proven and well understood technology," Robin von Plettenberg tells me in an office above the company's factory floor.
Green hydrogen can supply enough energy to eliminate 10 percent of global emissions from fossil fuels.
Von Plettenberg, a former Senior Vice President at MAN Enegy Solutions, joined H-TEC SYSTEMS as CEO at the beginning of 2022 and is committed to reaching big goals. For 25 years, the company has been a technological pioneer in PEM electrolysis and the electrolyzer business, and now the priority for von Plettenberg is to scale up at a pivotal moment in the emergence of a global green hydrogen boom.
The emergence of a green hydrogen economy
In June 2020, Germany passed a National Hydrogen Strategy that supports the production, storage, distribution and use of green H2 as a replacement for fossil fuels. It also aims to create at least 10 gigawatts of electrolyzer capacity by the end of the decade. And in July 2020, the rest of the European Union announced its hydrogen strategy for a climate-neutral Europe, which is already stimulating investment in the production and use of H2 to cut back GHG emissions and assist the economic recovery.
The US is following suit as well. The Biden administration has passed the Infrastructure, Investment and Jobs Act, which earmarked US$9.5 billion for jobs and investment in the clean H2 sector. And the US Inflation Reduction Act will provide tax credits to subsidize the production of green H2, making it cost-competitive with, or even cheaper than, conventional H2 production. Will all these efforts be enough?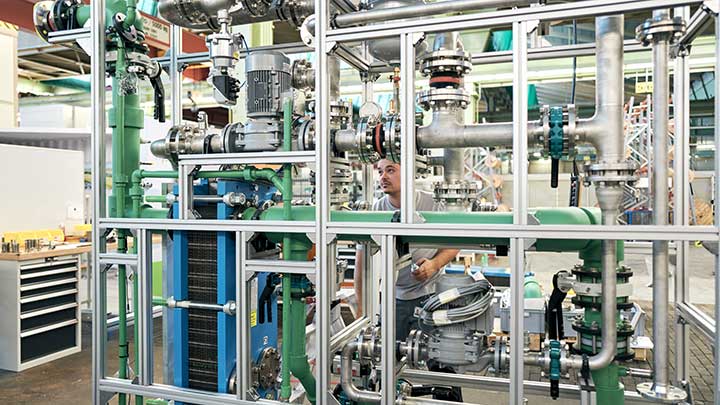 PEM electrolyzers like the one being completed here use electricity from renewable energy to separate water into oxygen and carbon-free hydrogen. ©Stefan Hobmaier
"To cut 1 percent of all greenhouse gas emissions"
Von Plettenberg concedes that, though some bureaucratic hurdles remain, things are moving quickly. The market for electrolyzers, long remained a sideshow in the industry, is now rapidly expanding and creating opportunities for larger players. The buildup of a global green H2 economy will mark a new phase, with potential demand for electrolyzers and associated infrastructures in countries around the world.
H-TEC SYSTEMS is well positioned not only to benefit from the shift toward green hydrogen, but also to become its catalyst. Within a decade, H2 will be an established energy source, and H-TEC SYSTEMS will be a top worldwide supplier of PEM electrolyzers, von Plettenberg believes. "Green hydrogen can supply enough energy to eliminate 10 percent or more of global emissions from fossil fuels, and our plan is to capture 10 percent of that market. This means our electrolyzers will be used to cut 1 percent of all emissions."
Demand for electrolyzers has been increasing each year, with the market expected to have a compound annual growth rate of 60 percent between 2022 and 2030. ©H-TEC SYSTEMS
Toward production on a gigawatt scale
All hands are on deck as we reach the factory floor, where several PEM electrolyzers are being assembled. Von Plettenberg chats with technicians working on an array of nine stacks tucked into a compact container. Output has already been increasing year-over-year. In early 2022, the company had 100 employees, but von Plettenberg expects to employ a staff of 270–300 by the beginning of 2023.
H-TEC SYSTEMS customers include steelmakers who require H2 for process heat; the chemical industry, where H2 serves as a feedstock; and H2 filling station projects which supply fuel cell cars and buses. In all of these sectors, PEM electrolysis replaces "grey" H2 (generated with steam reforming from coal) with a cleaner process that helps firms reach their climate targets. "Only with green hydrogen is decarbonization across all sectors possible," says von Plettenberg.
The basic electrolyzer unit being assembled in Augsburg is the 1-MW ME450, a containerized turnkey solution incorporating nine PEM stacks with a nominal daily output of 450 kilograms of H2 – enough to fill about 90 car tanks. For customers who require bigger outputs, the company offers the modular Hydrogen Cube System (HCS), which can produce two, four, or even ten megawatts' worth of H2 per day.
Soon to turn water into hydrogen: The finishing touches are put on an ME-450 electrolyzer in the production hall at Augsburg, Germany. ©Stefan Hobmaier
of renewable hydrogen is expected to be available in the EU by 2030.
In global market valuation for green hydrogen was reached in 2021.
compound annual growth rate has been project for the green hydrogen market up 2030.
Each of the 2-megawatt HCS units features 18 stacks as well as water treatment and power supply units. The containers can be combined into larger arrays with dozens or even hundreds of megawatts of capacity, though, as von Plettenberg points out, a dedicated building is more suitable for any project over 20 MW. The next step for the company will be the construction of a gigafactory outside of Hamburg, where stack assembly will be automated to reach the demand for gigawatt-scale H2 production.

MAN Energy Solutions fully acquired H-TEC SYSTEMS in June 2021 and over the course of the next few years will invest up to 500 million euro to transform it into a mass-producer of PEM electrolyzers as quickly as possible.

The acquirement comes with a number of other benefits for H-TEC SYSTEMS as well, including access to MAN's heavy-industry customer base and closer integration with the Volkswagen Group, including access to its know-how in setting up efficient mass production processes. It also ensures a reliable supply of spare parts, a major competitive advantage in times of supply chain disruption. These factors will help his company scale up and advance to the production of large series while maintaining agile operations and decisionmaking. Conversely, for MAN Energy Solutions, the addition of H-TEC SYSTEMS means that its portfolio now covers the entire hydrogen value chain.
"We have to strike the right balance between keeping our company stable and scaling up quickly enough to keep up with rapidly growing demand in Europe and beyond," says von Plettenberg. And there is reason to be optimistic about its success, with projects already underway in Germany, Austria, Switzerland and Sweden. The positive outlook bodes well for the climate too: "The greatest source of motivation for all of us is our ability to bring about change and have a massive impact on the biggest problem humanity is facing: Fighting climate change."
About the author
Christopher Findlay is an independent journalist specializing on technology and business reporting. He lives and works in Zurich, Switzerland.
Sustainable shipping starts now. Find out more about the first large-scale engines for container ships run on green methanol.

The Haru Oni demonstration plant could pave the way for a viable alternative to fossil fuels: It produces synthetic e-fuels from hydrogen that can help the fight against climate change. MAN Energy Solutions provided the e-methanol reactor to the plant.

How a seaport town in Denmark is decarbonizing district heating with seawater and large-scale industrial heat pumps.