Upgrading

your fleet

for future fuels
How dual-fuel conversions for two- and four-stroke engines prepare vessels to run on green methanol and ammonia
While shipping moves towards newbuilds with dual-fuel engines, the potential and the climate benefits for converting existing vessels are huge – and vital to meeting the industry's climate action targets. Discover speaks with three experts on the drivers and hurdles around retrofitting the world's fleet.

By Niels Anner
"Last year, about 50 percent of our newbuild orders were dual-fuel," says Anders Kryger, Principal Strategist at MAN Energy Solutions. But even with the large percentage of newbuilds, the amount of ships with climate friendly propulsion systems is increasing only slowly. "With an average ship lifetime of 25 years, fleet renewal will take decades," adds Kryger, "time we don't have to reach net-zero shipping."
Kryger and his colleagues at MAN Energy Solutions, Bernd Siebert and Klaus Rasmussen, all experts in the maritime energy transition, know that time is of the essence. Shipping is responsible for around 3 percent of global greenhouse emissions and, according to the World Economic Forum, will need climate-neutral fuels to make up at least 5 percent of shipping fuels by 2030 to meet the Paris Agreement's 1.5 °C trajectory.
"The solution," says Rasmussen, Head of Retrofit Projects and PVU Sales, Two-Stroke, "is to retrofit single-fuel engines to use green fuels."
In 2022, BW LPG – the world's leading owner and operator of LPG vessels – completed the retrofit of 15 very large gas carriers (VLGCs) with MAN dual-fuel engines capable of operating on fuel oil and liquefied petroleum gas. © BW LPG
Massive market potential
Some major ship owners are spearheading the deployment of newbuilds with dual-fuel engines that can run on diesel as well as liquefied natural gas (LNG), liquefidied petroleum gas (LPG), methanol and soon ammonia – all of which can be carbon-neutral depending on how the fuel is produced. And regulations are expected to follow.

"Converting existing engines to dual-fuel operation," says Siebert, Head of Retrofit & Upgrades, "is crucial to decarbonize shipping because it's a powerful measure that can be implemented quickly. And from an economic perspective, retrofitting is much more efficient than installing a new engine or building a new ship."
The market potential, says Kryger, is huge. According to recent estimates, some 1,900 ships with MAN two-stroke engines and up to 900 ships with four-stroke engines are eligible for conversion today and could save more than 97 million tons of carbon dioxide (CO2) emissions annually when run on green fuels. Not all these engines are expected to be converted, however, but ambitious regulation can increase the actual convertion rate.
With an average ship lifetime of 25 years, fleet renewal will take decades – time we don't have to reach net-zero shipping.
MAN Energy Solutions works closely with shipyards worldwide to establish standard processes for dual-fuel conversions that can be quickly scaled up to meet demand. ©Shutterstock
Getting shipyards and ships prepared
"We already have a lot of experience with dual-fuel retrofits for LPG," says Rasmussen, "and for carbon-neutral methanol, we're ready to take orders tomorrow – the engines are in place." What will take time though, he adds, is having enough repair ship yards develop a structured process for the retrofits.

"European yards are already interested," says Rasmussen, "and within two years we expect to see the first two-stroke retrofits for methanol." Once the processes are established, it can quickly be scaled to include hundreds of vessels and shipyards will be able to keep up pace with new developments and demand.
Market analysis shows that good candidates for retrofitting are large vessels in the container, pure car and truck carrier (PCTC) and tanker segments. The greater part of these will have been built in the last decade as single-fuel engines with a price tag for the vessel of more than $50 million. With the average cost of a retrofit at around $12 million, conversions should cost less than 25 percent of the newbuild value to be commercially viable.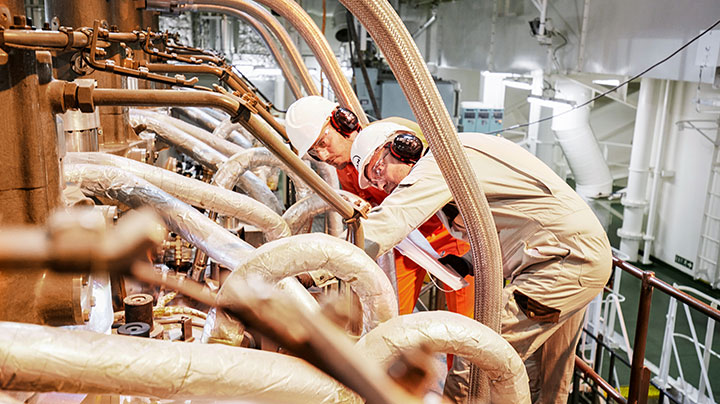 MAN PrimeServ engineers working on a two-stroke engine: With different fuel injection concepts, dual-fuel engine retrofits can cover a range of future green fuel strategies. © MAN Energy Solutions
End-customers driving demand for green shipping
Interest is particularly high among shipping companies that transport consumer goods, as they can pass on the additional cost of green fuels. However, the price range remains manageable. For example, estimates put the extra cost of sustainably shipping a pair of sneakers as low as eight US cents, for a laptop, six dollars.

According to Bernd Siebert, customers are already willing to pay the premium for green transportation, and pulic pressure is already having an effect evident in other maritime segments, such as the cruise industry.
Cruise ships and roll-on/roll-off vessels such as ferries are the main focus of the four-stroke dual-fuel engine business, and MAN Energy Solutions has signed a memorandum of understanding with both Norwegian Cruise Line and Stena for the retrofitting of MAN 48/60 engines for diesel/methanol operation.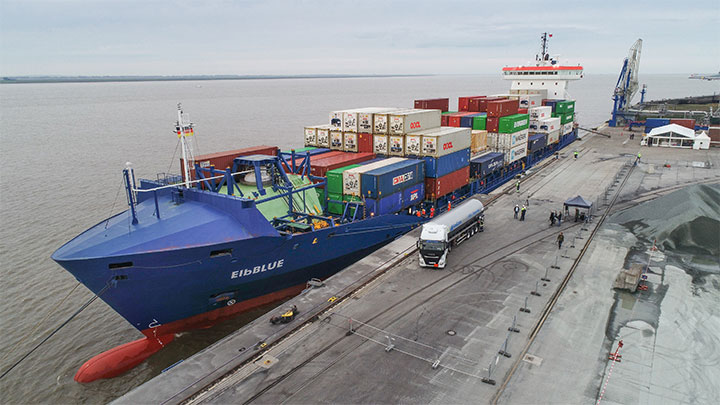 In 2021, the 1,036-TEU vessel ElbBLUE, retrofitted with a MAN dual-fuel engine, became the first container ship worldwide to use climate-neutral synthetic natural gas (SNG) on a commercial trip. ©MAN Energy Solutions
"We're carrying out a pilot installation for a methanol retrofit and expect the first conversion projects by the end of 2024," says Siebert. After that, series production for methanol retrofits are being planned for 2026. "So, it's critical that green fuel production and infrastructure be expanded at the same time."
Converting existing engines to dual-fuel operation is crucial to decarbonize shipping.
CO2 can be abated yearly by running a Newpanamax vessel on green methanol compared to HFO.
vessels with MAN engines are eligible for conversion to dual-fuel engines today.
of CO2 emissions could be cut by converting eligible vessels.
Regulation as a key driver
While the environmental case for retrofitting is strong (for example, a new Panamax container ship can reduce emissions by more than 90,000 tons of CO2 per year by running on green methanol or ammonia), the economic case is growing too as environmental regulations become more stringent with engines and fuels.

For example, with the inclusion of shipping in the EU Emissions Trading Scheme (EU ETS) in 2024, significant costs can be avoided by switching to green fuels, says Anders Kryger. This year, the International Maritime Organization (IMO) is expected to tighten its current target of a 50 percent reduction in greenhouse gas emissions (GHG) emissions from international shipping by 2050, while the EU has committed to achieving climate neutrality by 2050 and reducing GHG by 55 % by 2030 (compared to 1990 levels). According to Kryger, ambitious intermediate targets are very important because they will change behavior now and speed up the contracting of newbuilds and retrofits.

In this process, MAN Energy Solutions can support ship owners not only with engines and fuel systems for green propulsion, says Klaus Rasmussen: "We can advise our customers on change management and help them to set up a technical organization to better navigate the journey toward sustainable shipping."
Within two years we expect to see the first two-stroke retrofits for methanol.
About the author
Niels Anner is an independent journalist based in Copenhagen, who writes on business, science, technology and society in Northern Europe.
Learn more about the potential for dual-fuel conversions
MAN Energy Solutions and classification society DNV jointly argue that the main decarbonization challenges for the existing fleet are fuel price and availability, capacity challenges at repair yards with the risk of conversion-budget overshoot, and current IMO NOx regulations. Read more about potential solutions, including the promotion of low-and zero carbon fuels and the establishment of legal frameworks for planning and capacity build-up.
Go to technical paper
MAN Energy Solutions takes a security-first approach to their products, employing ethical hackers like Felix and Nico Lindner at Recurity Labs to uncover vulnerabilities throughout the development and operation of their products.

The autonomous operation of turbomachinery, assisted by machine learning and remote diagnostics, will boost efficiency and help decarbonization.

As power systems become more complex, here's how industries can manage future energy needs.