Enabling a scalable energy transition
The MAN B&W ME-LGIM two-stroke dual-fuel engine can run on methanol as well as conventional fuels. Specifically designed to meet the needs of the maritime industry, it is a versatile and scalable solution that is suited to a wide range of vessel types. Simple handling, storage, and bunkering of methanol, combined with relatively simple auxiliary systems and the potential to be carbon-neutral, makes it an attractive option for meeting decarbonization targets.
The first MAN B&W ME-LGIM engines came into service in 2016
running hours accumulated on methanol alone
Proven two-stroke methanol engine design
Available either for newbuilds or for upgrading existing conventional fuel vessels, this engine represents a proven, refined engine design based on over 450,000 running hours on methanol alone. Methanol produced from renewable sources is an attractive marine fuel option due to its low carbon intensity. An engine using green methanol can even provide carbon-neutral propulsion.
Efficiency

The engine works with the same high efficiency known from our existing conventional fuel engines. Switching between methanol and fuel oil is seamless and thereby supports reliable and continuous operation of the engine.

Scalability

The major appeal of methanol as an alternative fuel is that it can be stored as a liquid at ambient temperatures and pressures. While its production as a green fuel is still limited, its handling costs are low, reducing the complexity of storage and bunkering infrastructure at ports. As such, carbon-neutral methanol can be used whenever it is available at scale.

Versatility

Thanks to an extensive existing ME-LGIM engine portfolio, our methanol solution caters to a wide range of vessel applications, including container vessels of all sizes, product tankers, VLCCs, numerous bulk carrier sizes, RoRos, and PCTCs. It can run on methanol as well as on conventional fuels.

The MAN B&W ME-LGIM engine is available for newbuilding projects and retrofits.
A new design for efficient methanol combustion
The ME-LGIM engine has inherited well-known components of our standard two-stroke diesel engine, like the ME-GI dual-fuel engine. Beneficial features of the standard MAN B&W two-stroke diesel engine have been retained. This illustration highlights methanol components and pipes that have been added to the cylinder top for methanol combustion.
The use of methanol as fuel type supports cost-effective vessel designs.
What our customers value
Listen to some of our low-speed customers describe the benefits of methanol-fueled engines as well as the support they get from MAN Energy Solutions throughout the entire product life cycle.
Methanol expert statement: shipowner and charterer
Methanex NZ Ltd and Waterfront Shipping Canada have a great deal of expertise running methanol-based ships. Here, they discuss their experiences with MAN as a prime mover for two-stroke methanol engines.
Methanol expert statement: shipowner
There are many advantages to powering a ship with methanol. Watch our two-stroke customer Mannvest Shipping AB and learn more about their experience with methanol as a marine fuel, about MAN as a partner, and about operating vessels powered by B&W ME-LGIM engines.
MAN Energy Solutions and A. P. Møller-Mærsk: Pushing carbon-neutral propulsion
Hyundai has placed an order for 6 MAN B&W G95ME-C10.5-LGIM dual-fuel main engines for 6 17,000 TEU container vessels for A.P. Moller – Maersk. Construction will take place in Korea and the engines will be able to run on green methanol, which will enable carbon-neutral propulsion for large merchant-marine vessels.
This illustrates that adoption of methanol-based engines is on the rise, not only because MAN B&W methanol engines are available, but also due to the proven track record of LGIM-powered vessels
| | |
| --- | --- |
| Customer: | A.P. Møller-Mærsk |
| Application: | 12 x 16,200 TEU container vessels |
| Shipyard country: | South Korea |
| Completion: | First vessel in service from Q1 2024 onwards |
| Fuel: | Methanol |
| MAN's work scope: | 12 x MAN B&W 8G95ME-C10.5-LGIM EGRTC |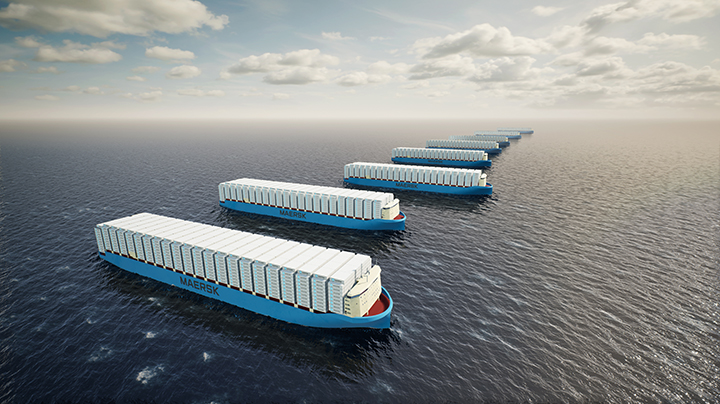 | | |
| --- | --- |
| Application: | Methanol carrier |
| Shipyard country: | South Korea |
| Fuel: | Methanol |
| MAN's work scope: | 1 x MAN B&W G50ME-C9.5-LGIM |
Moving together into a sustainable future
There are many ways the new MAN B&W ME-LGIM dual-fuel methanol engine can help increase the long-term profitability and security of your fleet and business. Contact us today to start exploring your options.
Contact us
Learn more about the MAN B&W ME-LGIM engine
Methanol as marine fuel for large merchant vessels

Listen in to learn how our portfolio of methanol-fueled MAN B&W ME-LGIM engines evolves to support market demand, and take a deep dive with us into the technical aspects of the supporting supply and auxiliary systems.

Go to recording
Methanol as marine fuel – scalable energy transition with MAN B&W ME-LGIM
Register for the recording and get the latest news about our MAN B&W ME-LGIM engines, additions to this engine type portfolio, recent test results and market developments.
Register now