Factory LNG:

Unlocking value for

a low carbon future
MAN Energy Solutions and Woodside Energy: Partnering to deliver an innovative, scalable and reliable LNG solution.
MAN Energy Solutions and Woodside Energy have signed an agreement to commercialise an innovative solution for small to mid-scale LNG production. Known as Factory LNG, the technology combines Woodside's intellectual property and experience as a pioneer of the Australian LNG industry with MAN's wide portfolio of turbomachinery and solutions, global footprint in sales, project management and after-sales capabilities. It incorporates MAN's low maintenance High-speed, Oil-Free, Integrated Motor-compressor (HOFIM®) technology as used, for example, in subsea gas compression facilities.
tpa LNG per Factory LNG container
foot Factory LNG container
Factory LNG: Virtual tour of an indicative plant
Factory LNG can be broadly applied, opening up significant potential for customers worldwide. It can be used to add capacity to existing LNG production, or to create an LNG hub for marine, land transport or other industry needs, unhindered by traditional location constraints.
Factory LNG Concept
Using Woodside's Factory LNG intellectual property and industry experience, and MAN Energy Solutions' low maintenance High-speed Oil-Free Integrated Motor-compressor (HOFIM®) technology, the design concept involves a nominal 50'000 tpa liquefaction unit, in the size of a 40-foot ISO shipping container. The units are manufactured as a complete product line, enabling customers to build-out LNG production at pace with demand. The solution will provide customers reliable and low maintenance operation, enabled by MAN's subsea (HOFIM®) knowledge, with a simple interface.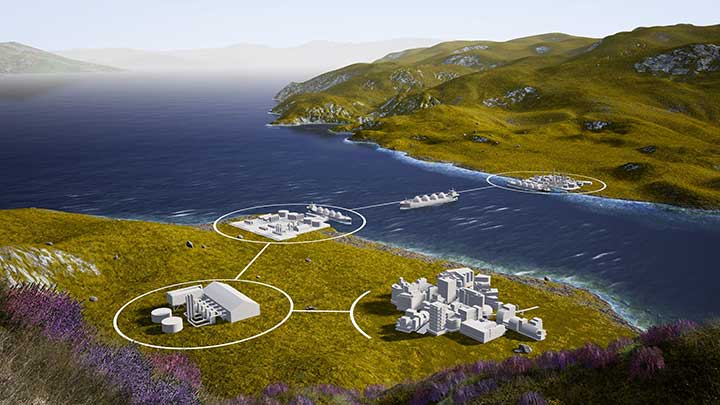 Application
Factory LNG has a broad application to liquefy pipeline gas:
Add capacity to existing LNG production
Create new (remote) LNG production hubs for marine, land transport and other industry needs
Competitive Advantage
Due to its compact and factory-built design, Factory LNG reduces manufacturing costs and enables shorter execution timeframes than traditional stick-built or integrated modular LNG trains. It can also unlock liquefaction capabilities to more locations across the globe. Further potential exists for green fuel production by coupling the Factory LNG unit with synthetic methane units or bio-gas production.
Factory LNG is targeted for first commercial deployment in 2022.
Benefits

Uses existing transport logistics pathways and infrastructure
Enables local LNG production as fuel
Compact, flexible layout adapts to location constraints
Supports a repeatable execution model
Simple and reliable operations for end-users
Ability to shorten execution timeframes for projects
Scalable business solution - "it grows with you"