Large-scale equipment for your high-pressure process
High-pressure vessels are integral components of processes in the petrochemical and chemical industries. MAN Energy Solutions supplies hydrocrackers, HDPE reactors and other specialist vessels made from high-grade materials. Our high-pressure vessels weigh up to 1,800 mt featuring weld overlay or made from special materials with a wall thickness of up to 350 mm: MAN Energy Solutions brings outstanding experience and expertise to the market, for turnarounds or brand-new plants.
Made to withstand high pressure - our heavy-duty vessels
MAN Energy Solutions expertise for turnarounds or brand-new plants

High-pressure vessels from the experts
Refinery processes are highly complex and costly. Demand for refined products worldwide is on the rise. Your equipment needs to be reliable, efficient and cost-effective to make sure your business is thriving. MAN Energy Solutions has the outstanding expertise and large-scale production facilities needed to make your operations competitive and profitable. For turnarounds or new plants, we manufacture in our workshops on the River Danube and ship directly from there: Vessels weighing up to 1,800 mt featuring a wall thickness of 50 mm to 350 mm. Vessels made from special materials such as zirconizm, CrMO, CrMoV, 20MnMoNi45 or other high-grade materials. Our weld overlay cladding guarantees extra durability.

Get everything you need from one trusted source
MAN Energy Solutions offers far more than just supplying the hardware you require. We act as a single-source solution provider or consult on individual stages in strategic planning.
Customers worldwide are working with us to improve their business. Together we make sure their technology is fit for the market or solve tricky steps such as the safe transportation of extremely heavy and large equipment. We provide everything from feasibility studies to the execution of turnarounds.
We have wide experience with all main licensors, are experienced in working with high temperature chromium steel and will design your unique pressure equipment if needed.
We offer:
Studies
Engineering
Shutdown planning
Shop fabrication
Logistics
Assembly on site
Execution of revamps and turnarounds
Support during commissioning
Talk to our experts
Weighty
maximum weight of our vessels which we ship directly from our workshop
Strong
pressure our vessels can withstand
Thick
maximum wall thickness of our high-pressure vessels
Two (2) hydrocrackers
Hydrocracking reactor, Bayernoil, Neustadt, Germany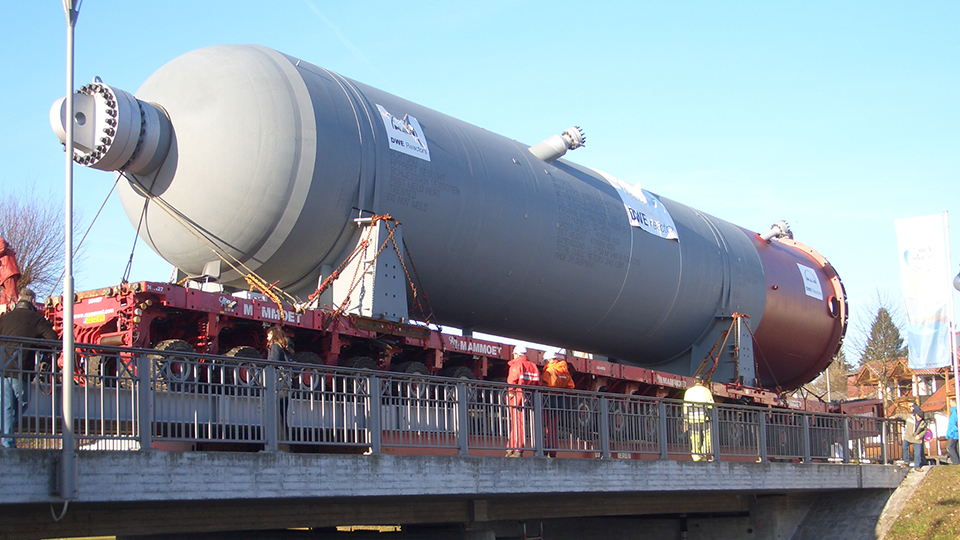 Diameter:
4,000 mm
4,000 mm
Wall thickness:
217 mm
+ 4.5 mm weld overlay
209 mm
Length:
29,100 mm
27,600 mm
Weight:
525 mt
475 mt
Operating pressure:
145.5 bar
140.5 bar
Operating temperature:
454 °C 
454 °C 
Material:

12 CrMo 9 10

Type 347

base material 

weld overlay
Equip your chemical or petrochemical plants with the finest of large high-pressure vessels
If you're looking to scale up or need to replace existing equipment, check out MAN Energy Solutions' world-renowned large high-pressure vessels. For planning, turnarounds or new units, we have the expertise you need.
Talk to our experts