DWE® reactor services
From initial studies to safe operation, from spare parts to repairs, our services ensure the availability and optimal efficiency of your reactor over its entire service life. We want you to get the most out of your investment: Service-life-extending revamps and conversions are available for all assets in the DWE® reactors portfolio.
The full spectrum of reactor services in OEM quality from a single source
Our expertise in reactor engineering for the chemical industry, as well as apparatus and component construction for both the petrochemical industry and physical research facilities, has earned us the leading role in this global market. With our services for all reactors under the DWE brand of MAN Energy Solutions, you leverage this comprehensive OEM expertise and rigorous quality control for your business goals. As a service customer, you benefit from the experience and innovation of designers, engineers and technicians who know your reactor – down to the last gasket. From design studies to after-sales service, as a reliable and competent partner, we accompany your reactor through all phases of its service life.
Installation and commissioning
Ensure the best preconditions for the efficient operation of your plant with DWE® reactors' conscientious and quality-minded services
As the service branch of the manufacturer of your reactor or apparatus, we reliably time the assembly of your reactor – or the construction of your apparatus – with your start-up schedule. Transporting large, heavy reactors can be challenging, especially if the infrastructure in the country of destination is insufficient. Rely on our worldwide experience to bring your asset to you: We handle preparations and transport.
With DWE® reactors' services, the OEM expertise and experience of our highly skilled set-up and installation teams ensure that assembly, installation, and construction are fast, efficient, and straightforward processes. You have your own team on-site? Our set-up officers can serve as consultants to your team on-site.
How you benefit
Fast customized turnarounds
All services from a single source, from transport to site acceptance test
Highly skilled and experienced assembly, set-up and installation teams
Hot-salt test before start-up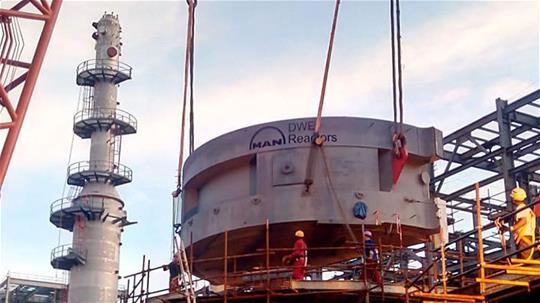 Leverage the OEM expertise, experience and effectiveness of our teams at DWE® Reactors to ensure a smooth process and flawless operation.
Set-up, installation, commissioning, and start-up of all reactors and special apparatus under the DWE brand
On-site construction of DWE reactor systems
Turnkey solutions (transportation, insulation, scaffolding, monitoring)
Advice on issues relating to manufacture, materials, and assembly
Site acceptance test and hot-salt test
Spare parts and repairs
Highly qualified field service engineers, spare part delivery with a global reach, and maintenance and repair services from DWE® Reactors ensure you have every type of support for your reactor, or special apparatus, exactly when – and where – you need it.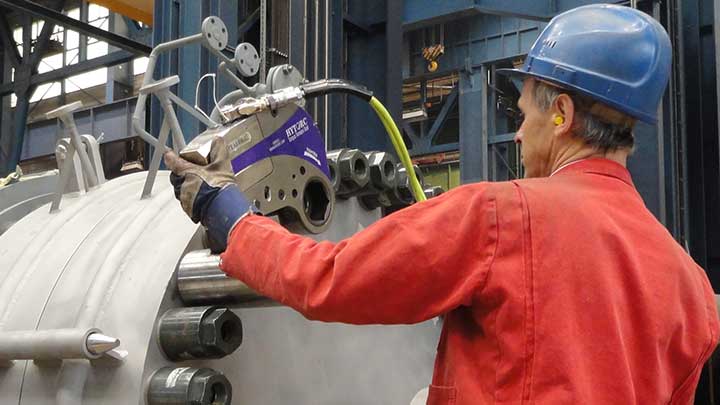 Lifetime spare parts guarantee
Delivery worldwide
Talks about access to genuine OEM spare parts and the latest component and part designs. Needs to put the service front and center and spotlight the impact of OEM quality on assured availability
How you benefit
Lifetime spare parts guarantee
Delivery worldwide
Exact fit of spare parts
Access to latest spare part designs
Protected warranty
Increased uptime
Increased reliability of reactor or special apparatus
Longer service life
Lifetime service
Repairs worldwide
As a customer of our field services you benefit from DWE® Reactors intimate OEM knowledge of the specifications of reactors and special apparati. Our repair and maintenance teams have access to the latest research and spare-part designs, advanced technology as well as next-generations tools in diagnostics.
Keeping downtime to a minimum, our highly effective repair services are available both on-site as well as off-site at our workshop facilities. We offer rapid emergency support on-site when your plant is facing downtime and handle scheduled maintenance. Customize long-term agreements are possible.
How you benefit
Rapid emergency response
Increased uptime
Remote maintenance systems
Remote maintenance services
Revamps and modifications
Our reactors are in operation for decades, so our after-sales service has to be available for this length of time too. We will provide you with outstanding technical support and original spare parts throughout the service life of the equipment. Furthermore, you benefit from our expertise and ongoing product refinements.

We currently live in a world that is changing at a rapid pace, a pace that has never been seen before. Technical solutions to tomorrow's problems are therefore needed today. As a world leader in reactor and plant technology, we are constantly working on meeting the challenges of the future.
Talks about leveraging DWE® expertise for revamp studies (to determine the work needed to achieve the required output). MAN Energy Solutions offers revamp studies to find the optimal modification of an existing reactor system to reach higher plant capacities
Installation, modification and commissioning work is among the most important of the services we offer, and is one of the core areas of expertise of the DWE® reactor systems product range within MAN Energy Solutions.
Gas side
Calculation of maximum explosion pressure
Calculation of pressure relief area
Studies and expert opinions
Salt side
Determination of salt circulation, temperature distribution and temperature variations
Examination of flow patterns
Determination of salt pump outputs and cooler size
Plant capacity revamps
Optimization of plant process according to maximum plant capacity
Optimization of consumption figures for feedstocks and utilities
Optimization of plant energy balance
Studies and concepts for economical plant extensions and modifications
Supervision during mechanical modification on-site
Assistance during commissioning and start-up
Consulting and add-on services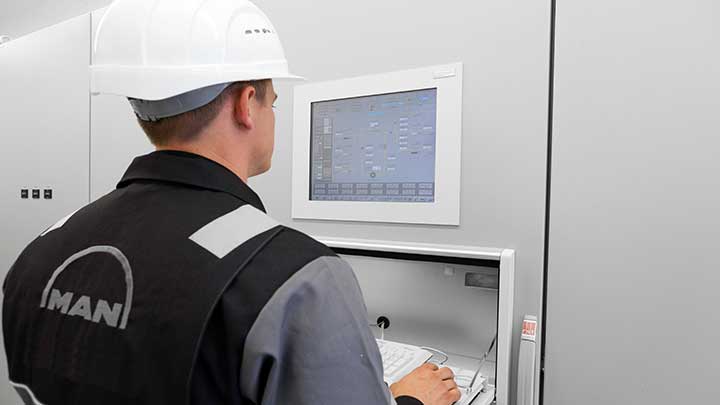 Currently available:
Remote monitoring of reactor components.
Feasibility studies, safety studies and lifetime analysis.
Analysis of the data an OEM specialist
Double-check of customer information with actual design data possible
Value proposition
Predictive maintenance possible
Spare parts recommendation and on-time supply
How you benefit
higher reliability of operating process
improved planning of services
Pilot plant studies
We currently live in a world that is changing at a rapid pace, a pace which has never been seen before. Technical solutions to tomorrow's problems are therefore needed today. As a world leader in chemical and petrochemical reactors and refinery technology, we are constantly working on meeting the challenges of the future. A key role in this, is taken by our in-house pilot plants with integral demonstration area using various types of pilot reactors. Tomorrow's customers will see the benefits of these and we will be able to offer high-quality technologies and services, which are a step ahead of their time. Customers can benefit from our unique services in scaling up to commercial plants.
Test possibilities
MAN Energy Solutions offers modern testing systems for your processes.
Our pilot plants are open for process development operated in molten salt pilot reactor systems and water-, oil- or gas-operated reactors, like Fischer-Tropsch reactors, for example.

Operating possibilities
Process side
Ambient to high pressure
Cooling temperature up to 550 °C
More than
reactors installed worldwide
More than
years of experience in building multi-tubular reactors
About
tubes can run through a tubular reactor, a continuously operated reactor for synthesizing – or processing – chemical feedstocks
Whichever reactor you are looking for, go to the industry leader for best results.
DWE® has supplied over 750 individual reactors to the chemical and petrochemical industries worldwide. Find out what we can do for your business.
Talk to our experts