Making

digitalization

work
Employees from MAN's digital team talk about working at the frontline of digitalization in mechanical engineering
Ever wondered what it takes to design user experiences? Ever thought about predicting the future (based on data-driven mathematical models, of course)? There is an overwhelming wealth of interesting career options for digital experts – and industry is just one of the exciting areas where they can make a real impact.
Who would be better suited to provide answers on digital careers in a mechanical engineering company than young professionals who are willing to share their experiences, their thought processes and their challenges? We checked in with two of the members of the Digital Team at MAN Energy Solutions, which aims at digitally transforming the company.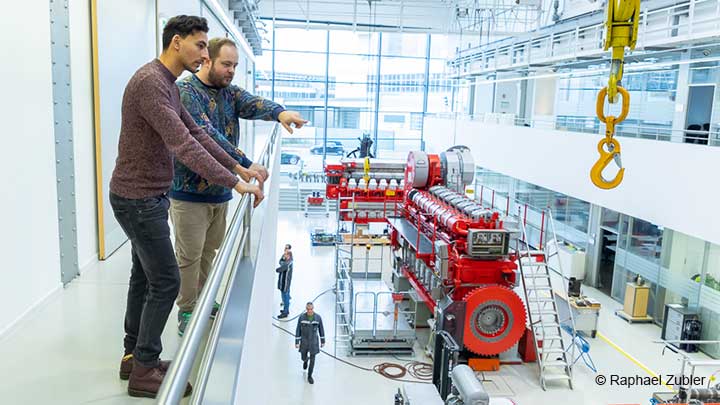 Florian Krapp, Senior UI/UX Designer at MAN Energy Solutions, is part of a dedicated and highly motivated team of 70 digital experts that is driving the digitalization trends within the company
Digitalization – by far the biggest buzzword of the 21st century – is constantly disrupting our global society and industry, and is changing the way we work, communicate and live. In the business world, everyone is talking about the "digital transformation" and a lot of companies are aiming at becoming digital pioneers. But what exactly does it all mean for an established industrial company?
For MAN Energy Solutions, digitalization is mainly a cultural issue; it is about changing the mindset of a company of more than 15,000 employees. Thinking digitally means being able to quickly adapt business models to make use of new technologies and developments. How does such a bold vision come to life in an established company with a heritage of more than 250 years?
At the center of MAN's digital journey stands a dedicated and highly motivated team of 70 digital experts – spread between Augsburg, Oberhausen, Copenhagen, Zurich and Bangaluru – that is driving the digitalization trends within the company. The team of developers, software engineers, UI/UX developers and data scientists joins forces with customer managers and domain experts to focus on such diverse tasks as connecting engines and turbomachinery, securing data transfer, developing algorithms and harnessing artificial intelligence (AI), creating user interfaces, or developing the MAN CEON application (Link).
Their playground is the company's digital value-creation chain, which extends from hardware development to the development of cloud-based platforms and front-end applications, and on to data-analysis solutions. While the MAN CEON application has already launched, this new business development's journey has only just started and many exciting opportunities still lie ahead.
Sabrina Maucher, Data Scientist at MAN Energy Solutions, holds a degree in mathematics – and is passionate about creating value for customers.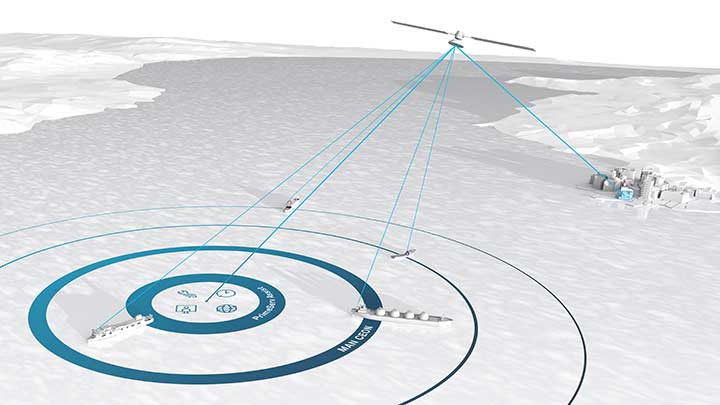 Using intelligent data analysis tools, the digital MAN CEON application enables real-time monitoring of sensor data from marine or power plant engines, turbines and compressors.
We met four employees of MAN's Digital Team to better understand what it means to digitally transform a whole company. We also wanted to learn more about their personal career paths and motivations: Why do young digital experts and developers decide to join a traditional mechanical engineering company? What advantages does this hold in terms of their career development? What opportunities do they see?
To help us find out and add their perspective we enlisted the help of a computer science students: Soon-to-be graduate Aryaman Fasciati who is currently completing his Master's in Computer Science at ETH Zurich, Switzerland.
Together we discovered interesting professional pathways that included detours at heavy metal magazine editing or media design; we realized that creating real impact was one of the biggest motivational drivers for young professionals; and that belonging to the digital team in a mechanical engineering company comes with its fair share of curious attention.
digital experts working in the MAN Digital Team
up to 500 sensors sending data from one MAN engine or turbomachine to MAN CEON
data ingestion performance of the MAN CEON application