My team

is developing

the digital future
As part of a series on career opportunities in digitalization at MAN, UI/UX designer Florian Krapp talks about impact and passion
Clearly, Florian Krapp is in good spirits. Sporting a beard and wearing a colorful sweater, he takes a seat and doesn't beat about the bush when it comes to introducing himself: "Me? I'm thirthy-three years old. A senior UI/UX developer. Working at MAN Energy Solutions since March 2019." And, importantly, he is also the father of twins. His journey to MAN Energy Solutions took a detour, via his love of metal – as in heavy metal music. Well, perhaps it wasn't exactly a detour, he muses, but rather a necessary stopover on his path to digitalization in mechanical engineering. Or was it? Journalist Ingo Petz and computer science Master's student Aryaman Fasciati are intrigued to find out.
By Ingo Petz
"Still trying to explain things in such a way that they make sense to the intended audience" – his current job combines Florian Krapp's passion for design and writing.
Florian Krapp:
There were always two souls dwelling in my chest. One was concerned with design. The other was passionate about writing or explaining things. After graduating from high school, I first enrolled in an internship in industrial design. And later, I was a trainee at Metal Hammer magazine, where I combined my passions of music and journalism. Good times! But I quickly noticed that I enjoyed designing the magazine more than writing or editing. When the editorial staff moved to Berlin, I stayed here in Augsburg and used the opportunity to study Interactive Media. I graduated with a Master's in Interactive Media Systems. In a way, however, I've remained true to my journalistic roots, at least in a figurative sense: I'm still trying to explain or design things in such a way that they make sense to the intended audience and can be easily applied.

What exactly is it that you do at MAN Energy Solutions?

I work on the MAN CEON application and am responsible for all things user experience and design. I develop concepts and user flows, i.e.: Which journey does the user take through an application? Where can we reduce the number of clicks and optimize or simplify certain things? To do this, I create prototypes and work closely with the development department to implement these improvements.
How did you end up working for a mechanical engineering company?
I used to work for an agency. In that environment, you're always the service provider. Projects are fast-paced and wrap up after two or three months. What really appeals to me at MAN is that I can shape a product during its whole lifecycle and I receive immediate feedback on how someone is using it. In addition, I took the conscious decision to work for a larger company because I was interested in getting to know the corporate idiosyncrasies and decision-making processes. Especially with a company such as MAN – which literally stands for centuries of excellence in mechanical engineering, but is still very much in its infancy in terms of digitalization. And this is where the special appeal lies for me: I realized that, as a developer in this company, I can actually play a crucial role in implementing digitalization.
What appeals to me at MAN is that I can shape a product during its whole lifecycle and I receive immediate feedback on how someone is using it.
The MAN CEON application is indeed the vanguard product of the company's new strategy that seeks to take on an active role in shaping the digitalized and decarbonized world of the near future. As such, the activities of the digital team create an impact within the whole company. And this point is especially intriguing to Aryaman Fasciati – after all, a shared dream of many IT graduates is to work for one of the digital giants; engineering companies are a slightly more niche first choice. He asks, "That means, you think you can actually have a bigger impact here?"

Yes, that's exactly the point. MAN is just beginning its digital transformation. The steps in digitalization that we take here have a much bigger and more far-reaching impact than a comparable initiative would have in one of the global IT companies. Nor am I one of 500 developers here – I am one of 70. My influence here is certainly more noticeable in the end. However, one of the challenges at MAN Energy Solutions is certainly that you still have to prove that you are relevant as a developer in a mechanical engineering company. But it's important that your own work is relevant. And here I am part of a team that is actually developing the digital future; one that not only helps MAN's employees, but above all adds value for our customers. If I can put my mark on this in some way or the other, that's a big deal for me personally.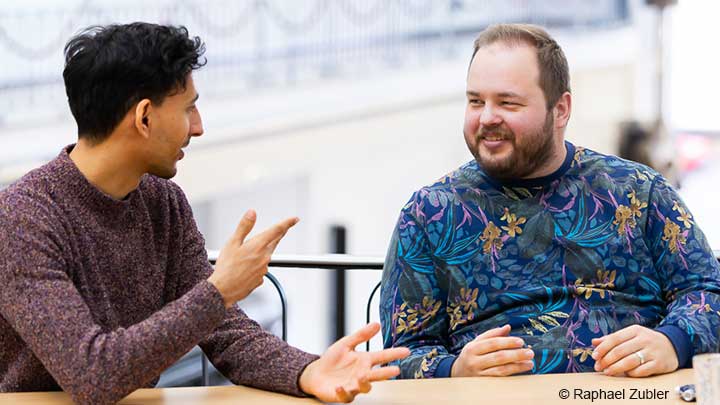 IT student Aryaman Fasciati is curious about the impact Florian Krapp can have with his work.
A final question: What advice would you give to young professionals who would like to join a company like MAN Energy Solutions?
Firstly, it is vital to be able to think outside the box. Sure, any company needs dedicated specialists in every area. If being one of them is your goal, then you should study and strive to become a specialist, albeit one who is able to see the bigger picture, who is open to new ideas and who thinks globally. Secondly, our digital team is working from Augsburg, Oberhausen, Copenhagen, Zurich and Bangaluru. So you have to adapt to this kind of virtual and intercultural collaboration – typical for each global player these days. And thirdly, we are the market leader in many areas and you can only maintain this status if you are open and if you can adopt many perspectives in order to develop a new technology or idea for a problem.
Just the few steps in digitalization that we take here can have a much bigger and more far-reaching impact than a comparable initiative would have in one of the global IT companies.
MAN CEON: Robust Connectivity and Real-Time Data Analysis
Using intelligent data analysis tools, the new digital MAN CEON application collects and evaluates operating and sensor data, and enables real-time monitoring of marine or power plant engines, turbines and compressors. It collects, stores and evaluates data and information from MAN engines or turbomachinery and their operational environment, all of which are equipped with hundreds of sensors that constantly transmit data.
The platform is scalable: designed to monitor several thousands of customer installations in parallel, its data-processing capacity exceeds that of many major social-media platforms. It can be accessed via a web application or by using a mobile terminal. In order to ensure maximum data security, encrypted data transmission and a multi-level authorization procedure are used.
The tangible benefit of MAN CEON for customers lies in enhanced engine performance. From here, MAN experts proactively support customers with problem solving and maintenance via video or audio live-chats.
About the author
Ingo Petz, born 1973, lives and works as a freelance journalist in Berlin.