My work

creates customer

benefits
As part of a series on career opportunities in digitalization at MAN, data scientist Sabrina Maucher talks about prediction and curiosity
True, her grandfather was an engineer. So she had inherited a certain fondness for "all things tangible that function according to certain physical laws." Nevertheless, Sabrina Maucher claims the journey that lead her to MAN Energy Solutions, where the 25-year-old now works as a Junior Data Scientist in the Analytical Services Team, was a bit less straight forward. Journalist Ingo Petz and computer science Master's student Aryaman Fasciati wonder how a mathematician ends up at a mechanical engineering company when most of her fellow-alumni followed the call of big finance? It was an unusual choice, albeit one that paid off.
By Ingo Petz
Sabrina Maucher harbors a fondness for "all things tangible that function according to certain physical laws".
Sabrina Maucher:
I hadn't explicitly aimed to start my career here. But I'm interested in bringing in a breath of fresh air. Among my fellow students, a career in mechanical engineering was certainly not at the top of their agenda. Most of them tended towards IT consulting, banks, insurance companies or start-ups. But you can do almost anything with mathematics, and data science is only a very small part of it. Within data science, mechanical engineering, in turn, is again a small area. I was lucky that MAN Energy Solutions had advertised a position as a working student. And I noticed right away that there's a potential to shape and develop a lot, especially in the field of digitalization, because analytics remains a relatively new field.
What's your job as a data scientist?
My task is to develop data-driven machine learning models that enable us to recognize known and also unknown patterns in the sensor data of engines and turbomachinery. With these patterns we want to be able to give statements and predictions about the condition of the engines and turbomachines and make decisions based on that.
I noticed right away that there's still the potential to shape and develop a lot, especially in the field of digitalization at a mechanical engineering company, because analytics remains a relatively new field.
As a student of computer science, interlocutor Aryaman Fasciati is not satisfied by the general description for lay people and urges Sabrina to flesh out her work experience: "How does that pan out in practice?" She is only too happy to oblige.

The data is collected via sensors on the machines and transferred from the control systems of our MAN products to our platform via satellite, for example. There are up to 500 sensor signals, but this varies from plant to plant. I mean, a cruise ship might have up to four engines – it varies. About one data point per minute comes in via each sensor.
The selection of operating values that are relevant for the current use case is made in close collaboration with experts from engineering and PrimeServ. After plotting some of those selected signals in order to get a feeling for the data, I get to work on the model. At the end of the process, the output should be something that creates a benefit for the customer. Recently, for example, I had a safety valve that opened automatically at 1,850 bar. And you definitely want to make the customer aware that prolonged operation with an open valve is very damaging.
Because then the high-pressure pump of the common rail system no longer works and gets stuck, which can ultimately lead to damage to the camshaft, which in turn might rack up a five- or six-digit bill. So the point is to warn the customer to prevent such a serious event from occurring.
In the conversation with Ingo Petz and Aryaman Fasciati, Sabrina Maucher goes into the nuts and bolts of uncovering patterns in the sensor data of engines and turbo engines.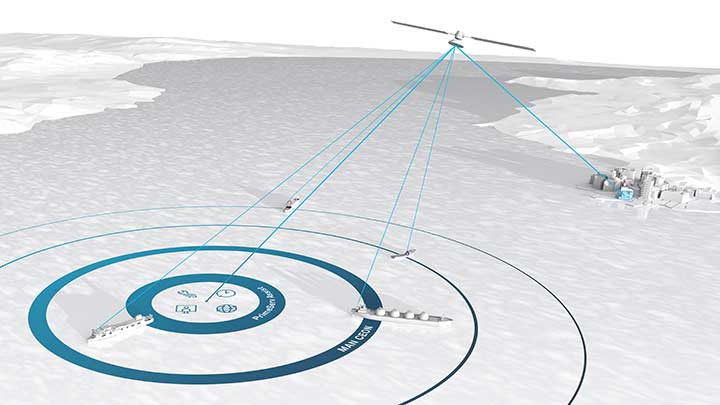 Using intelligent data analysis tools, the digital MAN CEON application enables real-time monitoring of sensor data from marine or power plant engines, turbines and compressors.
Sabrina Maucher is part of a team of around 70 digital experts worldwide. She says that there is no mistrust against the digital team, but rather a healthy curiosity about what the Digital Group actually does, how solutions to certain problems can be developed together. "Generally, there may still be a lack of awareness," she says, "that the Digital Group even exists, but we are constantly growing." And she emphasizes that the customer benefit of her work is also an important factor that ultimately made her choose a career with a classic mechanical engineering company.
Of course, digitalization is intended to help MAN remain competitive in the long term. But at the end of the day, it's not the primary purpose as with the IT giants, who need ever better data to increase their financial profits. In turn, I am clearly working for the customer. For example, I recently saw a documentary on television about a cruise ship powered by four of our engines – in fact I had already made a use case for these engines – so that did make me a bit proud.
MAN Energy Solutions has announced a new strategy that positions the company in an environment of digitalization as well as permanent change and pledges its contribution to upholding the Paris Agreement. It has set itself the goal to expand its business with sustainable technologies and solutions such that they become its main source of revenue by 2030. This strategic realignment is supported by the expansion of the company's product range to include hybrid, storage and digital service technologies.
Did the fact that an almost 250-year-old company is planning such a radical change – and that your work in the digital team is central to achieving it – also contribute to choosing to work for MAN?
Naturally, I wanted to work in a company that has recognized the challenges of the future and is committed to actively shaping it. Personally I think it's great that MAN, as a traditional mechanical engineering company, is trying to drive the change with innovative pilot projects and is increasingly switching to alternative energy sources in order to remain competitive. But our goal is to also possibly become a pioneer in some of these new technologies.
Naturally, I wanted to work in a company that has recognized the challenges of the future and is committed to actively shaping it.
Established in 2016 to advance the company's focus on delivering a new generation of digital services, MAN Energy Solutions' Group Digital comprises a range of teams, mainly located in Augsburg, Oberhausen, Zurich, Copenhagen and Bengaluru.
The teams' digital experts, software engineers and data scientists join forces with customer managers and domain experts to focus on such diverse tasks as connecting engines and turbomachinery, securing data transfer, developing algorithms and harnessing AI, creating user interfaces, or developing the MAN CEON application.

Their playground is the company's digital value-creation chain, which extends from hardware development to the development of cloud-based platforms and front-end applications, and on to data-analysis solutions. While the MAN CEON application has already launched, the journey on this new business development has only just started and many exciting developments still lie ahead.
About the author
Ingo Petz, born 1973, lives and works as a freelance journalist in Berlin.