Mobile power:

Liquefied

natural gas
A bridging technology towards a carbon-free future: Liquefied natural gas
Global energy demand is on the rise. At the same time, CO2 emissions must be cut. Using natural gas is the first step towards a less carbon-intense future. However, many power generation plants have no access to natural gas. Our LNG solutions enable the safe storage and regasification of natural gas where it is needed.

LNG-to-power in VR
While energy demand is growing steadily around the world, so are the cost pressures and environmental targets. Discover the possibilities that MAN LNG-to-power solutions can offer in a fascinating virtual reality video. Find out how you can make energy cleaner, cheaper and more reliable with MAN Energy Solutions.
Be in charge of your own power supply: LNG is the way to go
Independent of existing pipeline infrastructure, LNG can make your power clean, reliable and cost-efficient.
One response to the pressures facing the power generation industry is the use of clean-burning natural gas. It is the fossil fuel with the lowest emissions and is therefore particularly interesting in light of global emission targets. Liquefying natural gas is a technique which makes it possible to greatly decrease its volume – by a factor of 625. For you this means much more efficient storage and transportation, keeping large amounts of raw energy available in an extremely effective manner.
Because LNG is easy to transport, it allows you to become independent of existing gas pipeline infrastructure. Our LNG-to-power solutions are based on flexible dual fuel or gas engines and highly efficient gas turbines and deliver an output of 10 – 300 MW. We can work with you on individual aspects of LNG-to-power or be your one-stop service provider, offering a single-source EPC solution. From consultation on LNG logistics through to supply contracts, unloading, storage concepts, regasification and conversion to power, we've got you covered.
reduction in sulfur (SO2) and fine particle emissions
reduction in nitrogen oxide (NOx) emissions
reduction in carbon dioxide (CO2) emissions
Complete solutions from a single source – LNG bunker facilities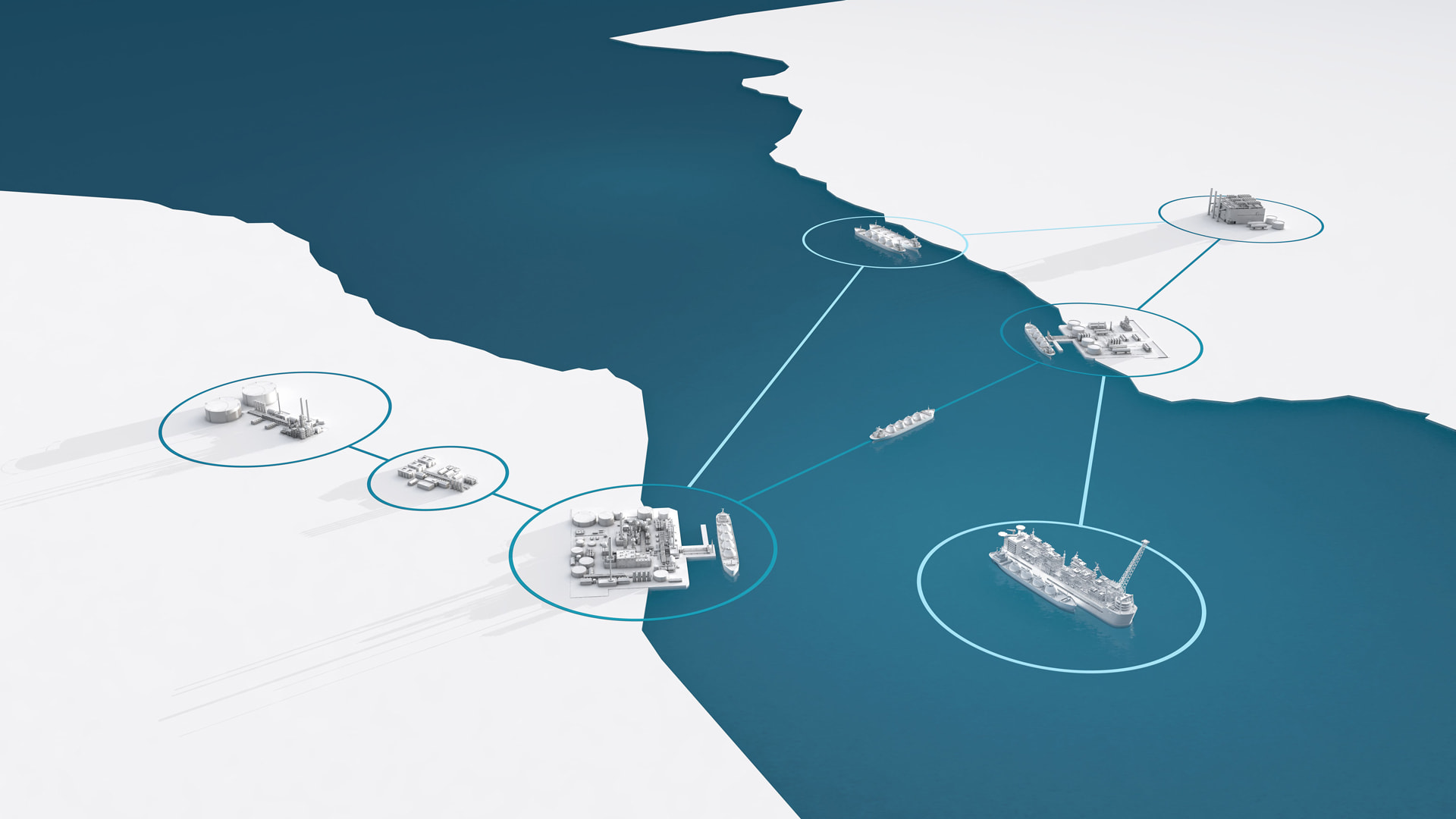 Small-scale LNG terminals from MAN Energy Solutions are either located close to the consumer, like a gas-fired power plant, or close to the LNG unloading facility in harbor areas. The terminals are scaled in a modular manner to match the storage and consumption requirements. LNG is stored in vacuum-insulated bullet tank units that allow for long-term storage without the need for liquefaction of boil-off gas. In most cases, the tanks are refilled from LNG trucks. A small-scale LNG terminal consists of:
LNG unloading
LNG vacuum-isolated tanks
LNG pumps
Regasification units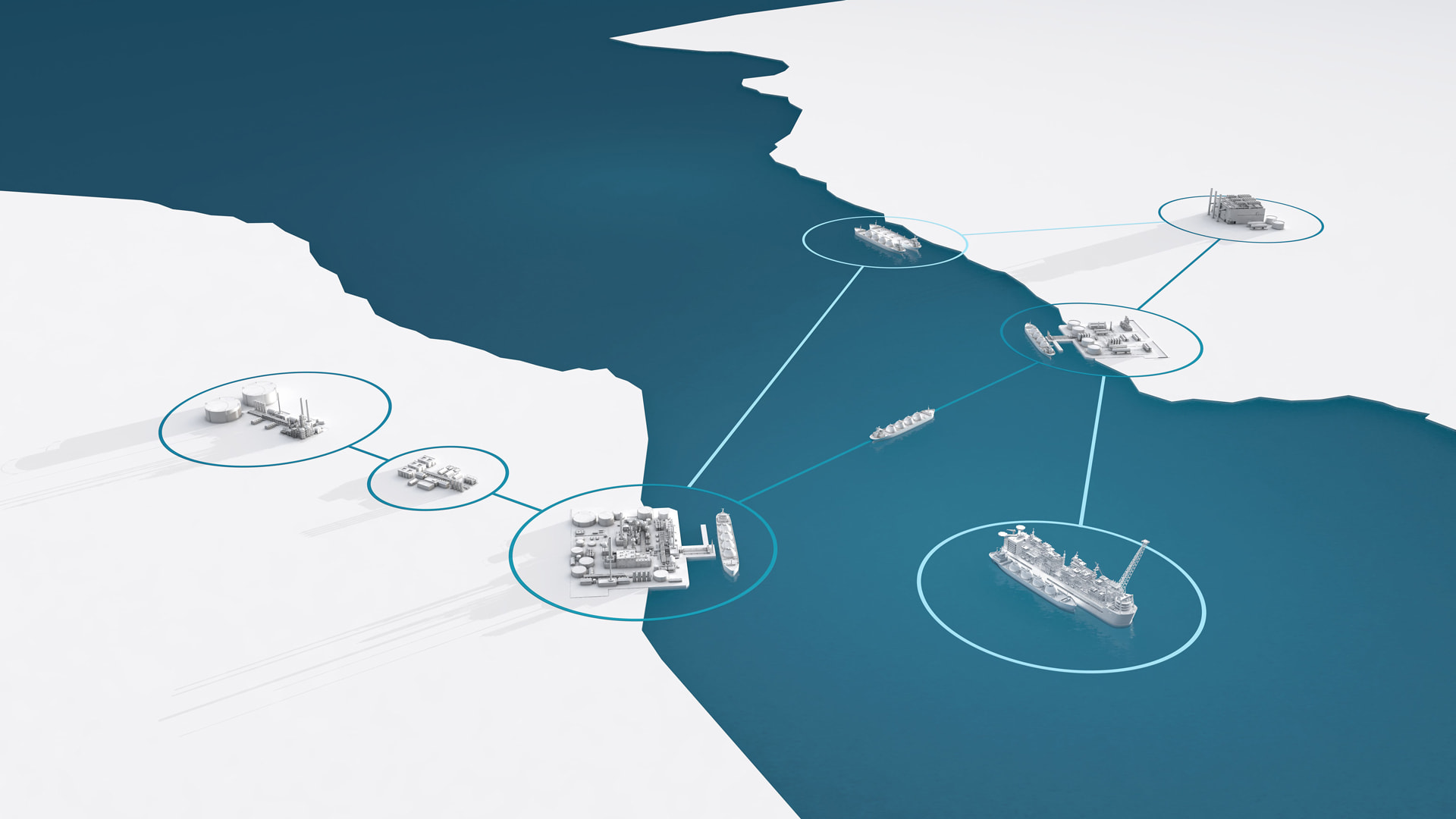 Medium MAN Energy Solutions LNG terminals can be scaled to provide gas for 10 – 200 MW. The LNG is stored in vacuum-insulated bullet tanks. The tanks are refilled from LNG vessels.
Scalable sizes: 10 – 200 MW
Frequency of filling: 14 days
Vacuum-insulated bullet tanks 1000 m³/tank
Unloading from small LNG vessels
Regasification unit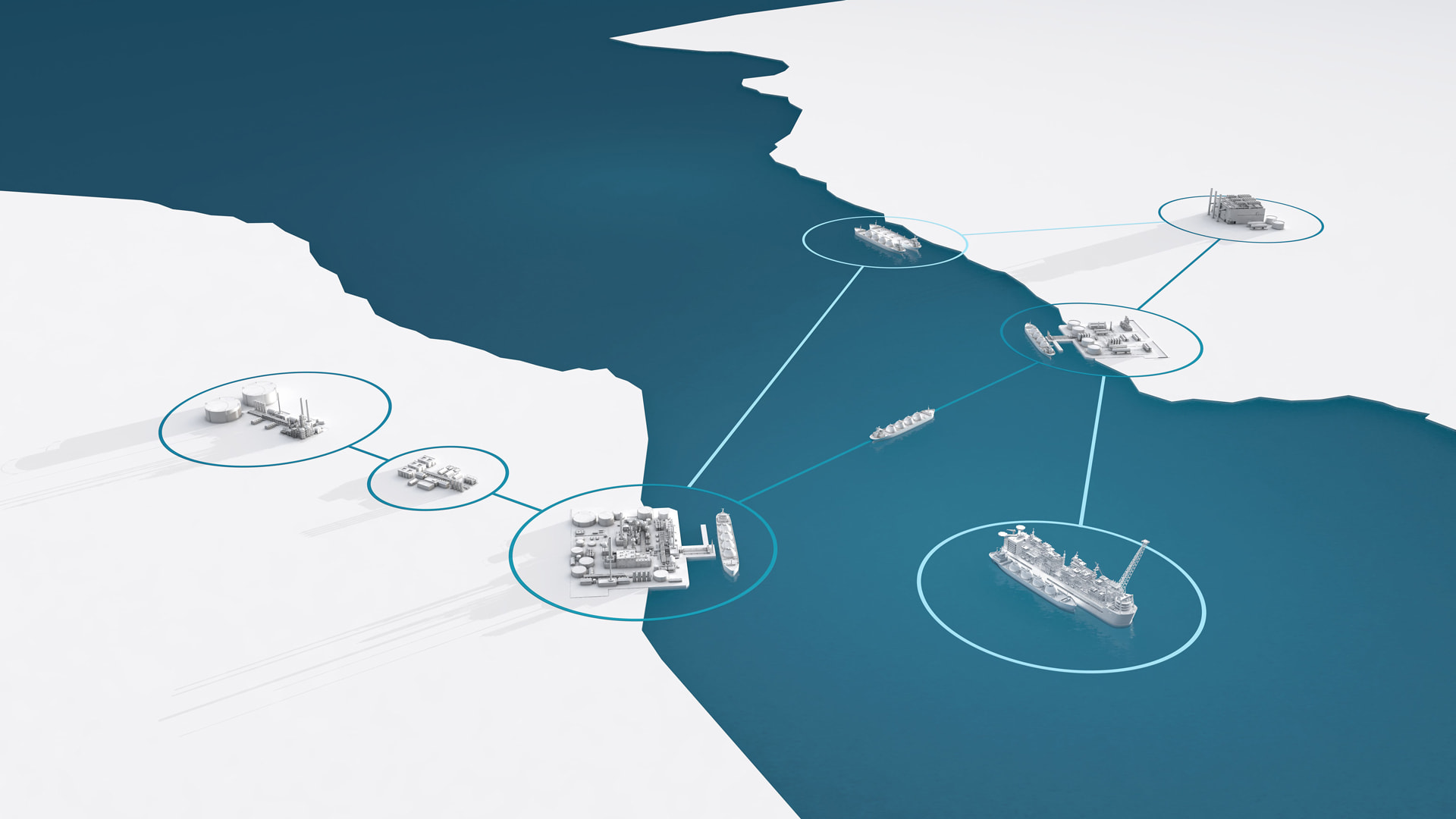 Large MAN Energy Solutions LNG terminals can be scaled to provide gas for 150 – 300 MW. The LNG is stored in flat-bottom tanks, which are refilled from LNG vessels.
Scalable sizes: 150- 300 MW
Frequency of filling: 14 days
Flat-bottom tanks
Unloading from large LNG vessels
Regasification unit
84 MW power plant supplies all of Gibraltar with environmentally friendly energy
MAN Energy Solutions successfully commissioned three dual fuel and three gas engines at the newly built power plant in Gibraltar. The plant increases its overall efficiency by utilizing the waste heat from the engines to regasify the LNG in the connected LNG terminal.
| | |
| --- | --- |
| End customer: | Gibelec |
| Application: | Base load power plant |
| Location: | Gibraltar |
| No. and engine type: | 3 x MAN 14V51/60G + 3 x MAN 14V51/60DF |
| Plant output: | 84 MW |
| Fuel: | Natural gas (LNG) / Diesel |
| Commercial operation: | 07/2019 |
| MAN's work scope: | Gensets & mechanical auxiliaries |
MAN PrimeServ protects your energy assets from day one
Whether you feed energy into the grid or satisfy a localized demand, on land or at sea, our technicians provide what you need – where and when you need it, ensuring the availability, flexibility, and profitability of your plant.
How you benefit:
Fast, reliable and expert customer support
Prompt delivery of OEM spare parts
Bespoke O&M contracts
Global service – 24 hours a day, 365 days a year
Go to MAN PrimeServ
growth in gas-fired power generation by 2030
independence from pipeline infrastructure made possible by LNG
Work with us to find the ideal LNG-to-power solution for your business
Whether you're looking for advice or a single-source EPC provider: We have the necessary in-house cryogenic knowledge of engineering, production and installation to provide LNG infrastructure in line with your requirements. We also supply customized retrofit solutions.
Talk to our experts