Get ready for the CO2-neutral future of energy
The rise of renewables is good for the planet. Converting renewable electricity into storable fuels spreads the benefit of carbon-neutral energy across sectors. The power-to-X process allows for just that. It is a transformation technology that converts electricity into carbon-neutral synthetic fuels, which can then be used in other sectors or be stored until needed.

Power-to-X: An effective and flexible way of controlling your CO2 footprint

Converting renewable electricity into synthetic gas or hydrogen makes CO2-neutral energy available whenever and wherever it is required.
Electricity can be much more than simply a final energy product. It can be a source of sustainable and resource-conserving power for the industrial, mobility and heating sectors coupled by PtX.
Electricity is converted into gases like hydrogen or methane (power-to-gas) or liquids like methanol (power-to-liquid). The gas, obtained from green renewable electricity, can immediately be fed into a gas pipeline, providing customers with CO2-neutral energy. Synthetic fuels or hydrogen can power the mobility sector (including ships and airplanes) and a variety of other applications and industries. It is an ideal solution for the carbon-neutral industrial, heating and mobility sector. Converted energy can also be easily stored for transportation without a pipeline or for later use.
MAN power-to-X (MAN PtX) is a sustainable solution for synthetic fuel production and long-term energy storage. Our technology extends to all sizes, from independent power producers to utilities. In 2013, we launched this technology with a 50 MW comprehensive plant solution. MAN Energy Solutions can also offer plants of various sizes which can be tailor-made to your requirements.
of all energy is consumed by the mobility and heating sectors – compared to 20% for the electricity sector
carbon-neutral car carriers can be operated each year with SNG produced by a 50 MW PtX plant powered by renewable energy
CNG zero-emission cars can cover 15,000 km/yr thanks to the CO2-neutral e-gas produced by the Audi MAN Energy Solutions e-gas facility
Power-to-X: A flexible conversion technology
You can use synthetic natural gas (SNG) in the existing gas infrastructure without any modifications. This gives this method an obvious advantage. CO2-neutral renewable energy is used to power an electrolysis plant, breaking water down into hydrogen and oxygen. The resulting hydrogen can be added to the natural gas grid or used as a fuel for other applications. Alternatively, carbon dioxide can be added to the hydrogen in a methanation reactor, resulting in synthetic methane, also known as SNG or e-gas. You can store SNG and use it directly as fuel for mobility or heating purposes.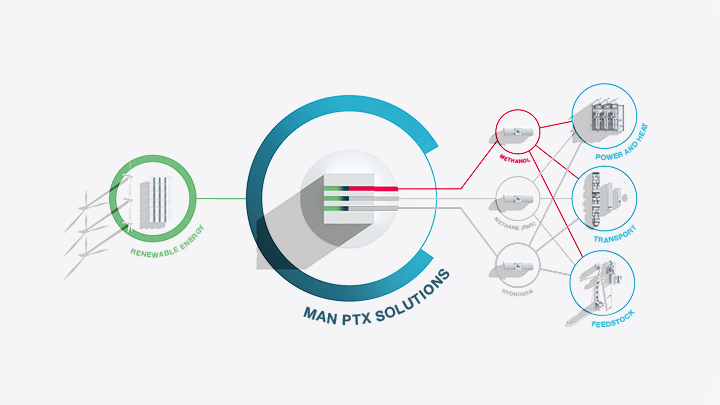 Our PtL process involves converting hydrogen into methanol, which can play a key role in the sustainable production of synthetic fuels for road and air transport. It can be used directly by the mobility sector and the existing petrol or diesel infrastructure can easily be adapted to work with methanol.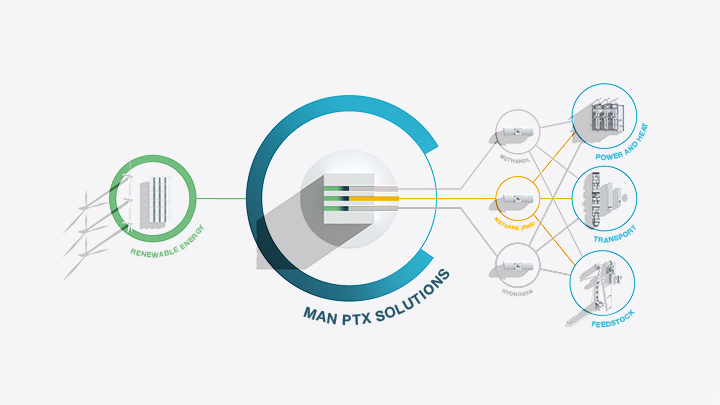 A decarbonized power supply for industrial processes can take the form of chemicals such as ammonia, ethylene or propylene. You can supply your industrial customers with these chemicals by combining hydrogen with CO2, nitrogen or other compounds, triggering a chemical reaction which results in the desired product. As ever in PtX processes, the energy used to fuel these processes comes from renewable, CO2-neutral sources.
MAN Energy Solutions built Power-to-X plant for Audi
From 2013, Audi built and commercially operated a Power-to-Gas plant in Werlte, Germany which has now been taken over by kiwi AG. Thanks to our comprehensive process know-how, MAN Energy Solutions provided a complete MAN PtX solution including a methanation reactor as a single-source solution. The Power-to-X plant in Werlte provides superior SNG quality, which can be used for multiple purposes, such as the ElbBlue container vessel being the first ship in the world to run on synthetic fuel produced at the Werlte plant.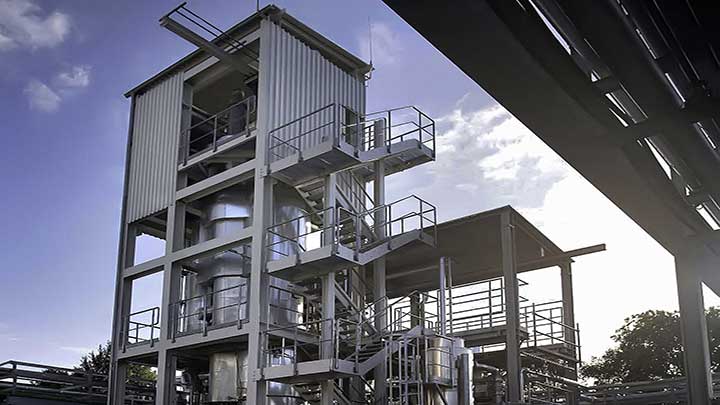 | | |
| --- | --- |
| Operator | kiwi AG |
| Reactor output | 6.3 MWel |
| Application | Power-to-X |
| Footprint | 8m x 4m x 15,5m |
| Technology | Alkaline Electrolysis, Catalytic Methanation, Amine gas treating for CO2 separation |
| MAN's work scope | Complete methanization sub-system |
MAN PrimeServ protects your energy assets from day one
Whether you feed energy into the grid or satisfy a localized demand, on land or at sea, our technicians provide what you need – where and when you need it, ensuring the availability, flexibility, and profitability of your plant.
How you benefit:
Fast, reliable and expert customer support
Prompt delivery of OEM spare parts
Bespoke O&M contracts
Global service – 24 hours a day, 365 days a year
Go to MAN PrimeServ
Contact our MAN Energy & Storage support team
Looking to decarbonize? Interested in innovative solutions for efficient CO2-neutral energy supplies?
Substitute fossil fuels with CO2-neutral alternatives. Our single-source, cost-optimized concept opens up a new world of possibilities for the use of electricity. MAN power-to-X can play a major part in the puzzle of decarbonization. Talk to us to find out how this applies to your business.
Talk to our experts
Synthetic natural gas (SNG) and methanol can bring renewable energy to sectors where direct electrification isn't possible or practical. Here's how they're made.

In a technical showcase the ElbBLUE became the first container ship worldwide to use climate-neutral synthetic natural gas on a commercial trip.

The time is ripe for the sustainable engine solutions of the future. Here's how MAN engineers are developing engines running on green fuels.