Renewable fuel for green and carbon-neutral energy production
As global energy demands increase, operators are producing cleaner energy from biomass and other renewable sources to acieve a net zero carbon balance. MAN Energy Solutions is leading the way – with high-performance steam turbines for generating bioenergy.
Harnessing the power of nature for environmentally friendly energy

Biomass promises greener energy for the planet
Reliable, available and environmentally friendly, bioenergy has the answers to many challenges facing energy producers today.
In the face of pollution and climate change, the international community is enforcing ever-stricter environmental regulations to protect the planet. As the world strives to minimize its carbon footprint, producers still need to meet people's growing energy needs. Some renewable energies, like solar and wind power, have fluctuations in availability that make them unpredictable.
Photosynthesis creates biomass that can be converted to renewable bioenergy. Producing energy from biomass with highly efficient steam turbines cuts fossil fuel consumption and ensures sufficient power supply – while decarbonizing the energy sector.
Providing technology for a cleaner world
MAN Energy Solutions offers a wide range of products and solutions to keep biomass plants green and sustainable.

The efficiency of combined heat and power plays an important role in biomass plants. We work closely with our customers, devoting our experience and expertise to optimize their entire water/steam cycle and maximize their performance. We have an extensive range of reliable, high-efficiency steam turbines ideally suited for bioenergy production. Our customers know that they can count on us every step of the way – from the initial design and start-up to operation and maintenance.
Extensive product range
Outstanding experience and expertise
High availability and top performance
Environmentally friendly, cuts emissions
of the renewable heat used throughout the EU is provided by biomass
of the world's primary energy supply will be derived from biomass
in energy generated from biopower (Source: GlobalData)
Energy & Storage

Industrial energy

MAN Energy Solutions is the world's leading provider of integrated power systems. Our broad portfolio offers many ways to set up independet grips. As a long-standing partner of many industrial customers, we know that an efficient and cost-effective supply of electricity, heat, and cold plays a key role in ensuring competitiveness. MAN will support your business with long-term energy supply solutions that give you the necessary flexibility to adapt to changing circumstances.

Download brochure

Energy & Storage

Utility energy

MAN Energy Solutions is the world's leading provider of integrated power systems. Businesses, public infrastructure developments, and the quality of life of millions of people depend on the energy supplied by utility companies. Our aim is to help you strengthen your competitive position and boost your profitability. We ensure you can be confident about the future by using flexible technology concepts, integrating renewables, reducing the cost of energy, and lowering emissions.

Utility energy

Energy & Storage

Urban energy

MAN Energy Solutions is the world's leading provider of integrated power systems. Our broad portfolio offers many ways to optimize your grid with customized, modular, single-source solutions. Urban environments are also being affected by the changes to the energy market. On the basis of our long-standing expertise, we are ready to develop innovative energy solutions together with you, our customers.

Download brochure
MAN Energy Solutions designs Spain's first commercial CSP-biomass hybrid power plant
We played an important role in creating the world's first commercial hybrid plant, supplying turbines, expertise and additional components to make this project a success.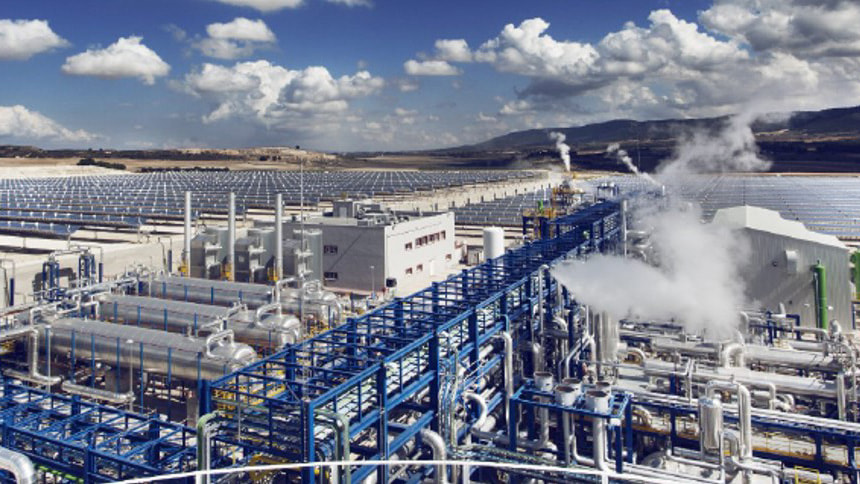 | | |
| --- | --- |
| Customer | IDOM for UTE Termosolar Borges |
| Customer type | Utility |
| Application | Power generation |
| Location of installation | Lleida, Spain |
| Fuel | Biomass, concentrated solar power (CSP) |
| Commercial operation | 2012 |
| MAN's scope of work | MST040, generator, auxiliaries |
Contact our MAN Energy & Storage support team
Interested in learning more about our biomass energy solutions?
We have the bioenergy expertise and top-performance products you need to start generating cleaner, greener energy. From consulting, design and development to installation, service and maintenance: MAN Energy Services does it all.
Talk to our experts