Harnessing endless energy from the sun
As our world's energy consumption grows, operators are increasingly turning to renewable energy sources like the sun to generate sustainable, green power. But providing a reliable, constant supply has proven challenging with the fluctuating nature of this resource. Concentrated solar power (CSP) systems are an innovative way to collect the sun's energy – for power generation operators can count on.
Concentrated solar power – a modern approach to carbon-neutral energy
Turning sunshine into electricity
Concentrated solar power plants are growing in popularity, making global energy production greener and more sustainable.
The need for power producers to generate CO
2
-neutral energy has inspired a number of innovative solutions – like concentrated solar power (CSP) plants. These highly specialized and efficient facilities generate power with minimal environmental impact. Unlike conventional photovoltaic plants, CSP plants can incorporate thermal energy storage systems like MAN molten salt energy storage (MOSAS) to allow them to generate electricity whenever it is needed – day and night, independently of the weather conditions. The result: Reliable, green base- and peak-load power from a limitless source.
Putting the sun's energy to work
MAN Energy Solutions builds one of the most efficient steam turbines available on the market – a highly suitable key component in concentrated solar power (CSP) plants.
CSP plants built around the sun belt help cover some of the world's increasing energy demand. They take the unpredictability of sunlight out of the power generation equation. CSP plants collect energy from the sun to generate electricity and also store it for future use.
MAN Energy Solutions is a one-stop shop for sustainable, innovative CSP plants. We provide extremely reliable, highly efficient steam turbines that meet the specific demands of CSP plants: A large number of starts, rapid start-up capabilities and reheat options for maximum performance. Our customized solutions support different plant concepts, including the integration of MAN MOSAS systems for energy storage and constant power availability.
Sustainable, environmentally friendly solutions
High reliability and availability
Customized solutions
Low maintenance costs
global annual solar energy potential
base-load capability of CSP installations in sun belt countries
MAN CSP

Concentrated solar power plants generate electricity from pure solar energy. Our customized solutions match all your needs while enabling different plant concepts, including the integration of high-temperature heat storage facilities, highly efficient and robust steam turbines and hybrid concepts with PV, biomass or clean gas co-firing. The MAN CSP hybrid variants allow a base-load supply of 100 % solar energy.
MAN Energy Solutions powers the first CSP plant in the Middle East

MAN Energy Solutions built a custom 125 MW steam turbine for the Shams 1 Solar Energy Center in Abu Dhabi – one of the world's largest concentrated solar power plants. It generates enough power for 20,000 homes and displaces 175,000 tons of carbon dioxide each year.
| | |
| --- | --- |
| Customer | Abener/Zeyma for Shams Power Company |
| Customer type | Utility |
| Application | Power generation |
| Location of installation | Madinat Zayed, Abu Dhabi |
| Fuel | Concentrated solar power |
| Commercial operation | 2013 |
| MAN's scope of work | MST100 steam turbine, generator, auxiliaries |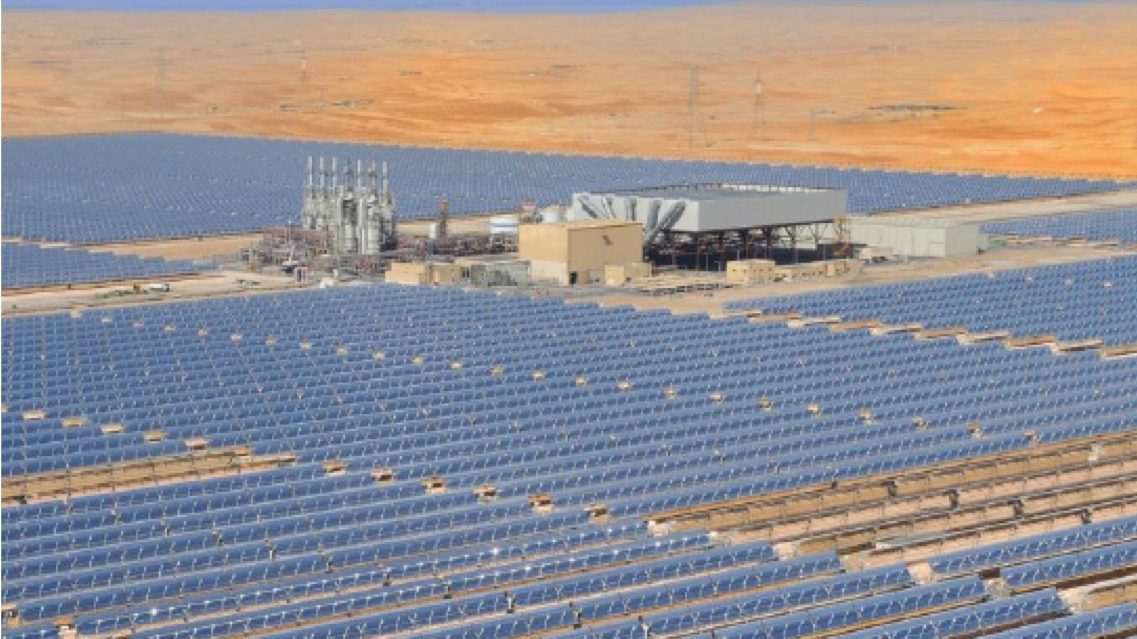 Contact our MAN Energy & Storage support team
Ready to learn more about our concentrated solar power solutions?
We are there every step of the process – from consulting to implementation and support. Start generating green solar power today.
Talk to our experts