Tapping into earth's underground energy
Our planet contains tremendous renewable power, and much of it lies beneath the surface. It is an exceptionally constant source of energy, meaning that it is not dependent on either wind or sun, and is available all the time. Geothermal energy solutions from MAN Energy Solutions tap into this limitless source of renewable hydrothermal energy.
Powering the future with geothermal energy
Expanding the power of the earth
Geothermal energy is an excellent, practically endless source of power – but utilization can be challenging.
A clean, renewable energy resource that produces virtually no emissions, geothermal power is produced by reservoirs of hot water miles beneath the earth's surface. Our robust steam turbines use the steam and brine from these magma-heated underground reservoirs to produce electricity.
Efficient, robust equipment for the world's toughest jobs
Geothermal solutions from MAN Energy Solutions are dependable and powerful enough to handle the volatile conditions involved in harnessing this energy.
We design geothermal power plant solutions that effectively utilize the earth's intense hydrothermal resources. To access geothermal energy, you have to drill wells in a process similar to the one used when drilling for oil. These wells typically recover high-temperature steam from far below the earth, around 1500 to 3000 m. Dry steam and flash steam power stations employ our proven steam turbines, which operate reliably under the toughest conditions.
How you benefit:
Sustainable, renewable energy
Reliable and stable technology
Durable enough for the toughest requirements
Proven industrial design
typical temperature of the steam recovered from geothermal wells
typical depth at which geothermal steam is recovered
estimated generating of geothermal energy worldwide depending on the scale of investments
Wellhead power plants using geothermal energy in Kenya
MAN Energy Solutions is helping the country achieve its ambitious goal of generating 100% green energy by 2020 – with durable steam turbines to produce electricity out of geothermal energy resources.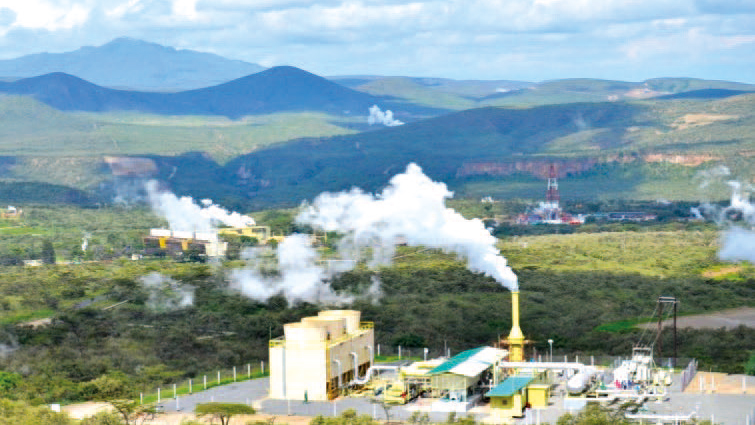 | | |
| --- | --- |
| Customer | Green Energy Group |
| Customer type | Utility |
| Application | Wellhead power plants |
| Location of installation | Kenya |
| Power system | Steam turbine generator sets |
| Commercial operation | Nov. 2014 |
| MAN's scope of work | Steam turbine generator set with auxiliaries |
Contact our MAN Energy & Storage support team
Interested in learning more about our geothermal energy solutions?
MAN Energy Solutions can help you harness the earth's immense power from below the surface. We are there to assist you every step of the way, from consulting and solution design to implementation and support. Start exploring the earth's massive potential today.
Talk to our experts