Promoting cleaner

shipping with

container vessels
MAN B&W-powered container vessels drive the global trade.
Container vessels have dramatically reduced the cost of international trade and increased its volume – with wide-reaching effects around the world.
Clean, efficient container vessels in high demand
Today, around 90% of non-bulk cargo is distributed in containers stacked on container vessels. The sheer transport volume of this sector puts great pressure on the environment – but offers great opportunities for innovation.
Every day, container vessels transport goods everywhere around the globe. They are truly ubiquitous, making up the vast majority of marine shipments. Operators generally call for cost-efficient propulsion systems with low initial costs, but also need enough auxiliary power to operate reefer containers. Balancing this strong performance with efficiency and environmental requirements is difficult. Container ships frequently sail in environmentally sensitive areas, and meeting tougher NOx, SOx, and particulate emission limits is a must. To ensure profitable, responsible shipping for years to come, solutions for container vessels must ensure reliable, economic power generation and distribution with a minimal impact on the environment.
Modern New Panamax vessels with a fuel-efficient G-type engine as well as modern ultra large container vessels fulfill EEDI phase 3 requirements (30% reduction) without calling for further initiatives
Container vessels are one of the three largest groups of vessels within the merchant fleet
Respond powerfully: Our two-stroke engines for container ships
The ideal solutions for merchant vessels
Our two-stroke engines are the preferred choice for the propulsion of ocean-going merchant vessels, like your container ship. These types of engines are manufactured by a family of licensees, who are mainly based in Asia, and serve a variety of marine applications.
Optimized fuel and lube oil consumption, as well as improved low-load operation, are just a few of the many advantages offered by our electronically controlled ME engines, that are based on the many decades of success enjoyed by their mechanically controlled predecessors.
Discover the MAN B&W two-stroke engines for your container vessel!
The ideal choice for container ships is the ME-GI, a highly efficient, flexible propulsion solution. With the introduction of the ME-GI dual fuel engine, we have entered a new era of diesel history, from which especially your merchant ship in particular will benefit. With the ME-GI, we can offer vessel owners the option of using fuel oil or gas, depending on price and availability.
But the ME-GI is not only the right choice for your container ship; our ME-LGI engine with liquid gas injection is also a perfect fit for all kinds of cargo vessels. Because of the possibility of using fuels with a low flash point and low sulfur content (such as LPG and methanol), it is an effective alternative for container vessels that are traditionally powered by our fuel oil-burning engines.
Explore our interactive marine propulsion systems
Click here to access our Interactive Product Experience and see how MAN marine products enable a ship to operate on sea efficiently and reliably. Each of the products shown have their own key features displayed in 3D and explained. Explore our two-stroke main engine, GenSets, turbocharger, CP propeller and control system and our innovative digital offering "PrimeServ Assist".


Go to interactive product experience
MAN PrimeServ protects your energy assets from day one
Whether you feed energy into the grid or satisfy a localized demand, on land or at sea, our technicians provide what you need – where and when you need it, ensuring the availability, flexibility, and profitability of your plant.
How you benefit:
Fast, reliable and expert customer support 
Prompt delivery of OEM spare parts
Bespoke O&M contracts
Global service – 24 hours a day, 365 days a year
Go to MAN PrimeServ
Do you need to balance strong performance with efficiency? Is saving the environment is on your agenda?
Our global network of experienced engineers is eager to design the perfect-fit solution for you and your business. Start your engines now and reach out to us today.
Talk to our experts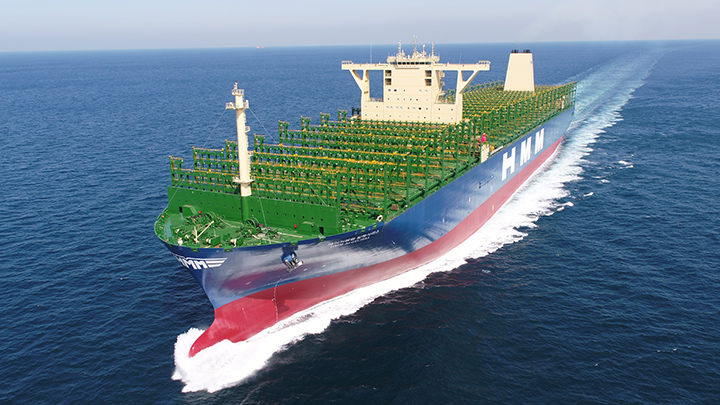 | | |
| --- | --- |
| Customer: | HMM |
| Application: | 12 x 24.000 TEU container ship |
| Shipyard country: | Korea |
| Completion: | 2020 |
| Fuel: | HFO, VLSFO, LSMGO |
| MAN's work scope: | 12 x MAN B&W 11G95ME-C10.5 |
Ready for Tier III EGR retroFit on newbuildings

B&W ME-GI installation in very large or ultra large container vessel

Propulsion of 14,000 teu container vessels

11,000 teu container vessel

Propulsion of 2,200 - 3,000 teu container vessels

LNGC-optimised designs of ME-GI engines and fuel gas supply systems

Four- stroke marine systems

MAN EcoLoad advisory tool

Controllable Pitch propeller optimization

EcoOptimizer for CPP systems

B&W ME-LGI engines: Liquid gas injection – methanol and LPG
Methanol in shipping 2022
Find out more about our offerings for our two-stroke methanol-burning MAN B&W LGIM engines which have gained extensive service experience and already more than 110.000 dual-fuel running hours. We will touch upon the market interests in methanol from various segments, design improvements and will offer interesting insights into retrofit possibilities.