Best fuel costs and long-term emission compliance
The benchmark efficiency of the new MAN 49/60DF and its fuel flexibility, enabling it to run on LNG, Diesel or HFO, ensure the lowest fuel costs. Looking to the future, its efficiency and low methane slip ensure compliance with emissions legislation well into the 2030s, based on current information on emissions regulations. Beyond that, the flexibility of its dual-fuel design and its modern engine platform create multiple paths for compliance until 2050.

gas consumption at 85% MCR (higher value for 8L)
liquid fuel consumption at 85% MCR (higher value for 8L)
MAN 49/60DF engine
The new MAN 49/60DF is available as an in-line engine with 6, 7, 8, 9 or 10 cylinders or as a V-type engine with 12 or 14 cylinders. Its output ranges from 7,800 to 18,200 kW.
It is available as a main engine for mechanical or electrical propulsion. Its high configuration flexibility makes it ideal for numerous applications such as cruise ships, RoPax, RoRos, dredgers and LNG carriers. The MAN 49/60DF is based on a new 49/60 engine platform designed for a variety of applications and fuels. This modern engine platform introduces new technologies such as the MAN Common Rail 2.2 injection system and two-stage turbocharging.
With this latest generation engine automation system, the MAN 49/60DF can comply with very high cyber security requirements.
Feasible decarbonization paths to 2050
Low methane slip and benchmark efficiency ensure vessels are emissions-compliant well into the 2030s, subject to possible changes in legislation. The MAN 49/60DF was designed with future retrofits in mind.
MAN is already working on retrofittable exhaust gas aftertreatment solutions
Natural gas can be replaced by biogas or synthetic natural gas, allowing vessels to be emission-compliant until 2050
Retrofit solutions for methanol are in planning
MAN 49/60DF successfully passes Type Approval Test
MAN Energy Solutions' MAN 49/60DF engine has received its Type Approval after a five-day program on the testbed at company HQ in Augsburg, Germany. The Type Approval Test (TAT) was witnessed by inspectors representing the ABS, BV, CCS, DNV, LR and RINA classification societies, who signed the test protocol upon the successful completion of the schedule.
Thomas Huchatz, Sales Manager Four-Stroke Marine, MAN Energy Solutions, said: "Over the last eighteen months, we have demonstrated the engine's reliability and robustness. The TAT now issued is a certificate of conformity that confirms that the engine meets the regulatory, technical and safety requirements required to enter the marketplace."
Engine Automation and Adaptive Combustion Control ACC 2.0
The MAN 49/60DF features the new MAN SaCoS 5000 engine automation system. It is an evolution of the well-known SaCoS One system and has been developed by MAN Energy Solutions to offer the same outstanding reliability, proven robustness and comprehensive functionality. MAN SaCoS 5000 comes with a performance upgrade in all components. With this latest generation engine automation system, the MAN 49/60DF can comply with very high cyber security requirements.
The new Adaptive Combustion Control ACC 2.0 is one of the key enablers for improved efficiency and in-field performance. The 49/60DF adapts itself automatically to changing ambient conditions, varying fuel qualities, and engine wear thanks to ACC 2.0. With ACC 2.0 the MAN 49/60DF achieves benchmark levels of dynamic engine operation, such that the vessel operates in gas mode even in challenging situations like manoeuvering.
MAN SaCoS 5000 and ACC 2.0 future-proof your vessel for the digital age:

Performance upgrade in all components
Advanced interfaces for CEON and local data logging
Cybersecurity by design
Robust engine performance
Improved efficiency

Watch the recording of our virtual launch event

Explore the recording of our virtual launch event, featuring insights from our CEO, Dr. Uwe Lauber, and four-stroke marine experts, Marita Krems and Thomas Huchatz, discussing the new MAN 49/60DF.
Witness the engine in action during its live demonstration on the testbed at MAN headquarters in Augsburg, Germany. Access the full recording here or watch the curated highlights on YouTube.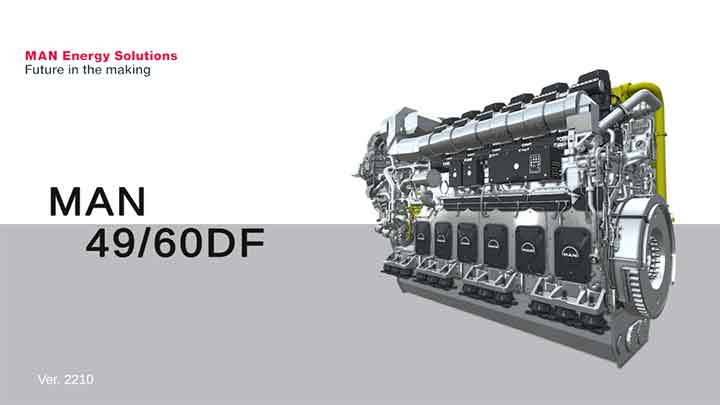 Explore the MAN 49/60DF engine in 3D, and discover key features
MAN PrimeServ provides 24/7 service across the globe
Our range of services includes technical support, consulting, and OEM spares, as well as maintenance, repairs, and comprehensive individualized service plans.

How you benefit:
Prompt delivery of high-demand OEM spare parts within 24 hours
Fast, reliable, and competent customer support
Ongoing training and qualification of operators and maintenance staff
Diagnosis and troubleshooting with our high-performance online service
PrimeServ Assist – Reduce your OpEx
Our experts pro-actively support you in the operational decision-making process to help you meet your service-level agreements and to reduce OpEx – via minimized:
Unexpected downtime
Performance degradation
Maintenance costs
Go to PrimeServ Assist
Talk to our Experts
Get in touch with our experts and find out how to future-proof your vessels with MAN 49/60DF.

Contact us