Development, production & service
Frederikshavn
In the northern Denmark seaport and harbor city Frederikshavn, MAN Energy Solutions operates a propeller and aft ship expertise and production center – specializing in and with an R&D focus on propulsion systems, propeller and aft ship solutions, energy efficiency, fuel savings, emission reductions and minimal carbon footprints.
Frederikshavn is a central maritime location with shipyards, Scandinavian ferry operators and a Royal Danish Navy base. The community has a strong cluster of maritime service, repair and recycling companies, as well as subcontractors for the offshore oil, gas and wind industry.
It is a service location by nature, where ships, ships' engines and propulsion machinery are repaired and maintained around the clock.
High-efficiency propulsion solutions
Within the global MAN Energy Solutions business, Frederikshavn is a focal point for propulsion and aft ship solutions – based on small-bore engines, propellers, reduction gears and propulsion control systems. The aim is always to achieve maximum propulsive performance, balanced against the lowest total cost of ownership over the product lifecycle.
The organization's dedicated expert teams are highly specialized in propulsion and system integration within research, development, production and aftersales services – able to make maximum use of, for example, the latest state-of-the-art tools in hydrodynamic, hydraulic, electronic and mechanical design.
Our local PrimeServ harbor-site Service Center Denmark has large repair shops as well as stock and quay facilities, offering a full service portfolio from maintenance, reconditioning, upgrades and repair work to complete overhauls.
Underwater Radiated Noise – URN
Controlled by, among other factors, blade design, rake, camber, pitch and chord length in the tip region – optimized for minimized cavitation and increased cavitation inception speed (CIS) while maintaining propulsive efficiency.
Learn more
Hybrid propulsion
With a focus on the environment and energy efficiency, innovative new MAN-powered battery hybrid power and propulsion solutions are fundamental.
Learn more
Products and business activities in Frederikshavn
Career and training offers
MAN Energy Solutions Frederikshavn
Niels Juels Vej 15,
9900 Frederikshavn
t +45 96 20 41 00

years of CP propellers and propulsion solutions
years of Alphatronic controls
the year the first engine was produced
History of Frederikshavn site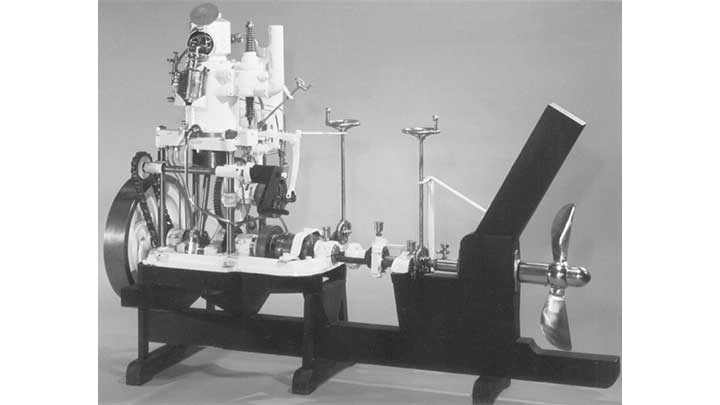 1883 – Founded as 'Frederikshavn Jernstøberi og Maskinfabrik'
1898 – First Alpha 'hot-bulb' engine produced
1903 – Alpha CP propeller patented

1938 – Became part of B&W (Burmeister & Wain)
1953 – Company name changed to Alpha Diesel A/S

1960 – 400-type two-stroke trunk engine series
1969 – 23-bore four-stroke medium-speed propulsion engines and reduction gears
1976 – 28-bore four-stroke medium-speed propulsion engines and reduction gears
1980 – MAN acquires B&W Motor

1982 – Alphatronic electronic remote-control systems
1987 – Two-stroke small-bore engine production, starting with S26-MC
1999 – New generation of four-stroke medium-speed propulsion engines L27/38 (and L21/31 from 2002), produced until 2010
2001 – Alpha & Holeby merged into Four-Stroke Denmark
2003 – World premiere of first two-stroke ME-type electronically controlled cam-less engine
2003 – Celebrated 100 years of CP propellers
2009 – End of two-stroke production, 8S50MC-C

2011 – The Volkswagen Group became the majority shareholder of the MAN Group

2013 – R&D test and start of first 175D high-speed 'full scale engine'
2018 – 175D state-of-the-art line production, assembly and testing

2018 – Company changes name from MAN Diesel & Turbo to MAN Energy Solutions

2022 – Delivery of 20V175D-ML+, the world's most powerful high-speed engine