The power behind

the power:

MAN Energy Solutions for Utilities
A partner you can work with
Businesses, public infrastructure developments and the quality of life of millions of people depend on utility providers. Providing reliable and affordable power is a daily challenge. Utilities everywhere use our solutions to strengthen their competitive position and profitability. From decarbonization strategies to engine design, we are ready for the future and at your side with our reliable and cost-effective solutions.
A unique portfolio for your business whatever the circumstances
Utility providers operate in developed and developing economies and in all territories. We have the experience and expertise you need to succeed.
Worrying about pricing pressures? Operating in an environment where peaking is a problem? Or is decarbonization mostly on your mind? Whatever your challenge, MAN Energy Solutions is here to share your responsibilities. We provide power plants for peaking and base load, energy storage solutions and ultra-reliable engines and turbines. We plan, develop and execute the building of your power plants. We operate in all terrains and our products are proven to be reliable in the harshest of environments. All MAN Energy Solutions products are fully scalable and adaptable, giving you the freedom to grow.
FlexMethanol

MAN DWE® power-to-liquid (PtL) solutions

MAN CCUS

Carbon capture, utilization, and storage

MAN DWE® power-to-methanol solutions

Converting renewable energy sources into carbon-neutral fuels allows the defossilization of sectors that cannot be electrified. MAN Energy Solutions provides the technology necessary to turn power into methanol, transforming green hydrogen and CO2 into e-methanol and its variants, which can then be used for transport and industrial feedstocks.

Utility energy

MAN Energy Solutions is the world's leading provider of integrated power systems. Businesses, public infrastructure developments and the quality of life of millions of people depend on the energy supplied by utility companies. Our aim is to help you strengthen your competitive position and profitability. We ensure you can look confidently into the future by applying flexible technology concepts, integrating renewables, reducing the cost of energy and lowering emissions.
households worth of electricity delivered by MAN Energy Solutions' engines installed since 1985 (32,832 MW)
maximum time needed for engine-based power plants to go from 0 to full load when in standby mode
Helping utilities provide a secure, reliable power supply
Supplying your customers with a reliable power supply can be a challenging business. You might only have one plant to work with. Your grid might be unstable. External factors can make things difficult. Your system must react quickly to load requirements and supply cost-effective energy. You rely on fuel flexibility and must be able to expand your plant if demand grows in future. The sale of electricity is your main income. Sometimes the terrain you operate in can be challenging or very remote.


MAN Energy Solutions has a long history of supporting clients who face these challenges. We often act as an EPC partner, covering all steps of your project. In a scenario where guaranteeing base load is the main concern, we might recommend thermal power plants. These plants are particularly robust and operate at great fuel efficiency of up to 50% in a single cycle. In addition, thermal power plants have a relatively short construction time and can be run with various fuel options. Other plants that may be used are LNG to power, combined heat & hybrid power solutions.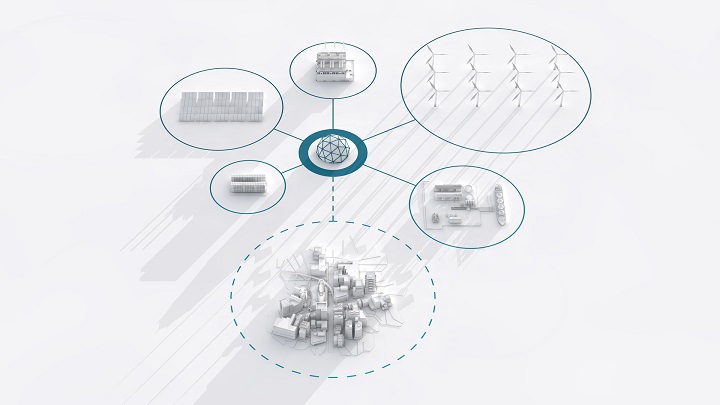 A reliable steady power supply is a crucial part of the energy equation. Heavy peaks and the fluctuations of renewable energy supplies influence your grid stability. To successfully integrate wind and solar, you need new techniques for managing and storing energy – and fast reactions to regular frequency changes. And you need backup plants to cover supply shortages or sudden peaks in load demand.


MAN Energy Solutions hybrid power solutions easily integrate wind and photovoltaics without compromising on reliability of supply. A wide range of operating modes means increased fuel efficiency and an overall reduction in energy costs. Integration of variable and cost-effective energy storage solutions makes sure your customers can rely on you even in peak demand times. You can easily reach your decarbonization target thanks to our full range of hybrid power products and services.
Storage plays a key part not only in supplying CO2-neutral energy, but also in running your machines at optimum load range for as long as possible. Energy storage solutions need to balance high and low demand times and supply "black start" capacities in case of outages. MAN Energy Solutions offers a number of effective energy storage solutions, including cutting-edge battery energy storage systems (MAN BESS). Our highly efficient electro-thermal energy storage (MAN ETES) systems couple the electricity, heating and cooling sectors, converting electrical energy into thermal energy. Innovative molten salt energy storage systems (MAN MOSAS) boost the availability of renewable energy sources, stabilizing the grid and helping to achieve base load capabilities.


In storage, there is big scope for innovation. At MAN Energy Solutions we are focused on perfecting our power-to-x systems. We feel they are a superior storage solution for plants with around 4,500 hours of annual full-load operations. Power from carbon-neutral sources is converted into synthetic natural gas (SNG) which can fuel any gas-powered engine. Cars, trucks and even ships can run on SNG. Storing SNG is easy, making your electricity reliable and flexible. As a modular concept, power-to-x is easily scalable and adjusts to your business requirements as needed.
Go to molten salt energy storage
Go to electro-thermal energy storage
MAN PrimeServ: Enjoy expert round-the-clock service and support worldwide, 365 days a year
MAN PrimeServ is the perfect complement to our excellent products. Our technicians are always available to answer questions, assist in troubleshooting and get your facilities up and running in no time – wherever and whenever you need them.
How you benefit:
Fast, reliable and expert customer support
Prompt 24-hour OEM spare part delivery
Individual O&M contracts
Global service – 24 hours a day, 365 days a year
Go to MAN PrimeServ
or higher increase in plant efficiency for CHP applications
Contact our MAN Energy & Storage support team
You need to supply reliable, cost-efficient energy? Are decarbonization or the stability of your grid mostly on your mind?
Whatever your priorities, you can count on us to be a trusted partner at your side. In the thick of the city or in remote locations, our global network of highly skilled engineers and service teams is available to help you with your concern.
Contact us