Methanol is economical and biodegradable
Green methanol can reduce carbon emissions by up to 95%. It is a clean-burning fuel, and is cost-effective since it can be used with existing infrastructure.
Most methanol is made from fossil sources including natural gas, coal and oil. Now, the low-carbon fuel known as green methanol is being made from renewable sources such as recycled carbon dioxide, biogas, biomass, waste or sewage sludge. To advance the energy transition, the development of climate-neutral methanol production from renewable green hydrogen and captured carbon must progress.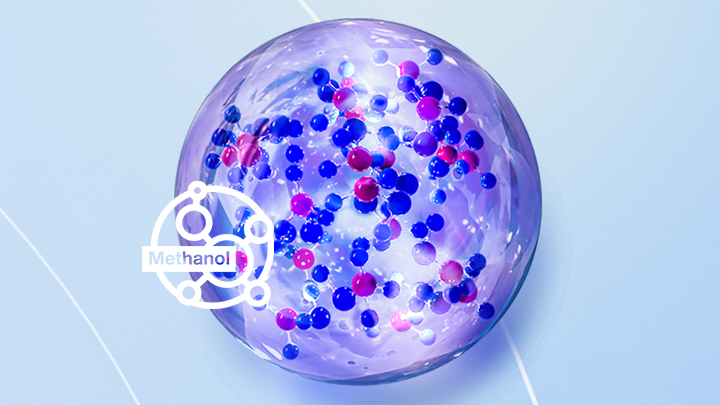 Methanol in
power generation applications
Methanol's popularity as a low-carbon fuel is on the rise. So far, the focus is mainly on maritime and road transport applications. In 2016, MAN Energy Solutions began retrofitting two-stroke, dual fuel engines to run on methanol. Now available for newbuilds or for upgrading existing conventional fuel vessels, the marine MAN B&W ME-LGIM engine represents a proven engine design based on more than 120,000 running hours on methanol alone.
Methanol has been traded and transported for years as a chemical, so there are well-established solutions in place for operations such as barge-to-ship bunkering and for designing engines that won't corrode. With minor retrofits, methanol can be used with existing infrastructure.
reduction in emissions of particulate matter (PM)
reduction in emissions of sulfur oxides (SOx)
reduction in emissions of nitrogen oxides (NOx)
Methanol synthesis with
MAN DWE® Reactors
To drive the energy transition, the development of carbon-neutral methanol production from renewable green hydrogen and fixed carbon must be advanced.
MAN DWE® reactors are used in methanol production as well as in methanol-to-gasoline processes. We have already built a world-class methanol converter and are an approved supplier to almost all major licensors. As part of the E2Fuels project (2018-21), we were responsible for manufacturing and operating the pilot reactor for methanol synthesis (more than 2,500 operating hours BASF CO2 methanol catalyst).
MAN methanol solutions
MAN has provided two-stroke methanol engines since 2016. We are developing retrofit solutions for four-stroke diesel and dual fuel engines. The marine MAN B&W ME-LGIM dual fuel methanol engine allows a seamless switch between methanol and other fuels, thereby supporting the reliable and continuous operation of the engine.
Methanol reactor for Porsche AG eFuels pilot plant in Chile
MAN Energy Solutions is supplying the methanol reactor for an eFuels pilot plant currently being built by HIF, an international e-fuels company based in Chile, with the participation of Porsche AG together with Siemens Energy and other project companies near the southern Chilean city of Punta Arenas. In the first process step, electrolyzers use wind power to split water molecules into their basic components, oxygen and hydrogen. The green hydrogen is then combined with CO2 filtered from the air in the methanol reactor. The result: green methanol, which is then converted into climate-neutral gasoline in a further step.