Reliability and performance for naval operations
The naval defense segment is growing in the face of national security concerns. Naval vessels, with their broad range of tasks, are now in the front line more than ever to protect national interests and security, as well as to support allies.
As long-term partners of the defense market, we are aware of the requirements and constraints of each application and can design precisely tailored solutions, balancing reliability, sustainability, and technological independence.
MAN engines in naval operations
navies rely on MAN engines to ensure full operational readiness
years of experience in marine engineering
Designed for naval applications
Our products are engineered for extraordinary demands. From reduced noise emissions to adaptive fuel supply mechanisms, we cater to the distinct requisites of naval missions. And to meet the needs of the modern era, our solutions are built with sustainability in mind, aligning with legislative environmental norms.
Future fuels – what are options for naval operations?

Get insights on the latest news about the legal framework for emissions, a general overview of alternative and future fuels and their potential for naval operations.

Dive deep with MAN ExpertTalks

Discover insights, innovations, and expert analyses from the world of naval engineering. Explore our collection of webinars, where seasoned professionals share their knowledge and address the latest trends and challenges in the maritime sector.
Support and expertise
The oceans are full of unforeseen challenges for naval operations. With our maritime experience and understanding of complex naval requirements we provide comprehensive support to ensure operational readiness in any situation.
Navies around the world
From the icy waters of the Arctic to the warm currents of the Equator, our engines are the beating heart of naval operations. Trusted by naval forces globally, MAN Energy Solutions continually pushes the boundaries of naval engineering, guaranteeing peak performance under any conditions.
Customer
Finnish Defence Forces
Vessel type
4 x 114m Ice Class Corvette Pohjanmaa Class for Finnish Squadron 2020 project
Engine type
4 x 12V 175D-MEL | 1920 kW | 1800 rpm
Shipyard
Rauma Marine Constructions, Finland
Specification

- Optimized for low noise and shock

- Capable of operating in Arctic conditions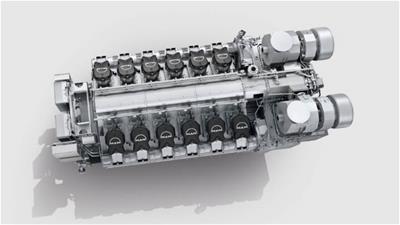 | | |
| --- | --- |
| Customer | German Navy |
| Vessel type | 4 x F126 for German navy |
| Engine type | 8 x MAN 32/44CR |
| Shipyard | Damen |
| Specification | SCR (Selective Catalytic Reduction) to fulfill IMO Tier III |
Your strategic advantage
The realm of naval operations is complex, demanding, and ever-evolving. Adapting to changing tactical landscapes, facing emerging threats, and ensuring operational excellence requires not only engineering excellence. It demands a partner who understands, innovates, and offers reliable support and expertise in any situation.
MAN Full ILS: We customize documentation for your needs
To fulfill each naval vessel's broad range of tasks, your crew requires highly specific information customized to the equipment and situation. As long-term defense market partners, we know each application's requirements and constraints. We offer customized documentation according to your respective military standard for:

Operating instructions
Work instructions
Maintenance schedules
Electronic databases for customers' maintenance plan systems, including maintenance and repair instructions (OmegaPS)
Spare parts catalogs and tool lists: Full system breakdown structure in electronic format
Training plans
FMECA and MTBF calculations
Your mechanical roadmap with Propulsion System Integration
MAN Energy Solutions offers consulting expertise to shipyards in the most specific and technical matters and across all aspects of construction. We assist with particular technical challenges and provide a single point of contact between consulting, engineering, and production. As such, we enable you to take on more complex constructions while reducing efforts, risks, and costs, and increasing the lifespan of the vessel.
MAN PrimeServ: Service with passion
MAN PrimeServ is the dedicated MAN Energy Solutions service brand. With a network of over 100 service centers worldwide, MAN PrimeServ provides 24/7 service across the globe. Our range of services includes technical support, consulting, and OEM spares. We also offer maintenance, repair, and comprehensive individualized service plans — 365 days a year, 24 hours a day.
Navigating the future? Let's work together!
Get in touch with our experts and find out how we can support you with our naval solutions.

Contact us
Four- stroke marine systems

Optimized propulsion systems

S.E.M.T. Pielstick PA6 B Navy

S.E.M.T. Pielstick PA6 B STC

S.E.M.T. Pielstick PC2.6 B Marine