Operations control

for the

maritime industry
Increasing complexity at sea poses challenges for crews
There are thousands of ships traveling the waterways of the world today – and all of them need to be professionally operated and managed. This is a relatively straightforward task for some marine operations, but becomes more challenging with smaller crews and more advanced technology.
Simplifying ship operation necessary for smooth sailing
Innovations in ship propulsion systems and increasingly sophisticated technology require crews to be as technically savvy as possible. At the same time, crew sizes are declining overall. Some smaller ships, such as fast patrol boats, have small crews that perform their own specific tasks. On vessels like these, it is essential that the ship and its machinery be easy to operate.
It is essential to find versatile ship propulsion systems that can respond and adapt quickly to new situations and the challenges they face. Ideally, they should offer flexible operational profiles, allowing operators to optimize propulsion train performance and fuel oil consumption. It is also necessary to integrate management and operation systems that work together effectively, making propulsion systems as straightforward as possible. Remote monitoring systems and electronically controlled engines provide opportunities for operators to maintain a clear overview of their vessels wherever they are, ensuring timely maintenance and repairs.
MAN solutions for safe ship operation
MAN Operation Control technologies simplify a ship's operation, making its propulsion systems safer and easier to use.
We offer our Operation Control technologies as part of MAN ECO CONTROL, a portfolio of technologies that will help optimize ship performance in terms of emissions, economy and operation. Ship operators benefit from smart processes, efficient operation and predictive maintenance services.
Monitoring your ship's systems constantly and automatically is an effective way of protecting your investment. MAN PrimeServ Online Service securely transmits key engine data from anywhere in the world, predicting potential downtimes and catching issues before they impact ship operation. MAN PrimeServ experts then analyze the data and provide helpful maintenance or repair recommendations. They can also provide instantaneous troubleshooting support when it matters most, accessing real-time engine data at the same time as the crew in the engine control room.
Our Online Service products can help increase the reliability of your vessel – along with its profitability. We are always available to assist you, in every time zone and across all borders.
How you benefit:
Automatic, continuous machine monitoring
Increased profits and reliability
Valuable recommendations for repair, maintenance or updates
Immediate, real-time assistance wherever you are
Reduced down time
Increased efficiency
Go to MAN Primeserv
MAN offers marine battery-hybrid systems, which combine combustion engines with additional batteries to capture and store electric power, optimizing engine operation and loading. We acquired a 40 percent stake in Aspin Kemp & Associates (AKA), a specialist in the integration of electric propulsion and energy storage systems to enhance our expertise and range of products in this field.
We also offer fully customized hybrid propulsion systems, in which mechanical and electric engines work together to provide power for propulsion and hotel loads. These are ideal for vessels with flexible operation profiles and running hours with varying power demands. For example, our versatile MAN HyProp ECO combines a diesel engine with an electric shaft machine for a highly reliable propulsion system. It has several operation modes, allowing operators to simply optimize the propulsion train performance and fuel consumption, and even integrate batteries or energy storage devices.
How you benefit:
Quieter operation
Increased efficiency
Battery power enhances existing engine power
Wide range of operation modes
Improved performance
Fewer emissions
MAN has over a century of expertise in complete propulsion packages, dating back to the first Alpha controllable pitch propeller in 1902. We take a holistic approach to your ship, examining the operational profile to optimize all relevant components – from the engine to the rudder, including all speed, maneuvering and load control settings. Whatever your needs may be, we can design the most efficient propulsion control system for your specific operational profile to make your ship run better, safer and more efficiently.
For example, our MAN Alphatronic 3000 propulsion control system optimizes propeller function as well as engine operation. This makes your vessel more efficient and easier to maneuver overall. We use RENK gearboxes, efficient MAN Alpha propellers and propeller shafts to ensure reliability and top performance with a smaller environmental impact. We can also retrofit complete propulsion packages for all types of ships when their operational profiles change, making them easier for your crew operate.
How you benefit:
Improved performance
Increased efficiency
Solutions for your specific needs
Optimized for your ship's operational profile
Simplified operation
All components from a single source
One point of contact, one contract
Service solutions for optimum cost-efficiency
MAN PrimeServ offers advanced modernization solutions to optimize the reliability, availability, and economic efficiency of existing equipment. Furthermore, MAN's modernization and retrofit solutions are tailor-made to customers' specific applications and machinery.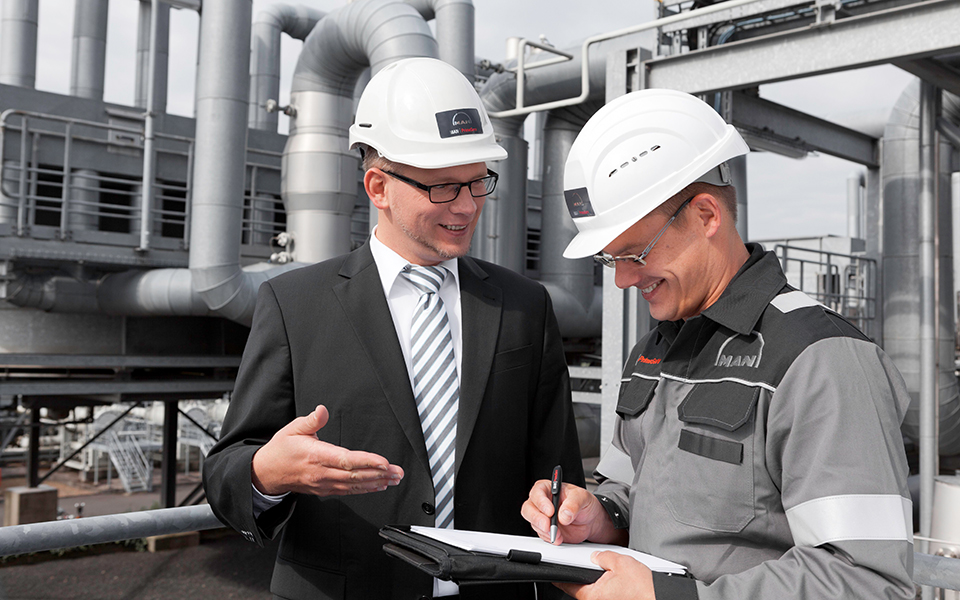 Our OPERATIONS CONTROL applications
Innovative OPERATIONS CONTROL solutions support crews to keep ships running
Real-time assistance thanks to continuous remote monitoring
Expert repair, maintenance or update recommendations
Increased profits and reliability
Improved engine performance and flexibility
Contact us