Keep your gas

turbines running

smoothly
Covering the growing demand for electricity
With global trends including urbanisation driving a steadily growing demand for electricity, our customers in the power generation business are increasingly looking to optimise their operations. Their clients expect safe and reliable electricity supplies without problems, even during peak demand times. MAN Energy Solutions provides the fuel gas compressors you need to ensure the efficient running of your gas turbines.
Gas: An increasingly important source of energy
Compressors for power generation by gas turbine.
If you are producing electricity for your customers using a gas turbine, you will be aware these turbines need a certain amount of pressure to operate. MAN Energy Solutions provides reliable and efficient integrally geared compressors or dry screw gas compressors which create and maintain the required pressure.
As a "black box" solution provider, we take full responsibility for designing and supplying all relevant components such as coolers, operation valves, nitrogen generators and other components, including the PLC based control system with all required logics, to secure the safest and most reliable operation.
We offer a host of different size compressors and deliver units which are tailor-made for your needs. The best fit for gas turbines of over 125 MW output are our integrally geared compressors in frame sizes ranging from RG25-1 to RG35-4. For smaller outputs, we recommend our dry screw gas compressors.
growth in demand for electricity worldwide by 2040
of global energy mix derived from natural gas in 2040
size of natural gas market by 2022
Optimize your operations
Our range of special compressors is a favourite in your industry. We know that any downtime is prohibitively expensive and therfore focus on making our products as reliable and hardy as possible. This gears them towards being real drivers for cost optimisation without cutting back on quality.
MAN Energy Solutions compressors for your industry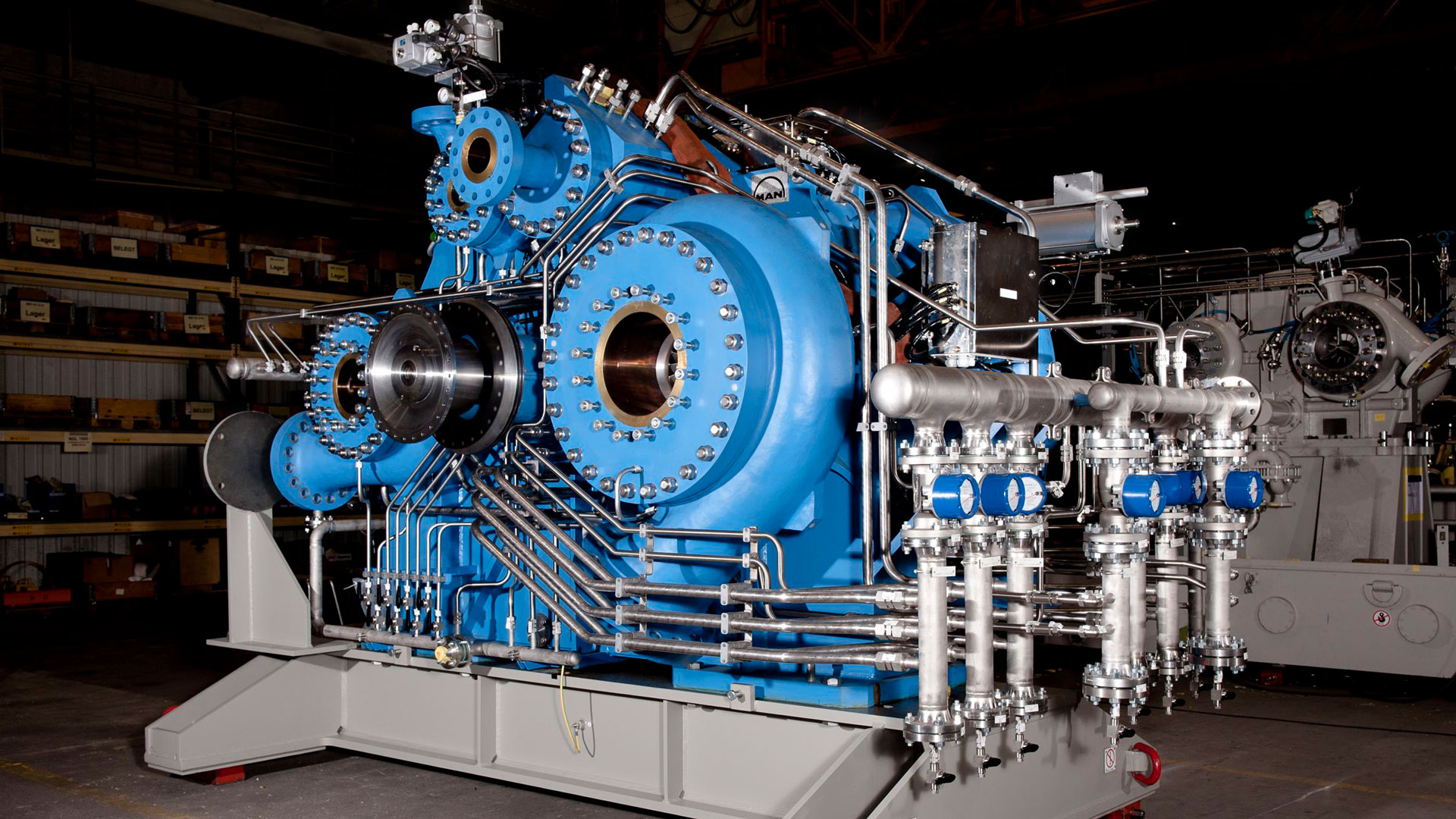 This multi-shaft centrifugal compressor allows for up to five pinions, depending on your individual requirements. This way you can be sure to benefit from optimised flow and costs. The compressor features modular sealing systems and intercooling opportunities. These compressors typically offer high efficiency and a low investment outlay.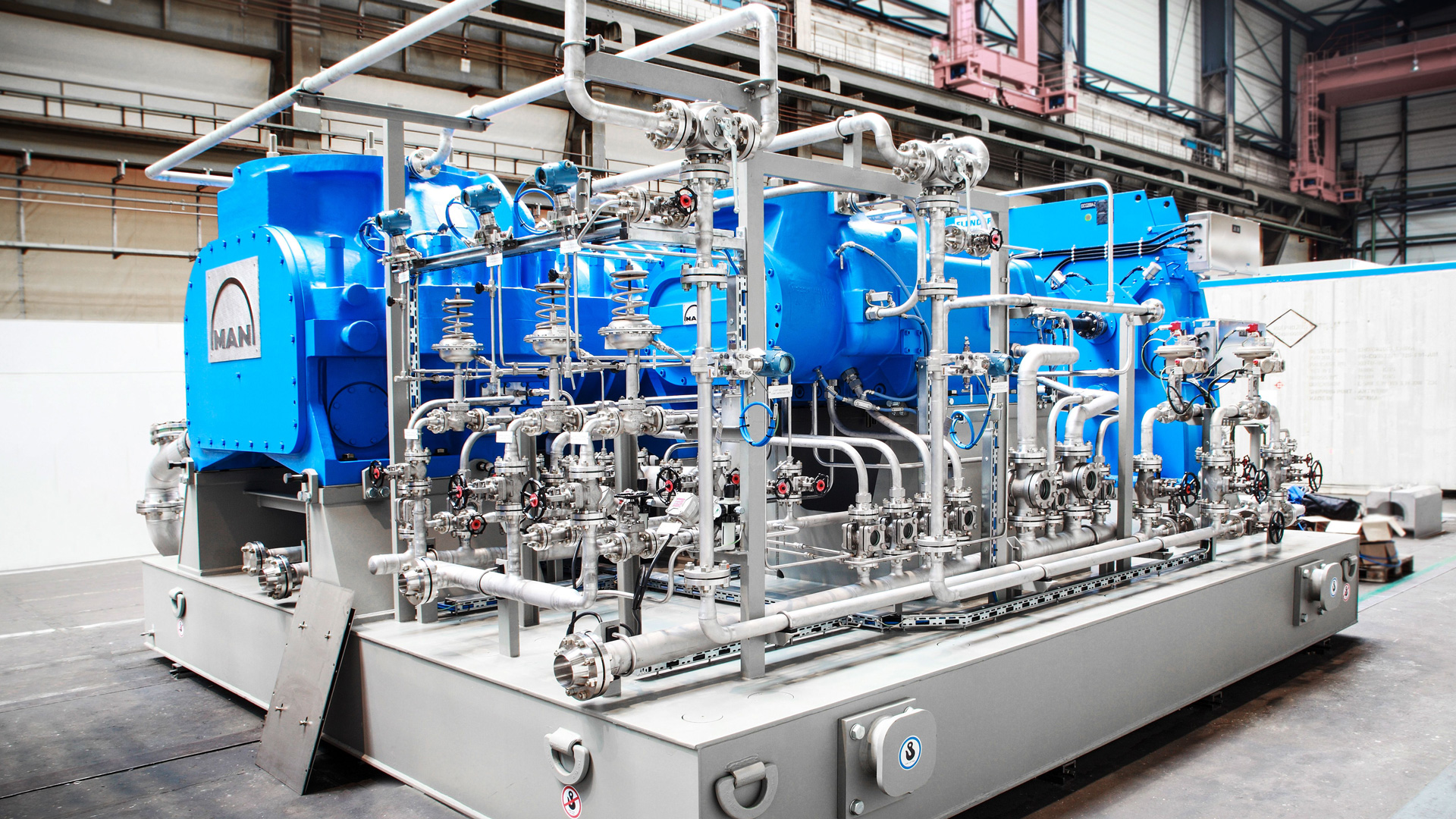 Running without lubricant, this line of compressors is ideal for use in the most extreme of environments. The fact that it needs no lubrication means there is danger of contaminating your end product with process oil. Its superior surge robustness and outstanding efficiency mean that these hardy compressors, which are also used in fluid catalytic cracking processes, represent an exceptional ROI.
Compact design and big output in Bangladesh
A complete solution for BPDB
Basic facts and data in tabular presentation:
Location:
Bangladesh
Application:

Fuel Gas


Project status:
Completed
Customer benefits:

High reliability
Compact design
High efficiency

MAN's scope of work:

3 x Fuel Gas Booster MAN type RG35-4 integrally

geared compressor, including electrical motor driver, oil unit and DGS rack. A complete valve skid and cooler, including the interconnecting piping. Plus an N2 generator complete with control system.

Drive:
Electric motor, fixed speed
Capacity:
32,500 kg/h
Power rating:
4650 kW
Discharge pressure:
42.5 bar(a)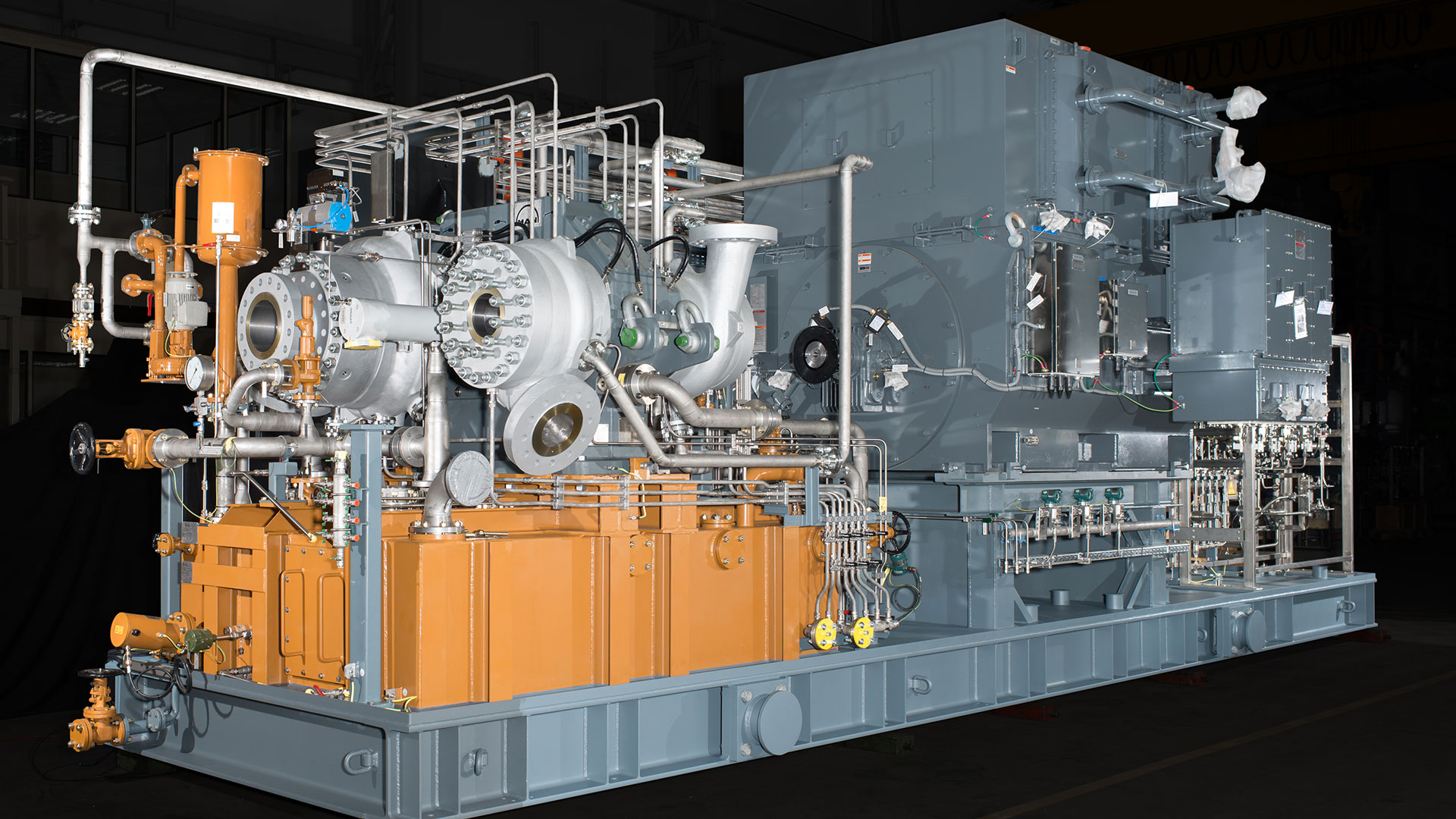 MAN PrimeServ keeps your turbomachinery running
Our service engineers provide preventive maintenance, assist your troubleshooting, and get your facilities up and running in no time – wherever and whenever you need them.

How you benefit:
Fast, reliable and expert customer support
Bespoke service agreements
Global service – 24 hours a day, 365 days a year
Go to MAN PrimeServ
Up to
volume flow in one of our RG compressors
Contact our MAN Oil & Gas support team
Are you operating gas turbines to generate electricity? Would you like to make your operations more efficient and reliable?
MAN Energy Solutions has the compressors and plug and play solutions you need to optimise your operations. See how we can support you in getting the most out of your gas turbines.
Talk to our experts