Blast furnance blowers

- for more

energy efficiency
Steel and iron industry faces challenging energy and emission targets
The iron and steel industry is a key sector – it provides materials for many industries in the global economy. As one of the most energy-intensive industries today, steelmakers look to new energy-efficient technologies to reduce carbon emissions and meet Paris Agreement objectives.
Steel mills strive for more sustainability and resilience to volatile energy prices
The materials iron and steel – and their products – shape almost every aspect of modern life: Building, transportation and engineering, energy and environmental technology, and even packaging. The lion's share of the steel produced today is used in the construction industry, where steel is the primary construction material. However, the driving forces behind global steel demand growth are not limited to trends in construction. The growing wealth of emerging economies boosts demand for steel-based products. Similarly, trends in the automotive market have been fueling regional demand.
To meet the needs of these markets, the industry has to step up investments in steel mills. But amid flourishing growth, steel mills – and other industries along with them – have been under mounting pressure to scrutinize their energy-intensive processes. In steel production globally, 74 percent uses coal, or coking coal, for power generation. This vital ingredient in the steel making process is a fossil fuel - the most concentrated source of carbon dioxide there is and the biggest accelerator of global warming. As a result, the iron and steel sector is one of the largest emitters of carbon dioxide.
Steel mills are improving their energy performance with a range of measures – from installing advanced energy-efficient technology and re-using by-product energy to substituting fossil fuels with lower-carbon energy sources. Minimizing the energy and emission footprint also helps the industry achieve economic goals: increased resilience to fluctuating energy prices and lower operating costs.

annual global steel consumption
increase in global steel demand, compared to the levels of 2000
World-leading supplier of high-efficiency air compressors
Compressors by MAN Energy Solutions support the heavy increase in steel production – with maximum precision. Several process steps require compressed air, which our compressors deliver continuously and at a consistent level.
Cooling in the casting process relies particularly on perfectly controlled air flows ­– they are vital for the quality and characteristics of the steel produced. Large blast furnaces, on the other hand, need powerful blowers with higher air flows to reduce iron ore to liquid iron. This process, which steel plants use to produce high-grade steel, requires especially efficient and robust air compressors. MAN Energy Solutions draws on its expertise and experience, gained from well-referenced in turbomachinery projects around the world, to bring energy-efficient solutions to steel and iron processes.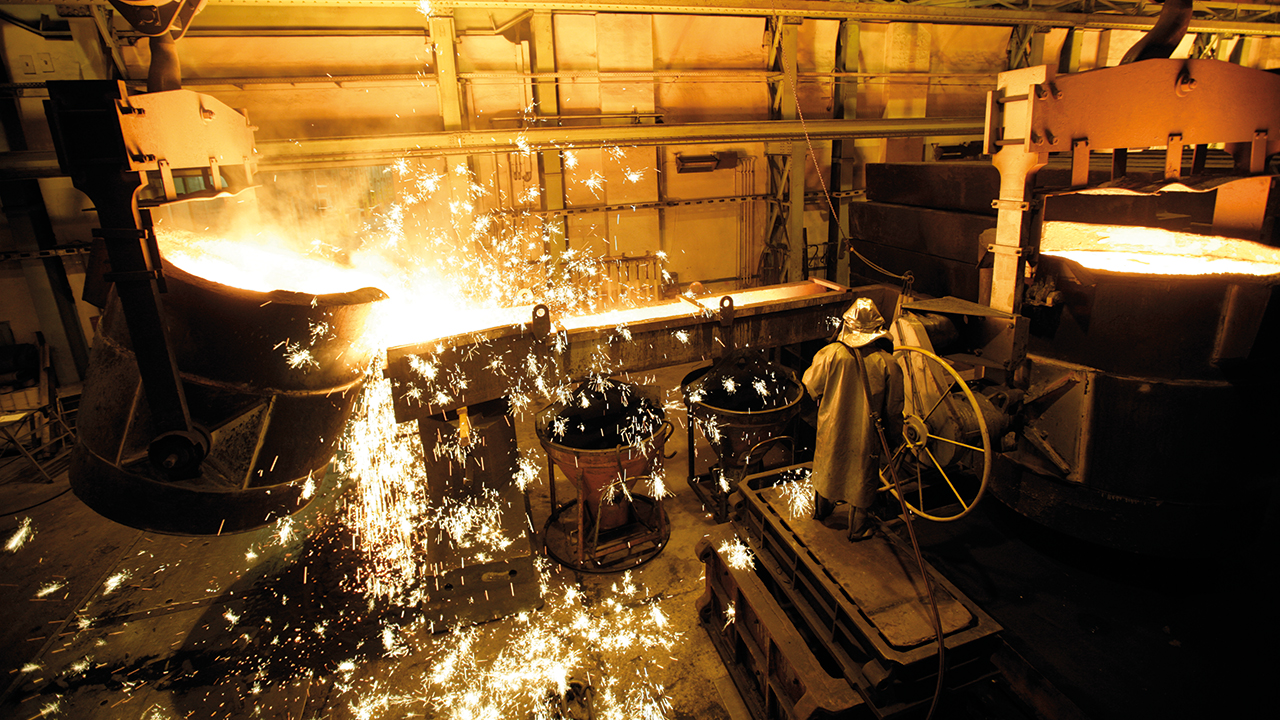 By opting for the latest axial compressor technology available in the market, companies in the iron and steel industry can significantly reduce their power consumption. This upgrade reduces both operating costs and carbon emissions.
The MAN AG-MAX1 is a standardized axial main air compressor and comes with the next generation of axial compressor blading, MAX1. The uniquely compact, robust, and efficient compressor can deliver volume flows up to 1.5 Mio. cubic meters per hour and pressures up to 25 bar. Intercooled solutions are as well available.
Compared to conventional solutions, MAN MAX1 axial compressors and the related blading technology deliver greatly enhanced power density and performance, while exceeding expectations in terms of reliability. These advantages are achieved by combining the compression technology of modern gas turbines with that of industrial large-volume compressors. The result is a compressor with significantly lower power consumption and a unique robustness across the entire operating range.
How you benefit:
Compact size, robust and reliable
Reduces operating costs and carbon emissions
Low power consumption, highly energy-efficient
With rotor diameters from 102mm to 816mm, MAN Energy Solutions offers the widest range of screw compressor sizes in the market. MAN screw compressors demonstrate exceptional reliability even under the most challenging conditions. They also offer the highest referenced discharge pressure (52 bar_a) and the greatest in-field volume flow (77,000 m³/h). MAN screw compressors have an excellent track record of trouble-free operation, benefiting customers in the iron and steel industry with high availability.
How you benefit:
Highest referenced discharge pressure
Greatest in-field volume flow
High reliability and availability
Top gas is a by-product of blast furnaces, generated when the iron ore is reduced to liquid iron. Turbines by MAN Energy Solutions can use recovered top gas, allowing steelmakers to recover a considerable amount of the energy used for the blast furnace blower. This form of power generation does not require primary energy and contributes to making iron and steel processes more sustainable.
Service solutions for the iron & steel industry
MAN PrimeServ provides superior service for industrial turbo compressors all around the world. The service brand of MAN Energy Solutions satisfies customer requests through a global network of service headquarters as well as an increasing number of local service centers.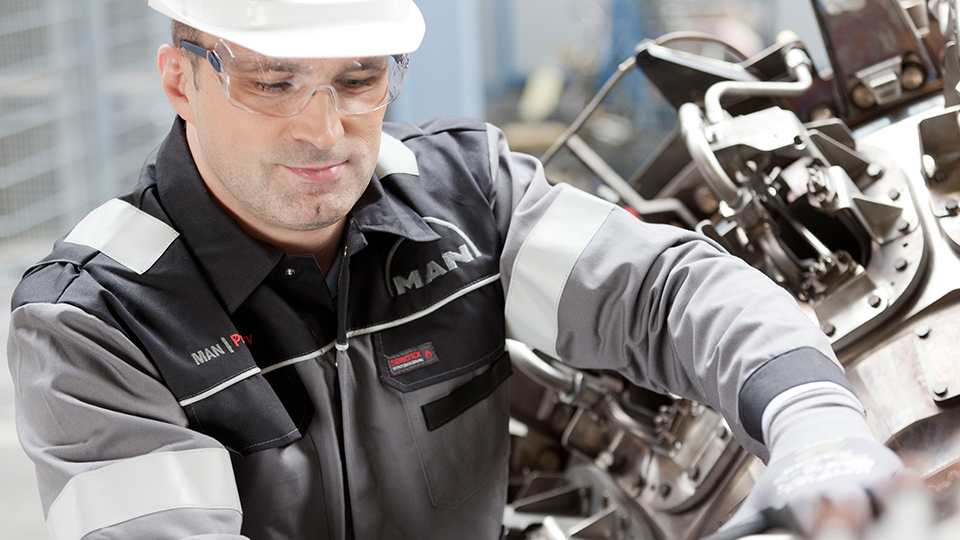 up to 1.5 mio. m3/h possible in a single air compressor train
Reference cases: MAX1 axial compressor technology
| | |
| --- | --- |
| Customer: | LULEAX |
| Customer type: | Steel industry |
| Application: | Blast furnace |
| Location of installation: | Luleå, Sweden |
| Compressor train: | Axial air compressor |
| Order date: | 2017 |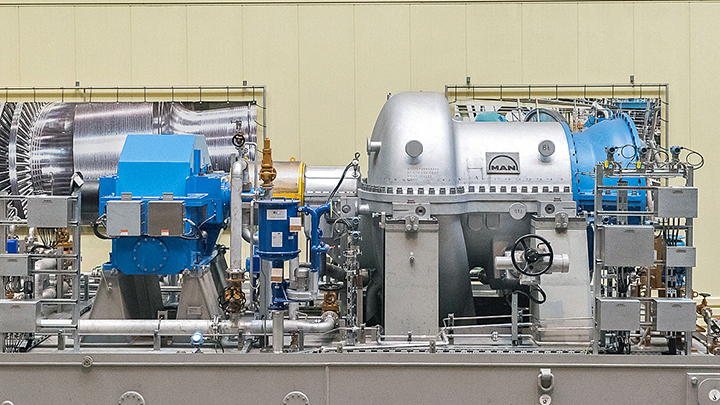 Our products for the Process Industry
High-precision solutions to optimize energy efficiency and reduce emissions
Less energy waste, lower carbon emissions
Superior investment economy
High availability, reliability and robustness
Lower operating costs
Contact us